As you know, the way we work is changing in some pretty interesting ways. But it's the tech companies that understand how to collaborate with (and within) strong engineering teams that are really shaking things up.
What's the best way for dev teams to ship product faster?  Work better together as a team.
There's a lot more to team collaboration than having the right project management tool. While apps like Jira, Trello and Monday.com (which raised a $50 million round of funding last year) are certainly helpful, it takes teamwork, clear communication, and a little bit of magic to ship products faster.
Powderkeg and Kenzie Academy set out to answer this question. We have two leaders joining us from the coasts who've helped build amazing products by fostering collaboration in their teams.
Join us to hear from two guests with decades of experience running high-performing teams at companies like Salesforce, Loopt, and Green Dot. Jayesh Sureshchandra, VP of Engineering at Duetto and Ian Peters-Campbell, VP of Global Platform Services at Wex will be joining us for a LIVE podcast recording to share their insights. All ages are welcome!
It's happening on Thursday, May 16th at 5:30 PM at Indiana City Brewing Co. Get all the details below… 
THE 2019 INNOVATION SERIES
---
Powderkeg and Kenzie Academy have teamed up to bring you the 2019 Innovation Series. We're flying in innovators from around the country to Indianapolis so you can learn from them, meet them and hear their stories. We've got some big names planned and can't wait to introduce you to them!

MEET OUR GUESTS
---

Guest # 1: Jayesh Sureshchandra | VP of Engineering at Duetto
Located in Silicon Valley, Jayesh's been building scalable enterprise products for the last 12 years. With 5 years at Salesforce, Jayesh developed the infrastructure & features for the core Force.com platform.  Additionally, he's spent the last 6 years at Duetto, focused on using data analytics to optimize hotel revenue. In his role, he emphasizes technical excellence & collaboration as the key pillars to building great products.

Guest #2: Ian Peters-Campbell | VP of Global Platform Services at Wex
After spending his professional career in the Valley, Ian now resides in Portland, Maine.  His background includes Mobile & Web Development, Enterprise Architecture, AI/Big Data, Business Intelligence, QA, and more. Prior to Wex, as President of Stickbuilt, he helped companies like Walmart & IDEO. Before Stickbuilt, Ian was the VP of Web & Mobile Engineering at Green Dot, where he led the team that built GoBank.  Before Loopt, he spent a decade working in various software engineering roles at startups.
THE HOST OF POWDERKEG: IGNITING STARTUPS
---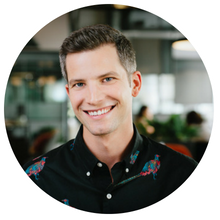 Matt Hunckler | Entrepreneur, international speaker, and CEO of Powderkeg
Matt has grown Powderkeg into a community of more than 10,000 tech entrepreneurs, developers and investors building high-growth tech ventures around the world in areas outside of Silicon Valley. This platform connects its members to a suite of resources including high-energy events, exposure, and education. Powderkeg founders have collectively raised more than $500 million in capital and are disrupting industries, creating wealth, and changing the world from areas beyond Silicon Valley.
THE AGENDA
---
As always, there will be plenty of time to connect with the community. Here's the agenda:
5:30 PM — Doors Open: General Networking and Happy Hour with Indiana City Brewing Co.
6:00 PM — Podcast Recording Begins
6:45 PM — Wrap-Up and Happy Hour with Indiana City Brewing Co.
8:00 PM — Event Ends
NEW AT THIS EVENT
---
Connecting the very best of Indianapolis with the rest of Indianapolis is the CityWay. Want to see downtown like never before? CityWay will be giving VR tours of their luxury apartments at their exhibitor booth. Be sure to check it out.
LOCAL FOOD AND DRINK
---
Think we would let you go hungry? No way – we got you. Get your fill from our great local partners at Nameless Catering and their tasty eats, as well as some select craft beers at Indiana City Brewing Co!
May 16, 2019 05:30 PM - 08:00 PM