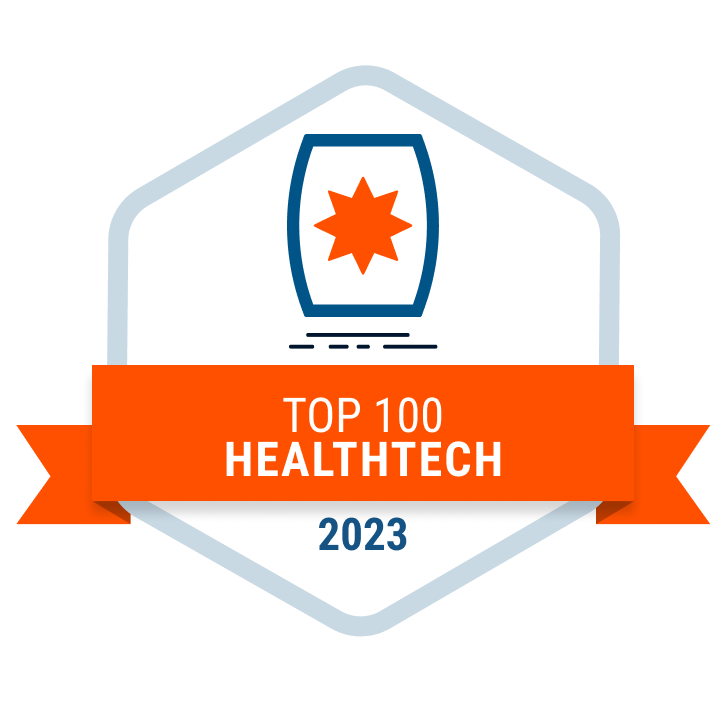 Top HealthTech Companies
HealthTech is predicted to skyrocket from $245 billion to $809 billion between 2023 and 2030 due to a dire need for better patient experiences, lower costs, and ways to treat an aging population amidst a physician shortage.
Keep reading to learn who's hiring, who's trending, expert insights from executives in the Health Tech industry, and more.
Get the Powderkeg Newsletter for news on these and other
Top HealthTech Companies

.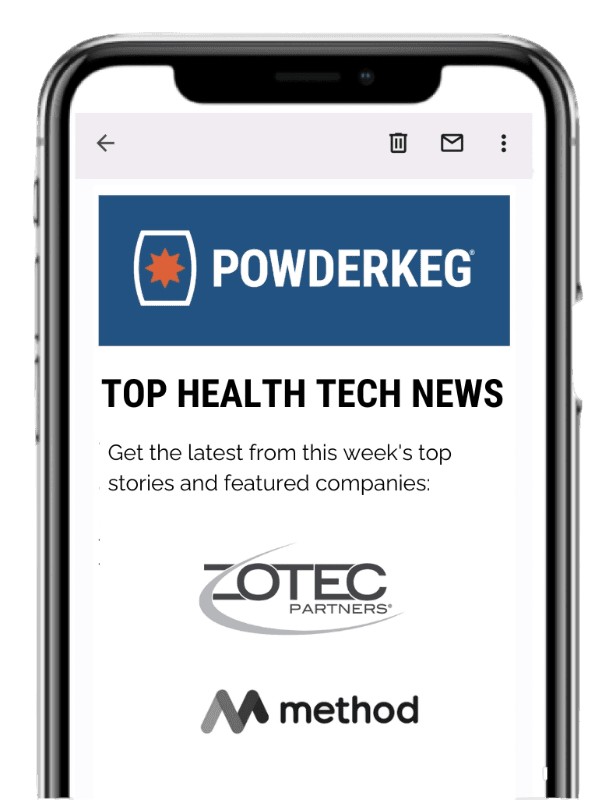 Best Companies in Health Tech 2023
This year's Top Health Tech Companies were selected based on data given by employees and leadership for their company profile on Powderkeg, supplemented with publicly available third-party data.
View All Companies
How Top Execs Outperform The Rest
Join a curated network of fast-growing companies and executives.
Share your insights
Insights from the Community
Read insights from executives in the Powderkeg community about the biggest shifts, trends and opportunities in Health Tech.
Scott Law
Founder and CEO
What is the impact or change that your product is driving?
Zotec simplifies the business of healthcare, so providers can do what they do best—care for patients. Our data solutions empower healthcare practices with insight to optimize financial performance, while our intuitive platforms support patients with interactive tools to seamlessly engage during the payment process. We're reimagining the healthcare financial experience, one patient at a time.
Roger Deetz
VP of Engineering at Blueprint
What are some of the biggest shifts, trends or opportunities you're seeing in HealthTech?
Generative AI is eating the world. Sifting through unstructured data is one of the biggest challenges in providing effective mental health care, and generative AI is uniquely positioned to accelerate how that work is done.
Healthtech Benefits
The benefits of technology in healthcare are exponential. While humans struggle to perceive minute differences, especially as it relates to the human body, technology makes detection and monitoring increasingly easier and cheaper. For example, with early detection software built into wearables like the Apple Watch, Garmin, Whoop and the Oura Ring, users are able to determine whether something may be wrong with their body long before something catastrophic happens.
Tracking is also easier with the combination of healthcare and technology. Only our doctors and hospitals used to track our health. Now, from the comfort of our own homes and even on our mobile devices, we can check in on key metrics and see that they're improving – in real-time! Saving costly trips to healthcare facilities and keeping health data private to the individual.
Lastly, healthtech startups and larger organizations have made healthcare more accessible to all. With advancements made in telehealth, particularly during the COVID-19 pandemic, users are now able to visit their doctor virtually or even get recommendations before talking to a doctor. Convenience and ease are at all-time highs thanks to companies across the nation and world dedicating their efforts to improving healthcare and technology.
Medical Technology Examples
As we discuss the benefits that healthtech advancements provide, let's also put some thought around some medical technology examples and what companies are actually doing to help improve healthcare.
By infusing technology in the system, many startups are focusing on solving the "cost" problem. As it stands today, no country has higher healthcare costs than the United States. With new regulations to increase transparency and reduce costs, state and federal governments are doing their best. But new organizations and startups have taken on the issue head-on as well.
Technology has also allowed for far more precise measurements, observations and therefore, treatments in health. Robots in the operating room, wearables at home, biometrics on your phone. The healthtech wave has made your health data much more accessible to you – rather than just your team of doctors.
Finally, with all the changes that medical technology has brought about in the healthtech space, humans are able to live longer and better lives. From treating detecting harmful diseases and conditions early and allowing for more accurate diagnoses to actual health monitoring over time, users and patients have avoided many problems that we used to face in the health landscape.
Today, we have so many great leaders and innovative companies to thank for these advancements in healthtech. Below, you'll learn more about those companies making huge leaps for mankind.
If you're looking for a career in the healthtech space, the Unvalley has boundless opportunity, no matter if you're a marketer, financier, developer or practitioner. Powderkeg can match you with your dream company and people in an instant. All you have to do is enter your preferences in a company and location. Then, Powderkeg's AI-powered talent matching service will pair you with vetted companies in the Unvalley.
What are you waiting for?
Jobs at Health Tech Companies
Check out these opportunities at the top Health Tech companies in the nation
Senior Machine Learning Engineer (Remote)
Curai
Full Stack .NET Developer
Immuware
Revenue Strategy Lead
Headway
Vice President, Product Management
Kyruus
Junior Systems Administrator
Level Ex
Vice President, Marketing
ProviderTrust
Senior Software Engineer: Sync
Noyo
Claims Payment Director
Gravie
Staff Therapist, PT Flex
Headspace
Looking for job opportunities?
We help candidates connect to great companies like these.
Join Powderkeg
Healthtech Companies
Are you a developer, marketer, analyst or generalist and want to make an impact on the health of millions around the world? You've come to the right place. Powderkeg has organized America's and the Unvalley's top healthtech companies so you have a better chance of saying, "I love my job."
Before we delve into your myriad opportunities in healthtech, let's start by defining what exactly we're talking about – what is healthtech?
Healthtech is a combination of the healthcare and technology worlds. Essentially using technology to improve our population's health. Some companies approach healthtech more broadly like Apple and its wearable Apple Watch which gauges a range of health metrics.
And, some startups and tech companies get very specific on what problems they solve with their healthcare technology. Take EightSleep for example: The Miami-headquartered hardware company focuses on sleep tech, products that help people fall and stay asleep. Or Headspace, the meditation and mindfulness software company.
Wondering which healthtech companies in your backyard and around the globe are making huge waves in the ecosystem? Maybe you're actively looking for a new job and after the COVID-19 pandemic, want a fully remote position with a healthtech company. We've got you covered.
Below, we break down all the leading companies in the healthcare and technology space and how you might get involved (Powderkeg has an AI-powered talent matching app to help you!).
Powderkeg Community Sponsor
Check out these companies supporting the Powderkeg Community
Sponsor Powderkeg →
CDW
Rightsize and future-proof your technology investments with IT Orchestration from CDW
Alchemy
We take films from idea to delivery. Conceptualizing, writing, casting, shooting, and editing – we do it all.
ADVISA
Category Sponsor
ADVISA is a leadership development company.
Top Healthtech Companies
Let's explore the largest healthtech companies in the United States before breaking down the Unvalley's leaders. To take a closer look at the space, we'll break down the larger industry into more manageable sectors and trends and highlight the companies leading each category.
First and foremost, mental health! As the COVID-19 pandemic highlighted, the mental and emotional health of employees is of vital importance and it's high time that not only we as humans begin to care about it, but our employers and organizations as well.
When many were forced to work from home for the foreseeable future, healthtech companies like Headspace and Calm came to the rescue. Organizations and startups across the world offered their employees free access to mindfulness and meditation programs that improved their mental health while they worked remotely – typically in isolation from friends, family and coworkers.
Peloton saw a similar boom during the pandemic as many were trapped in their homes for months on end. Instead of revisiting old habits and traveling to gyms and fitness centers, folks began buying at-home workout equipment and Peloton answered the call.
As mentioned before, healthtech took its first major steps in wearables in the early 2010s with the first Fitbits and Apple Watches to hit the market. Now, wearables are ubiquitous with more traditional companies like Garmin and Amazon and upstarts Oura and Whoop. As health technology becomes more accepted in society, expect more innovation within the wearable space.
Most of the companies highlighted above are headquartered on the American coasts, namely the Bay Area, New York City and Boston. But, if you're looking for a healthtech position in the Unvalley, don't fret – in the next section, you'll learn about the startups, companies and healthtech jobs making headways inside the coasts.
HealthTech Examples
Middle America has long-been lauded for its work in the healthcare space. Because of titans like Eli Lilly, Stryker and other tech and medical goliaths in the Unvalley, technology has integrated quite nicely with these legacy organizations to create a thriving healthtech startup ecosystem. Three Unvalley-based companies making significant waves and providing new, innovative healthtech solutions are WELL Health, Bright Health and Well.
WELL Health is headquartered in California but maintains a large presence in Salt Lake City, Utah. They've introduced to the market a seamless, interactive two-way texting platform for patients and their providers, that's also able to translate multilingual conversations on-the-fly. With over 1 billion messages sent on the platform, WELL Health is one of the fastest growing private companies in the world. They have more than 150 employees but are growing rapidly.
Bright Health, located in Austin, Texas, is a larger organization with over 1200 employees worldwide. They're driven by making healthcare more accessible for all by lowering costs with a person-driven, intuitive healthtech platform. Founded in just 2016, the company is expanding and needs more support.
With offices in Minneapolis, the Research Triangle of North Carolina and the coasts, Well has pioneered a new model of engaging members in their own health data. Well creates personalized dashboards and guides for members to then improve their health with custom programs and plans fit to their unique needs and lifestyles.
Remote HealthTech Jobs
Healthtech is not immune to trends happening in other industries. As the world of work changes rapidly in front of our eyes, remote healthcare jobs from home, too, are becoming a staple across the industry. Unlike the traditional healthcare space that required boots on the ground in hospitals, many healthcare and healthtech jobs have transitioned to remote or even travel positions.
Other trends that have impacted the healthtech space include benefits and perks. As industries see increasing salaries and wages across the board, healthtech is seeing similar growth. Benefits like leadership mentoring, health stipends, mental health support and are now common in the healthtech space in the Unvalley, Middle America and the Coasts.
No matter what you're looking for in an employer, Powderkeg has your back. Higher wages? Relaxed vacation policy? Meaningful impact at work? Marketing job or finance job? Are you a developer? Don't worry. Get recommendations in a few seconds with the AI-powered talent matching app for Unvalley jobs in healthtech. Simply indicate what you want in your job, and sit back and relax. We'll do the rest!