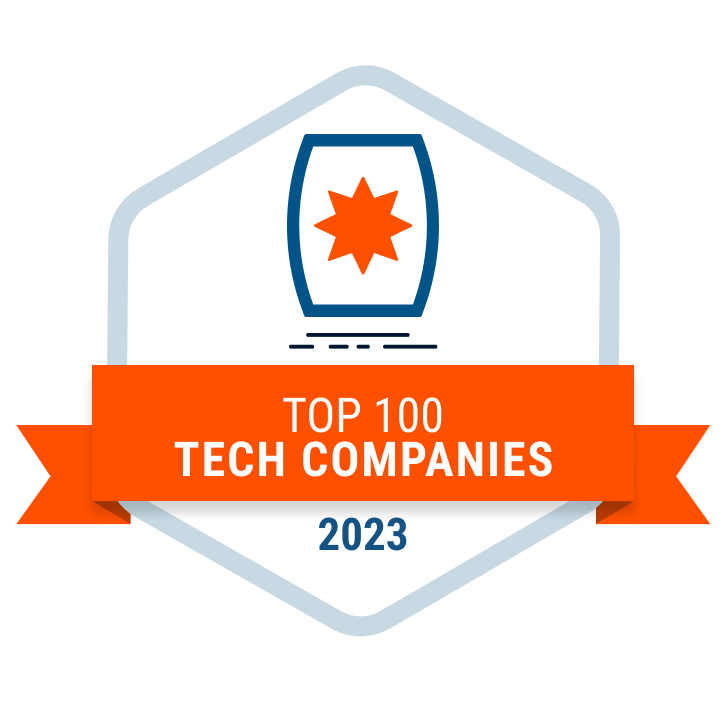 Top Tech Companies
In 2023, technology's relevance is unparalleled as it drives innovation across all sectors. From AI and automation to sustainability solutions, tech accelerates progress, shapes economies, and addresses global challenges, ushering in a transformative era of possibilities.
Keep reading to learn who's hiring, who's trending, expert insights from executives at top tech companies, and more.
Get the Powderkeg Newsletter for news on these and other
Top Tech Companies

.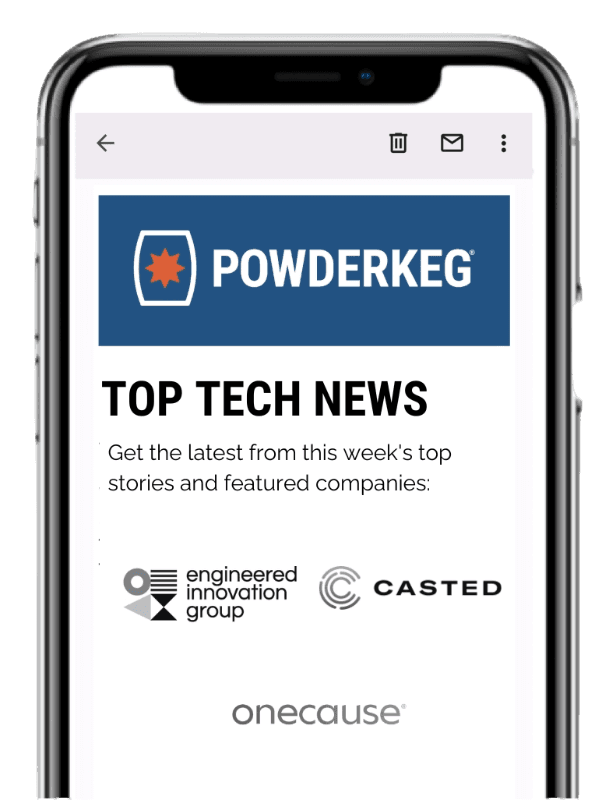 How Top Execs Outperform The Rest
Join a curated network of fast-growing companies and executives.
Top Tech Companies by Location
Tech Inside the Coasts
As a startup community, Powderkeg is fortunate to work with some of the best talent and top tech companies in the world, right here in the Unvalley. All across the United States, we've been on the frontlines with communities building and maintaining strong startup ecosystems that develop people, companies and economies.
Sure, your mind may go directly to the biggest tech companies in the world like Facebook, Apple, Amazon, Microsoft, Netflix and Google. Or, skyrocketing tech companies' stock amid an economic boom. But, the software world has so much more to offer than just the Silicon Valley big tech giants. As the market for tech talent continues to roar and workers disperse in remote and hybrid models, the top software companies in the world are increasingly recruiting outside the coasts.
In 2011 Marc Andreessen, a legendary entrepreneur from the Unvalley and cofounder of venture capital fund Andreessen Horowitz, famously stated that "software is eating the world." A decade later, few would disagree that society now revolves around technology and its advancements. Tech has taken over our economy and our lives.
As more and more human and financial capital pours into the technology industry, the space will see even more growth in the years to come. So, you want to work in tech?
Continue reading for a glance at American tech companies seeking you and your unique skill set
Jobs at Top Tech Companies
Check out these opportunities at the top tech companies in the nation
Marketing Internship (Spring Semester)
OneCause
Account Executive
Demandwell
Financial Specialist
ADVISA
Sales Development Manager
Greenlight Guru
Machine Learning Engineer
Solution Design Group
Vice President, Demand Generation
Bloomerang
Enterprise Account Executive, East
Ironclad
General Interest in 86 Repairs
86 Repairs
Online MBA Student
IU Kelley School of Business
Service Delivery Manager
hc1
Looking for job opportunities?
We help candidates connect to great companies like these.
Join Powderkeg
Coastal Tech Giants
First, we'll take a look at these tech giants and the impact they've had on our society. Then, you'll learn about the software companies making waves in the Unvalley and Middle America.
The Menlo Park-headquartered Facebook Inc., the first of the notorious FAANG tech companies, is a trillion-dollar conglomerate of social networking platforms Facebook, Instagram, Whatsapp and other companies. Started by Mark Zuckerberg in a Harvard University dorm in Boston in 2004, Facebook was the first social network to gain traction after MySpace revolutionized how people around the world interact with the internet. Today, Facebook earns its revenue by selling ad space on the different platforms. However, it's wrestling with both regulators and controversy among its users for creating echo chambers and manipulating its users to think, feel and act certain ways.
Founded in 1976 by Steve Jobs, Steve Wozniak and Ronald Wayne in California, Apple is another trillion-dollar company operating out of Silicon Valley. Known for its sleek design and advanced hardware products, such as the Macbook laptop computer, iPhone cell phone and iPad tablet, Apple employs almost 150,000 tech workers across the globe.
Amazon, based in founder Jeff Bezos's home city of Seattle, Washington, is a product marketplace platform that has changed how consumers shop. Leveraging the internet and technology to initially create a digital bookstore, Amazon now sells everything from A to Z, a notion that has inspired their logo. Bezos's focus on optimizing Amazon's supply chain operations has led the industry, including other marketplaces like Walmart and Target, to adopt two-day shipping averages that would've otherwise been out-of-reach. The platform has now spun out several other organizations like Amazon Web Services that is building a framework for the next generation of the internet.
Bill Gates's Microsoft isn't typically included in the FAANG acronym but deserves mention here. Also headquartered in the Pacific Northwest outside of Seattle, Microsoft is Apple's closest competitor in hardware products and operating systems. Founded in 1975, Bill Gates and Paul Allen set out to challenge Apple in computer software. In the 21st century, Microsoft has even found its way into the gaming industry. The public tech giant is now valued at more than $2 trillion.
Netfllix sent Blockbuster to its infamous demise when they introduced a digitized movie and television show platform where users pay monthly to get access to thousands of titles without waiting for DVDs in the mail or making a trip to the store. Now, Netflix competes with not only other streaming platforms like Hulu and HBO but also production shops, such as Sony, Paramount and Columbia. The lowest-valued of the FAANG tech companies, Netflix has a market capitalization of nearly $300 billion.
Finally, Mountain View-based Google and its parent company of Alphabet has been "organizing the world's information" since the search engine debuted on the market in 1998. With more than 140,000 employees, Alphabet now comprises of such market leaders as YouTube, Google Ads and other subsidiaries.
Want to Work in Tech in the Unvalley?
Want to work for a tech company in the Unvalley? Powderkeg has you covered. With the all-new, AI-powered talent matching service, you select your preferences in an employer (tech or otherwise) and get paired with organizations that fit your unique interests and needs. Want to work remotely? Is salary your most important metric in considering a new job? Want kind of benefits do you prefer? Need to have a meaningful social impact on society?
Sign up for free today and get matched with your next dream job in the tech industry.
Powderkeg Community Sponsors
Check out these companies supporting the Powderkeg Community
Sponsor Powderkeg →
CDW
Rightsize and future-proof your technology investments with IT Orchestration from CDW
Top Tech Companies in Unvalley, USA
As illustrated above by the tremendous amount of innovation by American tech companies in the last few decades, the United States is also home to some of the world's top tech companies to work for. In the new world of work where remote and hybrid models dominate the software industry specifically, your location doesn't matter as much as it used to. Additionally, employees like you are looking for totally different traits and characteristics in an employer than they were years ago. Below, we dive into the top tech companies in the United States in the Unvalley.
Dell, headquartered in Texas, is one of the largest employers in the world. With their focus on creating computers and laptops, Dell was one of the first movers in the tech world yet continues to innovate and evolve with time. Together with Microsoft operating systems, Dell hardware products are found throughout America and the world. Different from some of their competitors, Dell has found success pursuing a B2B model where organizations acquire hardware for their employees.
Lenovo, another tech company that builds computers and laptops, is located in Morrisville, North Carolina, in the Raleigh-Durham metropolitan area. Like Dell, Lenovo has partnered with Microsoft to include their Windows operating systems on all their devices. Founded by Chinese tech executive Liu Chuanzhi in Beijing in 1984, Lenovo is now one of the largest suppliers of computer hardware in the world.
One Unvalley city in the 2020s has gotten more attention than the others. That city is Austin.
Powderkeg Community Sponsors
Check out these companies supporting the Powderkeg Community
Sponsor Powderkeg →
Alchemy
We take films from idea to delivery. Conceptualizing, writing, casting, shooting, and editing – we do it all.
The Great Tech Migration to Austin
There's a new face in Austin, Texas, as Oracle moved their headquarters to the Lone Star State in early 2021. Larry Ellison's Oracle offers a data management solution for large corporate enterprises. Ellison started the company in 1977 to accommodate the growing amount of data that companies had to organize with the advent of the internet and advancements in technology and software. Turns out, Ellison was ahead of the curve as the rate of data creation and collection would only continue to accelerate.
Another recent transplant to Austin, Texas, is Tesla and its team of forward-thinking engineers. Known for its electric cars, founder Elon Musk and Tesla are working on solar electric batteries and other projects as well. The eccentric South African founder has also moved his SpaceX operations from Los Angeles to Boca Chica, Texas, (or "Starbase") near the Mexican border and Gulf of Mexico.