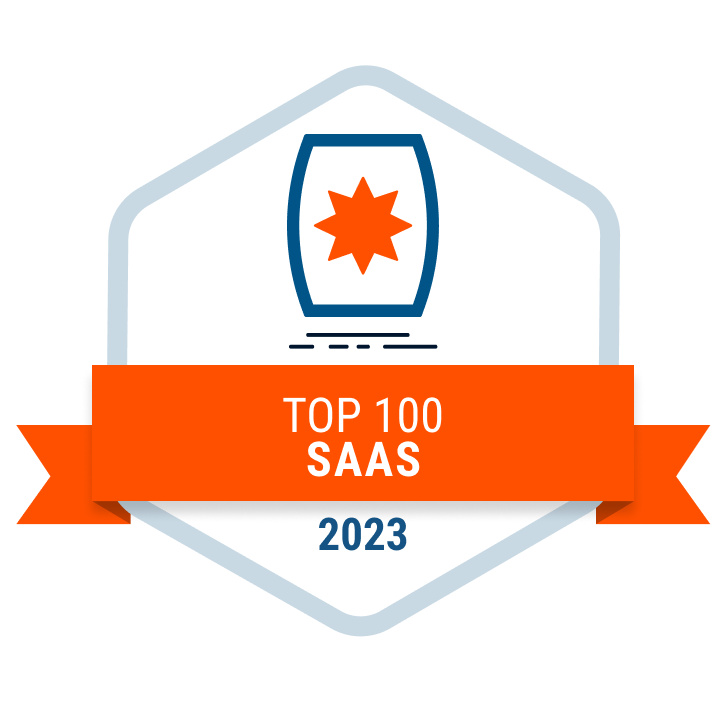 Top SaaS Companies
Software-as-a-Service companies, or as most refer to them as SaaS companies, have emerged from the technological boom of the 21st century and shaped an entire industry backed by advances in the internet. The SaaS industry now accounts for nearly half of all corporate technology spend in 2022 (source).
Since Salesforce's founding in 1999, it's been recognized as the pioneer and one of the leaders of the SaaS movement. As more startups and scaleups enter the industry, it's changed quite a bit since the final year of the last century. Several other players have entered the race to the top in the 2000s and 2010s. SaaS in 2021 is shaped by a diverse laundry list of unicorns – SaaS companies in the United States valued at $1 billion or more.
Because the term SaaS is so broad and leaves much up for interpretation, the SaaS industry is extremely comprehensive and includes hundreds of software microindustries. For example, SaaS can be further broken down into customer relationship management (CRM) systems, human resources information systems (HRIS), project management software like Asana and Trello, among so many others.
Continue reading for a deeper glimpse into the SaaS industry and its top companies.
Get the Powderkeg Newsletter for news on these and other
Top SaaS Companies

.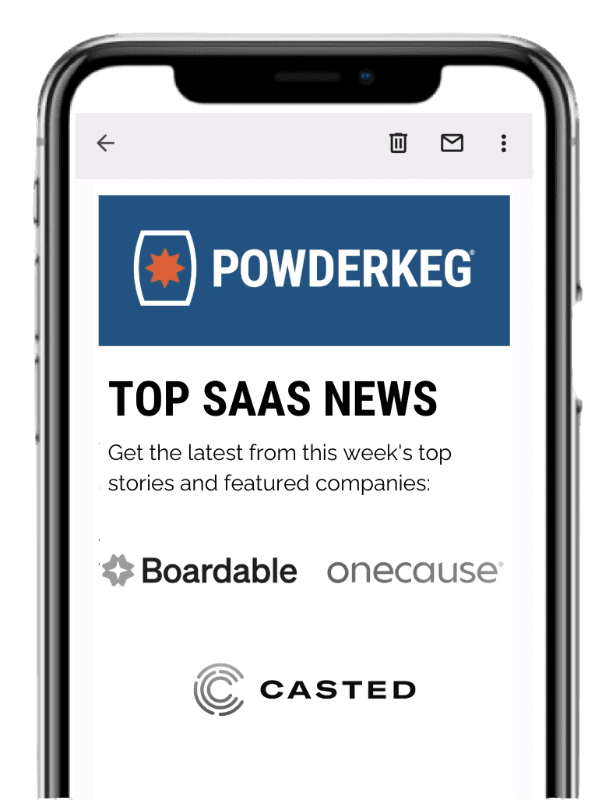 Best Companies in SaaS
The companies listed below were named winners in the 2022 Powderkeg Unvalley Awards. Awards data was validated by CLA, a top 10 accounting firm and Powderkeg National Corporate Member.
View All Companies
How Top Execs Outperform The Rest
Join a curated network of fast-growing companies and executives.
Venture Capital & SaaS
In 2011 Marc Andreessen – a former Netscape executive, entrepreneur and current leader of one of the largest venture capital funds in the world Andreessen Horowitz – famously stated that "software is eating the world." Well, his foresightedness has been rewarded as the industry continues to grow with more money and people flocking toward it than many other industries.
Although human and venture capital in the SaaS industry is largely focused in San Francisco and New York, other cities across the Unvalley have crept up as SaaS competitors to the major metros. Some of the top tech companies and fastest growing SaaS companies in 2021 are headquartered outside the two coastal giants.
Jobs at Best SaaS Companies
Check out these opportunities at the top SaaS companies in the nation
VP, Product Marketing
Braze
Full Stack .NET Developer
Immuware
Senior Sales Engineer
Forethought
Senior Quality Assurance Analyst - Payments
Bloomerang
Senior Product Analyst
Boulevard
Join Catalyst's Talent Community!
Catalyst
Senior/Staff/Principal Backend Engineer
Method
Future Opportunities with Casted
Casted
Strategic Finance Manager, GTM
Movable Ink
Looking for job opportunities?
We help candidates connect to great companies like these.
Join Powderkeg
SaaS Inside the Coasts
The diversity of the SaaS industry and wide variety of types of SaaS products lend themselves to growth outside the coasts by allowing metros to focus on a single microindustry within the software space. Indianapolis, anchored by Salesforce's acquisition of local scaleup ExactTarget in 2013, continues to be a hotbed for startups in the marketing tech SaaS industry. Similarly, the established Grange and Nationwide insurance companies in Columbus have sparked an insurtech SaaS boom where unicorn Root Insurance has gone public and Matic Insurance has raised more than $30 million to compare insurance policies.
Read more below on how the SaaS industry has grown past the coasts, how the B2B space has commanded much of the new attention, and which SaaS startups and scaleups are making a dent in the Unvalley.
The Software Industry's Foundation
Before we dive deeper into the Unvalley SaaS environment and how it's shaping the next generation of startups and scaleups inside the coasts, it's important to first understand the foundation of the industry and which top SaaS companies are responsible for starting a revolution in technology.
Making the most impact on the general public's and investors' views of the SaaS industry are public SaaS companies. As mentioned above, Salesforce has been a leader of the industry for more than 20 years and they lead our rankings below.
Powderkeg Community Sponsors
Check out these companies supporting the Powderkeg Community
Sponsor Powderkeg →
CDW
Rightsize and future-proof your technology investments with IT Orchestration from CDW
Leading SaaS Companies
Founded in 1999 by Marc Benioff, who is still chairman and CEO, Salesforce employs more than 75,000 people globally in almost 60 offices. In 2004 they submitted their initial public offering and became one of the very first software companies to emerge after the dot com bubble stifled innovation in the late 90s. Salesforce can also consider itself the founder of the customer relationship management system boom, which now includes other SaaS companies like Hubspot, Zoho and Pipedrive.
While also pursuing a hardware model with which you are undoubtedly familiar, Microsoft has pursued a software-as-a-service strategy as well. Microsoft Office (i.e. Word, Powerpoint, Excel) has been the chosen suite of business products for organizations for decades. Because they're primarily a hardware company, they're not often considered in lists of the top software companies.
Adding to the list of big SaaS companies, Adobe and its suite of cloud-enabled platforms like Photoshop, Premiere and Illustrator is a no-brainer for any designer. However, if you're not a designer, you may not be as familiar with the company. Adobe has made it easy for marketers and designers to share design files over the internet and pick up their work anywhere using their top-shelf products.
Slack, which has been in the news recently with its acquisition by Salesforce for around $50 billion, is another competitor for top SaaS companies in 2021. In his attempt to start a video game company, Stewart Butterfield needed a better way to communicate with his engineers than over email or text. Slack was born, and they never looked back.
Rounding out our list of top SaaS companies by revenue Box, Dropbox and Google Suite – each known for their cloud storage capacity. As the number of data, documents and files continue to accelerate at a rapid pace, companies need a software platform to organize, store and access them. Box, Dropbox and Google's suite of products have the solution.
You've read about the top SaaS companies in 2021. Now, it's time to turn your attention toward the Unvalley and all the incredible founders and startups leading the wave of innovation in Middle America.
Powderkeg Community Sponsors
Check out these companies supporting the Powderkeg Community
Sponsor Powderkeg →
Alchemy
We take films from idea to delivery. Conceptualizing, writing, casting, shooting, and editing – we do it all.
Middle America's Software-as-a-Service Companies
Headquartered in Atlanta, Georgia, Mailchimp was acquired for $12 billion by Intuit. A leader in the email software space, Mailchimp was founded by CEO Ben Chestnut and engineer Dan Kurzius in 2001. After they scaled the platform to millions of users and more than a thousand employees, they decided it was time to bow out and sell the company to Intuit in the summer of 2021.
Since its foundation in 2003, Matt Mullenweg's Wordpress has been first and foremost when it comes to content management systems (CMS). It only makes sense that it's created its own industry and empowered startups like Austin-based WP Engine to scale operations and employee count to almost one thousand. Founder and current chief technology officer Jason Cohen and WP Engine last received $250 million in funding in a private equity round in 2018.
Another successful and growing startup inside the coasts is 2008-established BambooHR, which is headquartered in Lindon, Utah, between Salt Lake City and Provo. A revolutionary HRIS system for people and talent leaders, BambooHR allows executives to manage all their talent functions within a single platform.
As more innovation and inspiring entrepreneurs sprout out of the Unvalley, the list of startups and scaleups founded in Middle America will only grow. Well-positioned for growth are cities like Austin, Texas; Denver, Colorado; and Chicago, Illinois, which have each seen incredible growth in the last decade.