Customers are the lifeblood of any healthy business. That's why the fastest-growing companies are the ones that focus on the customer experience (CX)and implement the cutting-edge CX products and strategies.
If you want to be on the bleeding edge of customer experience and connect with top leaders in the field, this event is for you. 
Come learn about 3 fast-growing CX products built by Indiana companies in the business of making your customers happy. It's all going down on Tuesday, August 13th starting at 5:00 PM at VisionLoft. Get the details below and RSVP today!
PITCH NIGHT, SHARK-TANK STYLE
Here's your opportunity to catch 3 exciting tech companies in the Midwest focused on customer experience (or CX). Each tech company will have just 5 minutes on stage to present their company—no exceptions. It's sort of like the hit TV show Shark Tank, but without the ego and showbiz.
Come to this event if you want to:
Learn from some of the most talented leaders in CX tech
Connect with entrepreneurs, investors, and builders of innovative products and technology
Plug in with supportive local tech community with global reach
Or just want to see what career opportunities are out there!
We've teamed up with some incredible partners to bring you an energy-filled evening with food, drink, and hundreds of leaders from around the tech community. RSVP now or read on below…
---
POWERFUL PRESENTATIONS FROM CX INNOVATORS
We've brought together a top lineup of local founders and leaders. Each will have 5 minutes to pitch their company in a fast-paced presentation to our panel of advisors.
Bolstra | Presented by Haresh Gangwani, Co-Founder and CEO
Founded in 2016, Bolstra is a Customer Success work management solution that organizes and optimizes workflows through an agile framework enabling companies to prescriptively deliver a superior experience to their customers. With Bolstra you know everything about your accounts and everything you need to do for your customers all in one place. Most recently, in 2018, they completed a $1.5 M raise.
---
Malomo | Presented by Yaw Aning, Co-Founder & CEO
Malomo helps ecommerce brands generate more revenue and loyalty by turning their shipment tracking experience into a brand marketing channel. Founded in April 2019, they quickly got rolling with an initial raise of $600K. Malomo gives brands the control to turn the typically stale and confusing experience of shipment tracking into an opportunity to drive customer engagement while the customer is most receptive to their brand.
---
Genesys | Presented by Alex Ball, VP of Sales
Genesys powers more than 25 billion of the world's best customer experiences each year. Our success comes from connecting employee and customer conversations on any channel. Every day, 11,000 companies in more than 100 countries trust our #1 customer experience platform to drive great business outcomes and create lasting relationships. After acquiring Interactive Intelligence in late 2016 for $1.4 billion, Genesys has been actively involved in the Indy tech community.
---
ADVICE FROM INDUSTRY EXPERTS
Each presenter will have 5 minutes of Q&A from our panel of experts after each pitch, when you'll get to learn exactly how tech leaders think and how the founders respond on the fly. Our "sharks" bring diverse backgrounds and perspectives, which is sure to make for interesting questions and discussion…
Darcy Lee | Director of Accounts & Business Development at Metonymy Media
Darcy's entire professional career has been centered around delivering exceptional service to clients, and building bridges between people and organizations. With a background in brain sciences and a career in business, her people-first approach has helped build and grow businesses and organizations of all types and sizes. From sales pipelines to digital experiences, Darcy advocates a human-centered approach to engagement, and the need to truly understand a target audience to best serve them.
---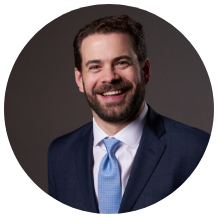 Advisor #2: Alex Shortle | Vice President, Periculum Capital Company, LLCAlex began his career in New York with the leveraged and acquisition finance group of HSBC Securities. He subsequently joined Periculum Capital as an Associate, focused primarily on mergers and acquisitions and debt advisory assignments. Mr. Shortle later relocated to Colorado, forming a Denver-based investment and advisory partnership focused on lower-middle market turnaround and growth equity opportunities.
Mr. Shortle was a Principal with the early-stage venture capital firm Meridian Street Capital. His primary mandate was Seed and Series A investments in US-based healthcare technology companies pursuing patient-as-consumer opportunities.
Alex rejoined Periculum Capital, and works with clients across a variety of industries, focusing on mergers and acquisitions advisory, growth capital formation, and strategy-related projects for entrepreneurial-driven companies.
---
Advisor #3:  Cathy Langlois | Executive Vice President at Peoplocity
Cathy developed her passion for customer experience while working with patient and employee experience in a large multi specialty healthcare system. She also served as the Executive Director of the Hamilton County Entrepreneurship Advancement Center where she led initiatives to support and celebrate entrepreneurs.
---
Advisor #4:  Tiffany Sauder | President at Element Three
When Tiffany founded Element Three in 2006, she was 25. Thirteen years later, she's grown Element Three into the largest full-service marketing agency in Indiana, leading the marketing agency to be recognized as an Inc. 5000 company for the past five consecutive years. A leader within the Indianapolis tech and business communities, she sits on the board of both the Indiana Chapter of YPO and the Orr Fellowship, and in 2018, was named one of the IBJ's Forty Under 40.
Come meet these leaders in-person to build new relationships and learn from the best!
---

GET PLUGGED IN
Come connect with the Powderkeg community to get face-to-face with the newest technology and most talented innovators. Who knows—you just might meet your next employer, investor, partner, or even co-founder (you wouldn't be the first). [more exhibitors coming soon!]
Indianapolis Customer Success meetup – Mission to create customer success community in Indianapolis. If you are interested in connecting with and learning from your customer success peers they encourage you to attend their events as they work to grow together.
AuthentiCx – Helps companies extend the value of call monitoring data by mining for deep insights about customer experience through independent customer interaction analysis and coaching.
Bolstra – A Customer Success work management solution that organizes and optimizes workflows through an agile framework enabling companies to prescriptively deliver a superior experience to their customers
Genesys – Powering the world's best customer experiences, across every channel, on-premise and in the cloud.
Metonymy Media – An agency of creative writers offering comprehensive copywriting and editing services, effective content marketing strategies, and educational writing workshops to businesses and organizations with a story to tell.
---
YOUR HOST FOR THE EVENING
We'll keep things moving to give you plenty of time to connect. For this special event, we're bringing back a seasoned entrepreneur and tech leader to host our journey into CX & The Customer Journey.
Matt Hunckler | Co-Founder & CEO, Powderkeg
Matt Hunckler is an entrepreneur, international speaker, emcee, podcast host, and CEO of Powderkeg. Matt has helped grow Powderkeg into a community of more than 10,000 tech professionals building high-growth tech ventures around the world in areas outside of Silicon Valley. This platform connects its members to a suite of resources including high-energy events, exposure, and education. Powderkeg founders have collectively raised more than $500 million in capital and are disrupting industries, creating wealth, and changing the world from areas beyond Silicon Valley.
---
The Agenda
As always, there will be plenty of time to connect with the community. Here's the agenda:
5:00 PM —

Doors Open: General Networking

6:00 PM —

Pitches from 3 fast-growing Midwest companies

7:00 PM

— General networking and Open House at VisionLoft

8:00 PM — Go out and celebrate
---
Local Food and Drink
Think we would let you go hungry? No way! We got you. Get your fill from our great local partners at Nameless Catering and their tasty eats. We are going to have access to the VisionLoft's fully stocked bar!
---
MADE POSSIBLE BY OUR AMAZING PARTNERS
Aug 13, 2019 05:00 PM - 08:00 PM