Today's rapidly-expanding job market is one of the biggest topics in tech. And this rush to hire talent isn't going to slow down any time soon. Over the next few years, companies across the country are projected to need to fill more than one million open roles in tech.
Thankfully, there's TONS of innovation in HR tech happening by companies right here in Indianapolis. These companies are on a mission to make it easier to interview, hire and retain the right talent — and wow, these companies are growing fast.
This is your opportunity to be among the first to meet them. Come ready to be inspired, hear founders pitch their companies, and meet the leaders building the future of work.
It's happening on Wednesday, May 1st starting at 5:00 PM at The Sanctuary on Penn. Get all the details below …
Pitch Night, Shark Tank Style
If you've never experienced a Powderkeg pitch night, now's your opportunity to catch 3 of the most exciting companies in the Midwest. Each startup will have just 5 minutes on stage to pitch their startup—no exceptions. It's sort of like the hit TV show Shark Tank, but without the ego and showbiz.
More on our speakers and advisors below. First, we want to give a HUGE thanks to our partners for making this event happen!

---
Meet the Presenters and their Tech Companies
We've brought together a top lineup of local founders and leaders. Each will have 5 minutes to pitch their company in a fast-paced presentation to our panel of advisors.
Canvas | Presented by Aman Brar, President & CEO
Canvas is the first enterprise-grade text-based interviewing platform that enables recruiters to screen more job candidates and market employment brands.  Acquired by California-based, Jobvite, in February, they are changing the way the interview process operates.
---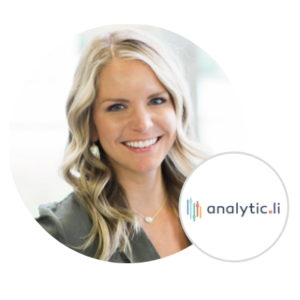 analytic.li | Presented by Jana Fuelberth, President & Co-Founder
A people analytics company that helps employers make better, data-driven decisions.  With a background in HR & payroll, the founders realized two things: human capital is critical to modern-day business success, and better people analytics lead to better people decisions.
---
Emplify  | Presented by Santiago Jaramillo, CEO & Co-Founder
Emplify is on a mission to help one million employees do the best work of their careers. By giving organizations the insights to unlock the potential of their people, Emplify's insights framework distills culture and feedback into employee analytics that enable leaders to make better data-driven decisions.  In Sept 2018, Emplify announced their next raise of $7.5 M, which is incredibly exciting with what they're doing!
---
Meet the Advisors
Each founder & tech executive will have 5 minutes of Q&A from our panel of investors and entrepreneurs after their pitch. You'll learn how investors think and how founders respond on the fly. Our "sharks" bring diverse backgrounds and perspectives, which is sure to make for interesting questions and discussion …
Dawn Lively | 
COO, FullStack PEO
Dawn is a Certified Human Resource Professional with experience in strategic planning and execution, management development, business development, employee relations, training,education, compensation, benefits, and payroll. In addition to her role at FullStack PEO, she is the Director of Culture & Talent at DeveloperTown
---
Steve Brunson | Principal, McGuire Sponsel
As a Principal at McGuire Sponsel, Steve helps growing businesses across the country with site identification, comparative analysis, demographic and labor force analyses, tax and non-tax cost comparisons and economic incentives negotiation and procurement.
---
Trisha Borme | Director Regional Talent Acquisition, Americas at Genesys
Based in Indy, Trisha has a strong passion for working at a global organization and enjoys creating strategic partnerships with business leaders to hire the right people at the right time. Trisha is passionate about Talent Acquisition and feels that all hires are critical to the success of a business.  She started working in technology with ExactTarget, built the recruiting team from scratch in London, worked through the acquisition with Salesforce. Then, moving back to the US with Salesforce, joining Interactive Intelligence in 2015, has been through the two biggest technology acquisitions here in Indianapolis.
---
Meet the Exhibitors
Before pitches begin, you'll have the exclusive opportunity to meet companies in the marketing and technology communities in Indianapolis. Learn about their work and find out how you can get involved. (More exhibitors announced soon!)
ADVISA – Experts in talent optimization. We help organizations improve job fit, inspire performance, and create magnetic work cultures through leadership development.
CityWay –Connecting the very best of Indianapolis with the rest of Indianapolis is the CityWay. Want to see downtown like never before? CityWay will be giving VR tours of their luxury apartments at their exhibitor booth. Be sure to check it out.
SnapShyft –

Instantly connecting food & beverage and hospitality operations with reliable, qualified workers when they are short-staffed, and need capable, competent help.

analytic.li – A people analytics company that helps employers of any size make better, data-driven decisions.
FullStack – A full-service PEO and HR partner providing turnkey HR for emerging companies.
PropelUp – Helps software development teams ship better code, faster by continually and rapidly skilling up.
WorkHere – Helps you find a job closer to home. Hyperlocal, geofenced, chat powered recruitment marketing.
Emplify – Emplify's Insights™ framework distills culture and feedback into employee analytics that enable leaders to make better data-driven decisions.
Breezy HR – Improve your entire hiring process with Breezy HR recruiting software & applicant tracking system. They help you attract & hire great employees with less effort.
---
Meet the Hosts for the Night
Brian Millis | VP Client Development, ADVISA
Brian Millis has spent his career working with companies big and small to improve their productivity, team building, and problem-solving skills through his exceptionally engaging approach to consulting.  With roots in the Indy tech startup space, Brian realized the importance of a leaders' role in true sustainable organizational growth and has spent his years since leveraging his uncommon passion for Predictive Index® and exceptional team-building to support of our clients and our team of consultants. Brian serves as a key member of the ADVISA team internally in his role as leader of our client service group.
Kevin Bailey | CMO & Co-Founder, Powderkeg
Kevin is the CMO and Co-Founder at Powderkeg, helping with our national expansion and data initiatives. Formerly, Kevin was President of Slingshot SEO and the Adjunct Professor of Digital Marketing at the Indiana University Kelley School of Business. While Kevin was President of Slingshot SEO, the company bootstrapped to $11 million in annual revenue in five years and was a three-time winner of the Inc. 500 and Best Places to Work in Indiana awards.
---
The Agenda
As always, there will be plenty of time to connect with the community. Here's the agenda:
5:00 PM —

Doors Open: General Networking

6:00 PM —

 Pitches from 3 fast-growing Midwest companies

7:00 PM

— General networking and Open House at The Sanctuary on Penn

8:00 PM — Go out and celebrate
---
Local Food and Drink
Think we would let you go hungry? No way! We got you. Get your fill from our great local partners at Nameless Catering and their tasty eats. We are going to have access to the The Sanctuary on Penn's full stocked bar!
---
Kinetic 2019 – May 2, 2019
#KineticIN, a portfolio conference powered by Elevate Ventures, opens doors for entrepreneurs and investors to access the knowledge, networks, and opportunities they need to accelerate their ambitions. Register NOW to secure your spot for the May 2 conference!
Interested in attending?   Register HERE and use KineticandPowderkeg for $50 off your ticket!
---
Don't miss out on an exciting pitch night in HR Tech!