Today's episode is a recording of a live fireside chat we had this past week in Indianapolis where we discussed the topic of "Trends in Digital Health". Joining me on this special podcast episode are two absolutely amazing guests who have been in the Indy tech scene for a number of years and have entrepreneurial experience with a focus in the healthcare tech space.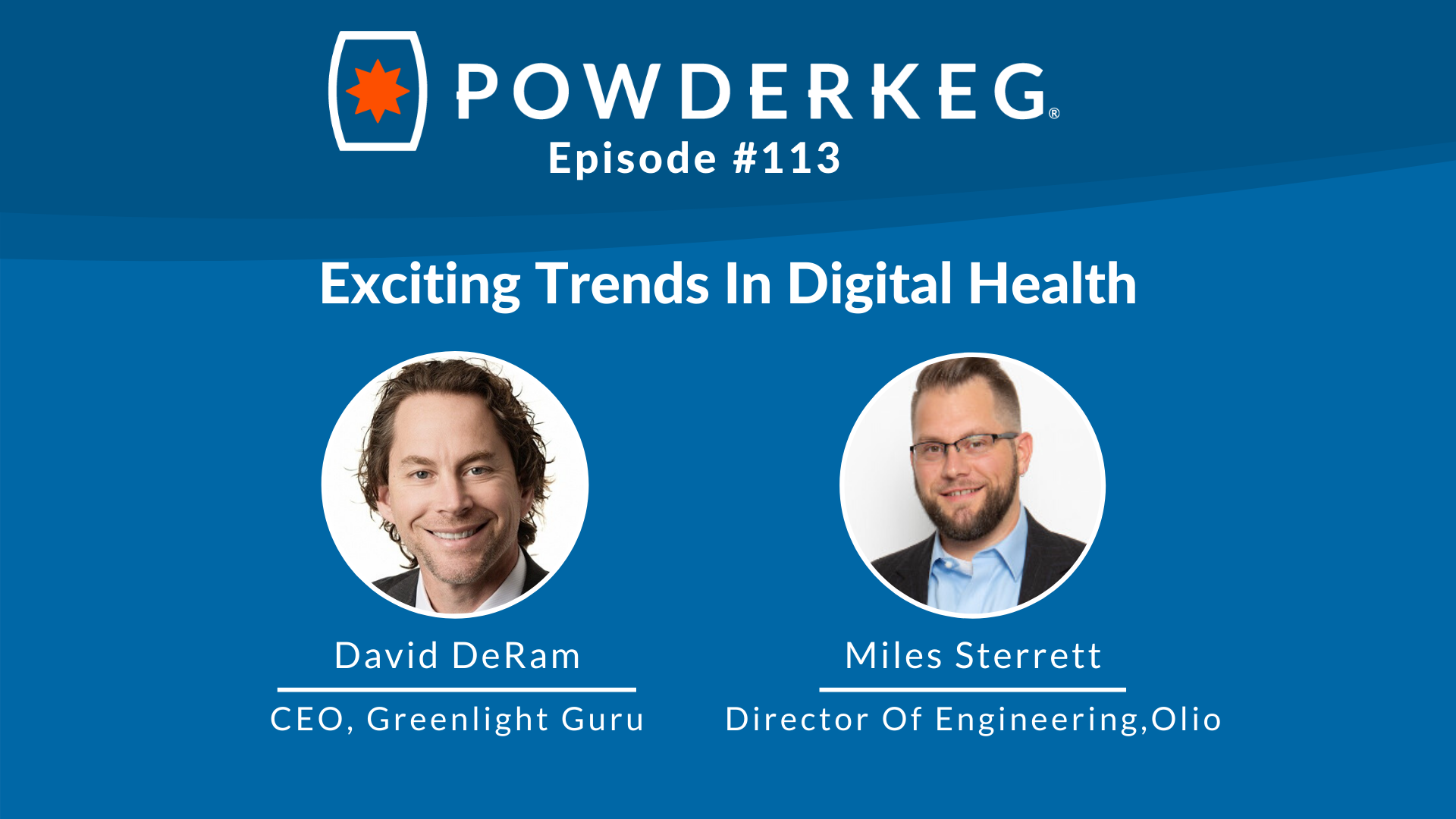 First up is David DeRam. David has been founding successful companies for almost 30 years across multiple sectors, including startups and finance, medical and nonprofit industries. Through his experience in digital health he has enabled countless hospitals, universities, research centers and pharmaceutical teams in 80 countries to manage complex genetic and clinical data and to bring key hereditary information to the electronic medical record record field. Today, he is the co-founder and CEO at Green Light guru, a healthcare company disrupting quality management in medical devices.
Joining him is Miles Sterrett. Miles is an entrepreneur with years of experience. He currently runs the Indianapolis Ruby Brigade and is now the Director of Engineering at Olio, where he leads an awesome group of software engineers to help physicians and post acute providers collaborate and improve patient outcomes. Tune in for more!
In this episode with David DeRam and Miles Sterrett, you'll learn:
Please enjoy this conversation with David DeRam and Miles Sterrett!


If you like this episode, please subscribe and leave us a review on iTunes. You can also follow us on Soundcloud or Stitcher. We have an incredible lineup of interviews we'll be releasing every Tuesday here on the Powderkeg Podcast.
David DeRam and Miles Sterrett quotes from this episode of Igniting Startups:
Links and resources mentioned in this episode:
Companies and organizations:
 People:
Did you enjoy this conversation? Thank David DeRam and Miles Sterrett on Twitter!
If you enjoyed this session and have a few seconds to spare, let David and Miles know via Twitter by clicking on the link below:
Click here to say hi and thank them on Twitter!
COMMENTS?
What stood out most to you about what David DeRam and Miles Sterrett share in this podcast?
For me, it's the opportunities and the future of health tech.

You? Leave a comment below.
WANT MORE?
To subscribe to the podcast, please use the links below:
Click Here to Subscribe via iTunes.
Click Here to Subscribe via RSS (non-iTunes feed).
To download the PDF file for the full transcript of this podcast, please use the link below:
Click Here to Download PDF file
If you have a chance, please leave me an honest rating and review on iTunes by clicking here. It will help the show and its ranking in iTunes incredibly! Thank you so much!