The Minneapolis-St. Paul area may not be as known for tech as San Francisco, but the city has seen huge potential in building a rising tech scene. And when it comes to the Midwest, you couldn't ask for a more tech-friendly city. Minneapolis-St. Paul is home to some of the top accounting firms in the country and overall has a healthy and satisfying tech environment. And with so much untapped potential left for opportunists to unlock…it's hard not to consider becoming a part of the incredible tech ecosystem that's brewing in the Twin Cities.
In today's episode, I speak with two leaders who are focused on investing and nurturing the innovation happening inside the heart of Minnesota Tech. The first guest is Mary Grove, Managing Partner at Bread and Butter Ventures. She brings nearly two decades of leadership experience in technology, early stage investing, and startup ecosystem growth.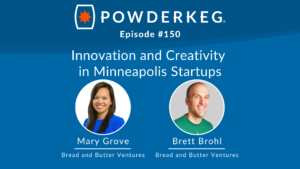 Mary served as the founding director of Google for Startups, leading the company's global efforts to support entrepreneurs in over 100 countries. Mary also started a nonprofit called Silicon North Stars, which she now runs, to educate and inspire young Minnesotans from economically underserved backgrounds towards futures in tech. After her 15 year career at Google, Mary worked as an investment partner at Revolution's Rise of the Rest Seed Fund where she led dozens of investments in a range of sectors including healthcare, enterprise software, and fintech. 
Joining Mary today is Brett Brohl, a Managing Partner of Bread and Butter Ventures. He is also the Managing Director of the Techstars Farm to Fork Accelerator. Brett is an experienced entrepreneur, investor and mentor, driven to make a difference in the world through helping entrepreneurs succeed. He founded or has been CEO of several companies, leading three to exit and also experiencing failure firsthand. AndI hear he loves leveraging those experiences to help the next generation of startups to be successful. Tune in for More!
In this episode with Mary Grove and Brett Brohl, you'll learn:
Figuring out your next career move doesn't have to be so stressful. So why not try Powderkeg Matches?
By joining Matches, you're joining a community of thousands of top professionals in the Powderkeg community to get connected with outstanding people at the hottest tech companies between the coasts. Get matched with great employers, land your next major opportunity, and get started today!
Please enjoy this conversation with Mary Grove and Brett Brohl!


If you like this episode, please subscribe and leave us a review on iTunes. You can also follow us on Soundcloud or Stitcher. We have an incredible lineup of interviews we'll be releasing every Tuesday here on the Powderkeg Podcast.
Links and resources mentioned in this episode:
Companies and Organizations:
 People:
Enjoy this conversation? Thank Mary and Brett on Twitter!
If you enjoyed this session and have 3 seconds to spare, let Mary Grove and Brett Brohl know via Twitter by clicking on the link below:
Click here to say hi and thank Mary and Brett on Twitter!
WANT MORE?
To subscribe to the Powderkeg podcast, please use the links below:
Click Here to Subscribe via iTunes
Click Here to Subscribe via RSS (non-iTunes feed)
To download the PDF file for the full transcript of this podcast, please use the link below:
Click Here to Download PDF file
If you have a chance, please leave an honest rating and review on iTunes by clicking here. It will help the show and its ranking on iTunes incredibly! Thank you so much!