No matter how you approach it, networking is always inevitable, particularly for entrepreneurs. And the number one issue when it comes to a lot of networking events is that they don't deliver the results they always promise. But attendees aren't the only ones who suffer from poorly coordinated and awkward networking events. Event hosts and sponsors lose out on the opportunities to collect valuable data about their attendees that can be used to determine audience demographics and adjust marketing and planning for all future events. So who is tackling this opportunity to help event hosts collect valuable data to host a successful event?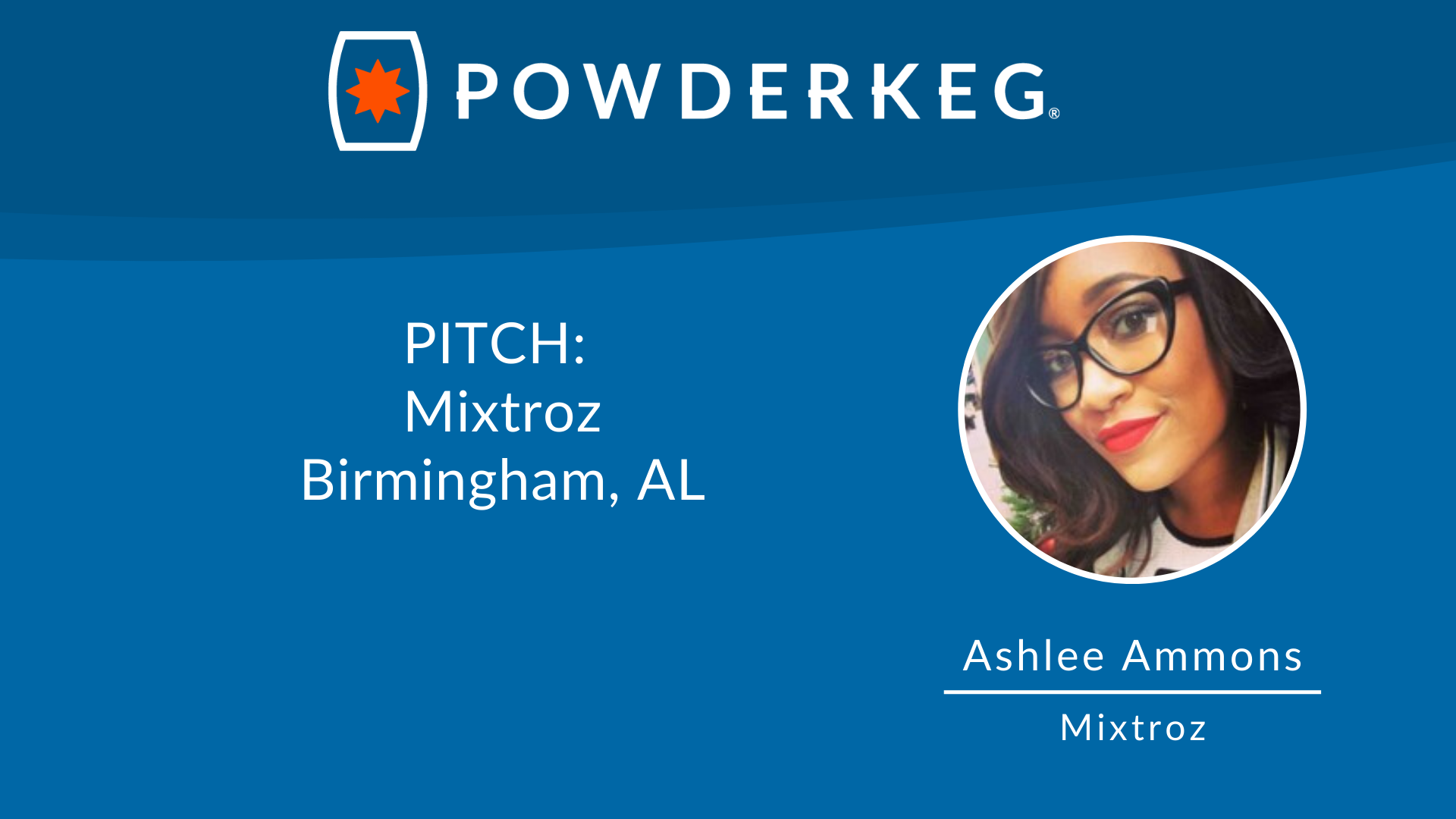 In today's episode of the Powderkeg Podcast, you'll hear from Ashlee Ammons, President and Co-founder of Mixtroz, a mobile application that allows event attendees to mix, meet and collaborate together through an online platform.
Ashlee had just 5 minutes on the Powderkeg stage to pitch her company Mixtroz to a live panel of investors and industry experts recently at our first-ever all virtual pitch event featuring some of the most innovative companies scaling in the United States. The three experts you'll hear from in this episode include:
Mandy Hasket, Leadership Consultant at ADVISA
Phil Powell, Associate Dean of Academic Programs at Kelley School of Business, Indiana University
J. Kelly Hoey, Angel Investor, Author, Speaker, and Podcast Host of BUILD YOUR DREAM NETWORK
Ashlee Ammons is the President and Co-Founder of Mixtroz. She is the 38th Black Female to raise over $1M in pre-seed funding. Ashlee also serves on the boards of the Nashville Entrepreneur Center and Tech Birmingham. She was a 2019 Birmingham Business Journal 40 Under 40 recipient as well as Birmingham 40 Under 40 of the decade and Business Journals National Rising Star. Tune in to hear more!
---
Figuring out your next career move doesn't have to be so stressful. So why not try Powderkeg Matches?
By joining Matches, you're joining a community of thousands of top professionals in the Powderkeg community to get connected with outstanding people at the hottest tech companies between the coasts. Get matched with great employers, land your next major opportunity, and get started today!
Please enjoy this conversation with Ashlee Ammons!


If you like this episode, please subscribe and leave us a review on iTunes. You can also follow us on Soundcloud or Stitcher. We have an incredible lineup of interviews we'll be releasing every Tuesday here on the Powderkeg Podcast.
Ashlee Ammons quotes from this episode of the Powderkeg Podcast:
Links and resources mentioned in this episode:
Companies and organizations:
People:
Enjoy this conversation? Thank Ashlee on Linkedin!
If you enjoyed this session and have 3 seconds to spare, let Ashlee Ammons know via Linkedin by clicking on the link below:
Click here to say hi and thank Ashlee on Linkedin!
WANT MORE?
To subscribe to the Powderkeg podcast, please use the links below:
Click Here to Subscribe via iTunes
Click Here to Subscribe via RSS (non-iTunes feed)
To download the PDF file for the full transcript of this podcast, please use the link below:
Click Here to Download PDF file
If you have a chance, please leave an honest rating and review on iTunes by clicking here. It will help the show and its ranking on iTunes incredibly! Thank you so much!