The product development process needs far more than just an exciting idea and money. Your idea is just the beginning. You also need a team to get it out of the dream phase, and a plan to keep it on track. Not to mention, a marketing strategy that clearly defines the problem to your audience—and why your product is the solution.

Today on the Igniting Startups podcast, you'll learn how to take a product from concept to market. Joining us are two veterans in the field of new product development. First up, we have Mike Reynolds, founder and CEO of digital product agency Innovatemap. In just five years, Innovatemap has helped more than 125 startups, scale-ups, and tech-enabled large businesses launch, manage, and market beautiful digital products. In fact, six clients have already reached an exit.
Joining Mike is Christian Beck, executive partner at Innovatemap and co-host of the Better Product podcast. There, he has built a successful career working with tech companies and startups to build out design teams. Beck also helps startups strategize the right approach to get them through the product development life cycle.

Between these two, you'll get a master class in understanding the product development process. We will cover how to find out if your idea has any legs, what a product agency can do to help that idea develop, and the different roles design, management, and marketing play in developing a product.

In this episode on the product development process, you will learn:

Please enjoy this episode on the product development process with Mike Reynolds and Christian Beck!
If you like this episode, please subscribe and leave us a review on iTunes. You can also follow us on Soundcloud or Stitcher. We have an incredible lineup of interviews we'll be releasing every Tuesday here on the Powderkeg Podcast.
Mike Reynolds and Christian Beck quotes from this episode of Igniting Startups:
Links and resources mentioned in this episode:
Companies and organizations:
Universities:
People:
For more product expertise …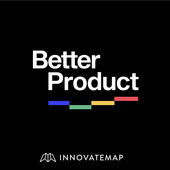 Check out the Better Product podcast, hosted by Innovatemap's Christian Beck and Anna Eaglin. Throughout each episode, Anna and Christian explore what differentiates industry-leading products in the marketplace. Those insights bubble to the surface as CEOs, entrepreneurs, and other innovators share stories on how they built products infused with purpose and vision. New episodes drop weekly.
Become a product guru. >>>Listen to the Better Product podcast.
Did you enjoy this conversation? Thank Mike Reynolds & Christian Beck on Twitter!
If you enjoyed this session and have few seconds to spare, let Mike & Christian know via Twitter by clicking on the links below:
Click here to say hi and thank Mike & Christian on twitter!
COMMENTS?
What stood out most to you about what Mike & Christian share in this podcast?
For me, it's understanding what a results-driven product development process is … and isn't.
You? Leave a comment below.
WANT MORE?
To subscribe to the podcast, please use the links below:
Click Here to Subscribe via iTunes
Click Here to Subscribe via RSS (non-iTunes feed)
If you have a chance, please leave me an honest rating and review on iTunes by clicking here. It will help the show and its ranking in iTunes incredibly! Thank you so much!