It's been no surprise that ventures in FinTech have tripled in just this past year. According to recent research completed by data provider, CB Insights, venture capital-backed financial technology companies have raised an incredible record of $39.57 billion from investors globally in 2018, that's up 120 percent from the previous year! The financial technology industry is trending worldwide with tons of open opportunities for entrepreneurs to take advantage of…so how can entrepreneurs and innovators jump on and capitalize on this continuously growing trend? 
On today's episode of the Powderkeg podcast, you'll hear from amazing two guests that have decades of experience working in the world of finance and years of experience in leading high performing teams and working with fellow entrepreneurs. Our first guest is Eric Mager, Founder & CEO of Bundle. Bundle is an app that gives home buyers and mortgage shoppers a starting point to learn, understand and manage the mortgage process. Joining Eric today is Brandon Martin, a principal at Clifton Larson Allen (CLA). CLA is a professional services firm and the eighth largest accountancy firm in the United States.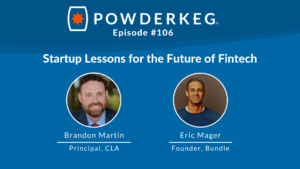 In this episode, Eric and Brandon will share their personal stories on how they became involved in the world of entrepreneurship. You'll also get to hear their views and thoughts on the fantastic growth of startup culture in Charlotte and the benefits of networking with other founders and startups in your local area. Tune in for more! 
In this episode with Brandon Martin and Eric Mager, you'll learn:
Please enjoy this conversation with Brandon Martin and Eric Mager!


If you like this episode, please subscribe and leave us a review on iTunes. You can also follow us on Soundcloud or Stitcher. We have an incredible lineup of interviews we'll be releasing every Tuesday here on the Powderkeg Podcast.
Brandon Martin and Eric Magor quotes from this episode of Igniting Startups:
Links and resources mentioned in this episode:
Companies and organizations:
 People:
Did you enjoy this conversation? Thank Brandon Martin and Eric Mager on Twitter!
If you enjoyed this session and have few seconds to spare, let Brandon and Eric know via Twitter by clicking on the links below:
Click here to say hi and thank Brandon and Eric on Twitter!
COMMENTS?
What stood out most to you about what Brandon and Eric share in this podcast?
For me, it's the benefits of networking with fellow startups and founders.

You? Leave a comment below.
WANT MORE?
To subscribe to the podcast, please use the links below:
Click Here to Subscribe via iTunes.
Click Here to Subscribe via RSS (non-iTunes feed).
To download the PDF file for the full transcript of this podcast, please use the link below:
Click Here to Download PDF file
If you have a chance, please leave me an honest rating and review on iTunes by clicking here. It will help the show and its ranking in iTunes incredibly! Thank you so much!