Power is shifting in Silicon Valley. And the stories in today's issue of The Spark give you more context to the trends and opportunities that are worth keeping an eye on.
Here are some of the top stories we'll be featuring that happened in tech beyond Silicon Valley on this week's edition of The Spark:
Plus, in today's episode, we feature special guest Ruben Harris, founder & CEO at Career Karma and co-host of the Breaking Into Startups Podcast who has a huge announcement for the tech community on Juneteenth, called Reskilling America—a collective effort to help millions of Americans acquire new skills in tech and prepare for the Great Rehiring.
We also featured one of the organizations helping support the Reskilling America Campaign. Based out of Indianapolis, Indiana, health tech startup HC1! 
During this Livestream recording, we had Talent Acquisition Manager, Keegan Jiles, from Indianapolis based health startup HC1 join the show to talk about what they're seeing in their company and tech community and their pledge for support of the Reskilling America campaign. Tune in for more!
And if you want to join and help Ruben's campaign for Reskilling America, be sure to check out this incredible initiative that he has helped put together. The goal is to give away 5,000+ laptops to communities who need them most to help them re-skill and provide a blueprint to land a career in tech. Be sure to go check it out at https://careerkarma.com/reskill-america , and donate what you can.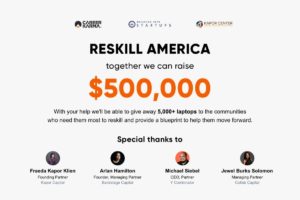 ---
Can't always make the good news Livestreams? No worries! Sign up for our hand-curated newsletter, The Spark, and have it delivered straight to your inbox each week with the tech news happening between the coasts. Sign up at powderkeg.com/.
Please enjoy this conversation with Ruben Harris of Career Karma!


If you like this episode, please subscribe and leave us a review on iTunes. You can also follow us on Soundcloud or Stitcher. We have an incredible lineup of interviews we'll be releasing every Tuesday here on the Powderkeg Podcast.
Links and resources mentioned in this episode:
Companies and organizations:
Venture capital firms:
Podcasts:
 People:
Enjoy this conversation? Thank Ruben on Twitter!
If you enjoyed this session and have 3 seconds to spare, let Ruben know via Twitter by clicking on the link below:
Click here to say hi and thank Ruben Harris on Twitter!
WANT MORE?
To subscribe to the Powderkeg podcast, please use the links below:
Click Here to Subscribe via iTunes
Click Here to Subscribe via RSS (non-iTunes feed)
To download the PDF file for the full transcript of this podcast, please use the link below:
Click Here to Download PDF file
If you have a chance, please leave an honest rating and review on iTunes by clicking here. It will help the show and its ranking on iTunes incredibly! Thank you so much!