It's been an incredible year of growth for entrepreneurs in Verge nation. Come celebrate a BIG year in tech and startups at the amazing Eleven Fifty space (home of voicemail-inventor Scott Jones).
We'll have Shark-Tank style pitches from the most exciting startups in the Midwest, including a first-look at a brand new startup and a peek under the hood with a recent graduate from the prestigious Y combinator program.
We'll have awesome local food and beer, as well as plenty of time to connect with our growing community. We'll also give you a chance to play with some cool new technology developed by Eleven Fifty and Verge nation. Here's the agenda:
5:30 — Doors open: General networking
6:15 — Pitches from 4 amazing Midwest startups, judged by our panel of investors
7:00 PM —Fireside chat with Chris Baggott
7:30 PM — General networking: Your chance to connect with our presenters and demo cool technology
8:30 PM — Doors close: Go home with new inspiration, ideas, and connections
Take a look at the companies and incredible investors and fireside chat below. But don't wait to register… space is limited to 150 and tickets (if there are any left) will go up to $25 at the door. RSVP now.
4 PRESENTING COMPANIES
---

If you've never experienced a Verge pitch, now's your opportunity to catch four of the most exciting companies in Indiana. Each startup will have 5 minutes on stage to pitch their startup—no exceptions. The founder(s) will then have 5 minutes of Q&A from our expert panel of investors.
Think of it like Shark Tank (but a lot more real-life). Learn more about the companies below…
Yes, there will be lots of platforms! Don't miss your opportunity to connect with these startups and forward-thinking entrepreneurs.
FIRESIDE CHAT AND INVESTOR JUDGES
---
We're doing something unique at this Verge event and bringing an all-star cast of investors on stage to judge all four pitches. This event, we're bringing investors from around the Midwest, including right here in our backyard. Chris Baggott will dust off his farm boots to join us as a judge and a candid fireside chat, as he shares how he built and sold companies to the largest software companies in the world. Learn why Chris is now focusing his attention and energy on food tech, and what the future holds for entrepreneurs in the Midwest.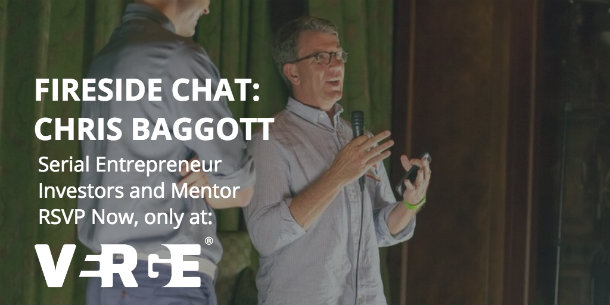 Learn more about our investor judges:
Chris Baggott
Investor and Serial Entrepreneur: ExactTarget, Compendium, Husk, Tyner Pond, Cluster Truck
Chris Baggott, one of ExactTarget's three co-founders, has launched food-tech startups that he predicts will be  $1 billion companies. After selling previous companies Compendium to Oracle, and ExactTarget to Salesforce (for $2.5 billion), Baggott set his sights on disrupting the agriculture industry. As a strong supporter of the Indiana startup community, and visionary entrepreneur, he brings a unique perceptive to his investments and to the Verge stage.
Ned Schwartz
Partner, Drive Capital
Born and raised in Columbus, Ned predominately focuses on investments in healthcare IT and services. Before joining Drive Capital, Ned spent five years as an investor at Norwest Venture Partners and General Atlantic, where he invested in MedExpress, Align Networks, Health Catalyst, RiverMend Health, iCardiac, and others. Ned got his start as an investor after making copies for the Google IPO as an intern at Credit Suisse. He decided he'd rather help build big companies than read about them.
GET HANDS ON WITH COOL NEW TECH
Listen, we wouldn't get you all excited about technology without giving you the opportunity to play around a little bit. That's why we'll have some of Indiana's most creative and exciting tech projects for you to play around with, including:
The brand-new SkyCurser Arcade Game
Innovative AccuPS Virtual Reality Technology
The latest in Unity, Python, and Mobile technology developed at Eleven Fifty Academy
More to come! But don't wait…
Space is limited. We want to include all of the entrepreneurs, investors, and builders who are creating Indiana's tech future. But only the first 150 who register will be able to get in at Eleven Fifty on November 19th.
So, what are you waiting for? RSVP now!
MADE POSSIBLE BY OUR AMAZING INDY SPONSORS

P.S. For those who already registered, I have a surprise for you. We've invited professional magician and illusionist, David Ranalli to join us for next Thursday night's event. He'll be mingling and performing by the bar, so don't be surprised if you experience a little more magic than usual at our last Indianapolis event of the year. Check him out>>