More good news for you today!
Tech communities around the world continue to respond to COVID-19 with innovation that is smashing the curve. Tech hubs like Raleigh Durham, Indianapolis, Nashville, Salt Lake City, and Houston are full of companies doing their best to make life better for others.
I'm sure at least one of these stories will inspire your optimism about the end of the pandemic and give you some good news to share, including bright spots of growth.
---
Utah Tech Community Helps Scale Coronavirus Testing
Salt Lake City, UT
The #testutahchallenge being implemented by Utah nonprofit Silicon Slopes is trying to make COVID testing go viral in a good way. They are working in partnership with the State of Utah Department of Health. The #testutahchallenge is part of a larger public-private partnership aiming to double the state's testing capacity from 3,000 to 6,000 daily tests.
Participants complete a self-assessment through an app and a predictive algorithm helps them determine the next best steps for their health and safety, including if and how to get tested. Every state has struggled to find personal protective equipment for healthcare workers. Utahns responded w thousands of donations. 
Every state has struggled to find personal protective equipment for healthcare workers. Utahns responded w thousands of donations. And today, @joshjames, Taylor Shupe and @siliconslopes brought the 1st of several planes filled with millions of items we need. A Dunkirk moment.❤️👏🏼 pic.twitter.com/b0bdCHLofp

— Spencer Cox (@SpencerJCox) April 16, 2020
Indiana Tech Company Raises $6 Million for Growth
Fishers, Indiana 
Audio Out-of-Home advertising and experience company Vibenomics, announced on Tuesday a round of Series A funding for $6 million. This funding round was led by BIP Capital and brought the company's total funding to $13.5 million and will be used to help further its momentum in the advertising market. This kind of raise illustrates that, even during uncertain economic times like these, many tech companies are still growing.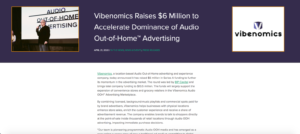 "We will use this Series A investment to accelerate product development and scale go-to-market execution, building on the momentum we've already seen in only a short period of time," said Brent Oakley, co-founder and CEO of Vibenomics.
Startup Connects Senior Citizens During Pandemic
Raleigh-Durham, NC
K4 Connect is a Raleigh startup that was created to develop tech products that make the lives of senior citizens easier and more connected. Now that is more important than ever as these high-risk individuals socially isolate and wonder what's next.
That's why this company created the COVID-911 initiative to deliver tips and accurate information to seniors and their loved ones. You can check the page in real-time for new resources or sign up for the weekly newsletter.
Midwest HealthTech Company Helps Healthcare Providers 
Indianapolis, IN
In Indianapolis, developers are creating tools to help flatten the curve through data. HC1 created the CV19 Lab Testing Dashboard to bring together data from over 20,000 testing locations. Predictive analytics is used to judge where and when the next wave of ER or ICU admissions might occur before it hits.
This bird's-eye view will help healthcare providers understand trends in testing and serve patients where and when it is needed most. The tool is available for free to labs and healthcare providers.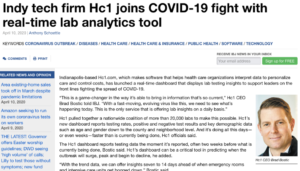 Tennessee Coordinates Unified Grassroots Response to Pandemic
Nashville, TN
Entrepreneurs, innovators, and small businesses across Tennessee deserve a collective shoutout for the LaunchTN initiative. This coalition partners with Tennessee's COVID-19 Unified Command to mobilize the state's grassroots capability. This lets them combat the pandemic on a local level.
Companies can use the resource to complete due diligence, learn how they need to scale and recommend their strategies to state specialists. The platform also shares RFPs from the state in cases where a need for vendors is already identified.
Business Accelerator Offers Grants, Resources to Businesses Nationwide
Houston, TX
Virtual business accelerator Alice was created to help you understand how to grow your business. But during the pandemic, they just want to help you grow, period. This company set up the COVID-19 Business Resource Center with everything from funding sources to real-time updates on legislation to mental health support. 
In partnership with Verizon, Alice is also offering $10,000 grants to small business owners in need of a COVID-19 Emergency Grant.
---
These are just some of the amazing stories happening around us every day. If you know a company, organization, individual, or project that deserves a "Celebration" by Powderkeg, let us know and stay tuned for the shoutout!