Maintaining the best talent was simple when there were few companies hiring and employees felt stuck in their jobs. But today, it seems that holding the cream of the talent crop is a struggle for some companies. Especially with so many tech startups and big companies networking and recruiting the best available talent in the job market.
Just recently in 2017, (CBRE) ranked the Raleigh-Durham area as one of the top tech talent markets in the country along with Forbes stating that tech jobs in just the city Raleigh alone had grown a tremendous 38.5% from 2010 through 2015! So how are tech companies in the Raleigh area capitalizing on this extreme job growth and how are they filling those spots with extraordinary talent?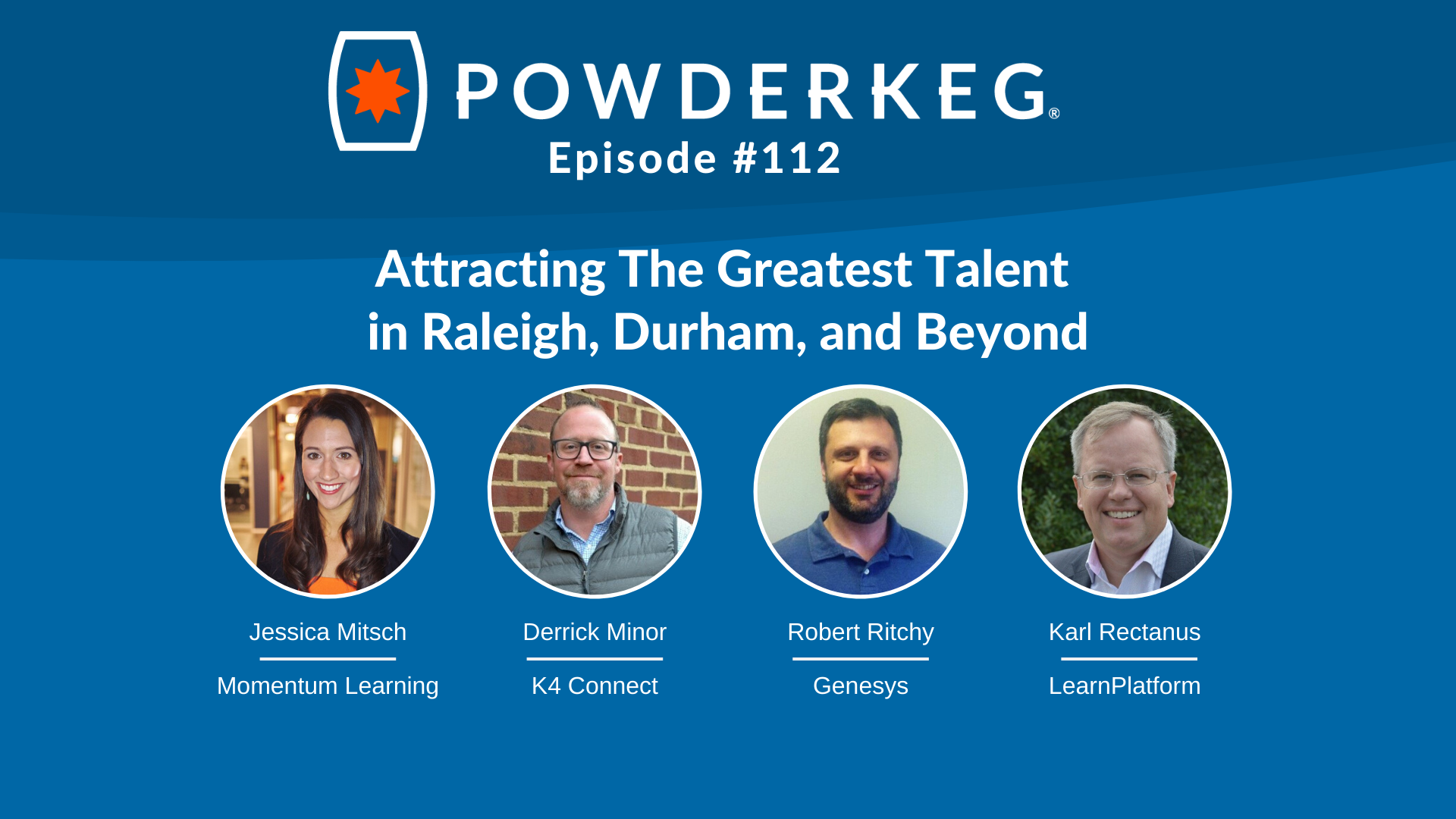 On this episode of the Igniting Startups podcast, you'll hear from  4 different tech, executives, and leaders from our recently held event in Raleigh discussing "Attracting The Greatest Talent in Raleigh, Durham, and Beyond" You'll get to hear from local tech leaders with years of experience sharing their thoughts on the growing need for talent in the Raleigh tech arena, how they are able to find and attract the greatest talent, and why the Raleigh-Durham area is one of the best areas in the country to be in tech. Tune in for more!
Learn from experienced tech leaders:
Jessica Mitsch, Co-founder and CEO of Momentum Learning

Derrick Minor,

Manager of Team Development & People Operations

at K4 Connect 

Robert Ritchy,

Senior Vice President of PureCloud Development

at Genesys

Karl Rectanus,

Co-Founder & CEO

of LearnPlatform
In this episode, you'll learn:
What is takes to find the best fit for your team and company

Cultivating talent in order to build a successful team

What makes the Raleigh-Durham area attractive for talent

How to retain the greatest talent in the Raleigh-Durham area
Please enjoy this conversation with our featured guests from our panel!


If you like this episode, please subscribe and leave us a review on iTunes. You can also follow us on Soundcloud or Stitcher. We have an incredible lineup of interviews we'll be releasing every Tuesday here on the Powderkeg Podcast.
Quotes from our guests on this episode of Igniting Startups:
Links and resources mentioned in this episode:
Companies and organizations:
 People:
Did you enjoy this conversation? Thank them on Twitter!
If you enjoyed this session and have a few seconds to spare, let Jessica, Derrick, Robert and Karl know via Twitter by clicking on the link below:
Click here to say hi and thank them on Twitter!
COMMENTS?
What stood out most to you about what these leaders share in this podcast?
For me, it's how to retain the greatest talent in the Raleigh-Durham area.

You? Leave a comment below.
WANT MORE?
To subscribe to the podcast, please use the links below:
Click Here to Subscribe via iTunes.
Click Here to Subscribe via RSS (non-iTunes feed).
To download the PDF file for the full transcript of this podcast, please use the link below:
Click Here to Download PDF file
If you have a chance, please leave me an honest rating and review on iTunes by clicking here. It will help the show and its ranking in iTunes incredibly! Thank you so much!