Many career news headlines are collectively exclaiming the same message right now: There's never been a better time to work in technology, switch into a tech career, or help friends and colleagues transition into technical roles.
In fact, tech jobs recently topped two separate reports on the best jobs in America.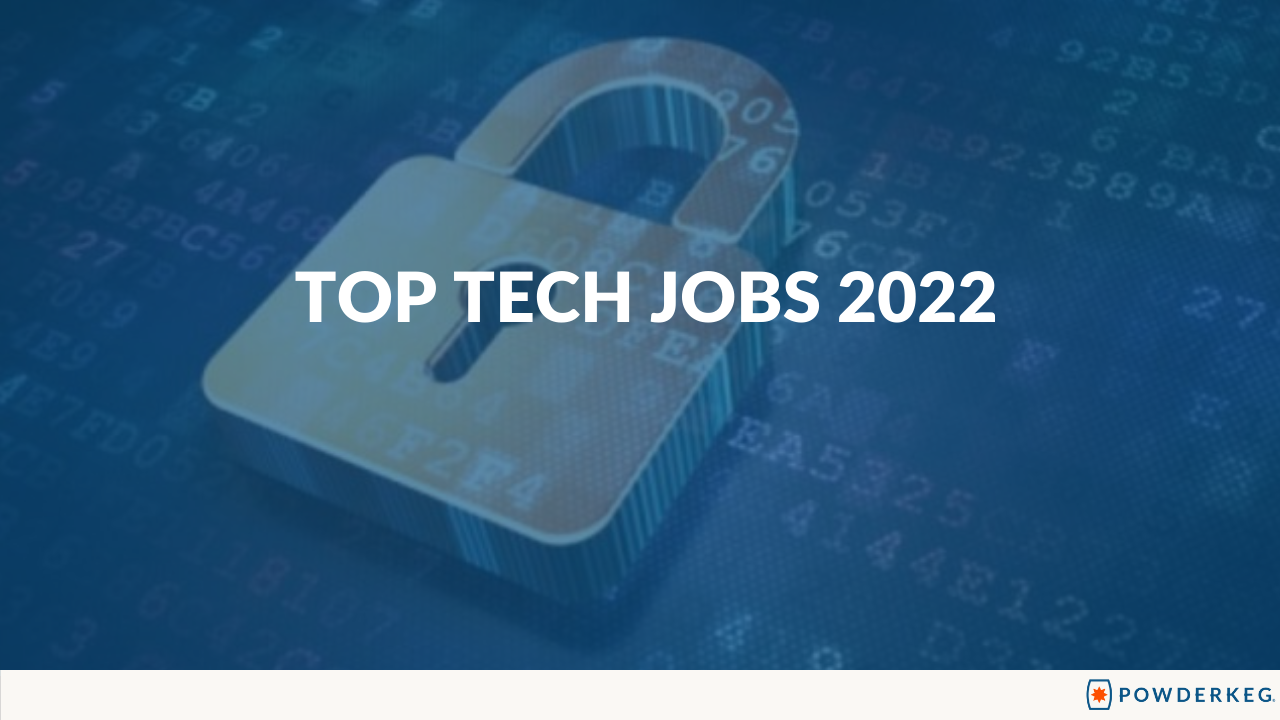 In U.S. News & World Report's 2022's 100 Best Jobs, 3 of the top 10 jobs are in the tech industry:
Information Security Analyst (#1)

Software Developer (#5)

Data Scientist (#6)
Glassdoor's MarketWatch analysis recognized Java development as the "best job in America," paying up to $125,000 a year. Here's their ranking of other top jobs:  (Spoiler alert: 8 of their top 10 are technical jobs)
Java Developer (#1)

Data Scientist (#2)

Product Manager (#3)




Enterprise Architect (#4)

Devops Engineer (#5)

Information Security Engineer (#6)




Mobile Engineer (#8)




Software Engineer (#9)
……and the list of high-paying, in-demand tech jobs goes on from there.
Another major benefit of the current hyper-competitive job market: Salaries for white-collar workers are rising. The Wall Street Journal reports that in 2021, compensation for U.S. professionals increased at the fastest rate in almost 20 years. 
If you've been wanting to catch the wave and switch to a career in technology, there's still plenty of time and opportunity. (And if you're already riding the wave as a tech professional, you can invite others to join!)
Here are some actions you can take today to make the most of the hot job market and increasing salary trends:
1. Add to your current education. Universities aren't going away anytime soon. At various points in your career, you may need different skills – and bootcamps may be a great way to acquire them, even if you already have an associate's, bachelor's, or master's degree.
Our take? It's okay to access different parts of the education ecosystem at different stages of your career to expand your opportunities. 
For example, our partners at Eleven Fifty Academy, a 501(c)(3) non-profit technology academy located in Indianapolis, tell us that many of their students already have college degrees — just not in technology. 
Students who follow their coding and cybersecurity pathways are often looking to complement their education by learning their first coding language, often with goals to either add to their experience or break into tech for the first time.
2. Break into the tech industry for the first time. Given the intensity and speed of the current job market for coding skills, there are advantages to learning from bootcamps. They can be a much faster way to pick up skills – often taking weeks instead of years – and often cost far less.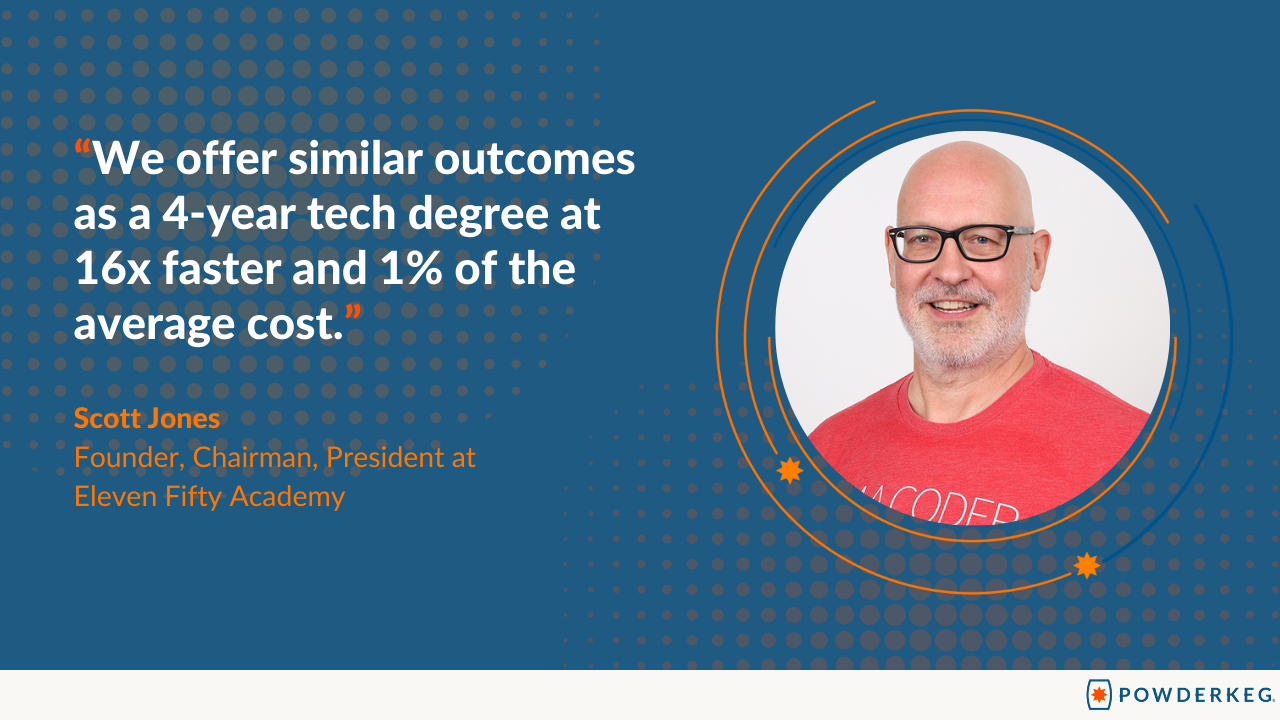 Scott Jones, Founder and President of Eleven Fifty Academy, says, "We offer similar outcomes as a 4-year tech degree at 16x faster and 1% of the average cost."
Graduates from coding and cybersecurity programs like Eleven Fifty Academy are often able to quickly land jobs in the tech industry upon graduation –  sometimes even in high-paying salary ranges that are making headlines. 
Here are a few stories from students who jump-started their new career in tech: 
"I was a public school teacher for three years and loved it, but wanted a career change that would allow me more flexibility, a better work life balance, and more income. I learned to code in 3 months at Eleven Fifty, and soon after graduation received my first job offer as a developer. Now I have a job I love, a positive work environment that makes me excited to go to work every day, and I am earning more than double the salary." — Phil Smith, graduate of Eleven Fifty Academy
"You gotta go all in! It's going to be a lot of hours but it's going to be worth it!"  — David Storms, graduate of Eleven Fifty Academy
"Whether you are doing the part-time program or the full-time program, it's going to take consistent discipline. You have to put in the work day after day to apply these skills." — Beacher Ward Jr., graduate of Eleven Fifty Academy
Want to explore coding or cybersecurity pathways? Our partners at Eleven Fifty Academy are still accepting applications for their next part-time and full-time Coding Foundations cohort that begins on Monday January 24th, and spots are quickly filling for the February 14th classes too. 
Meet with an Admissions Advisor to create your plan for success in the tech industry, including career options and scholarship opportunities.
P.S. Have a friend or relative who is making a career transition and wants to break into tech? Forward this article and invite them to check out Eleven Fifty's upcoming Coding Foundations course. 
Wondering what kinds of companies you might work for when you re-skill, up-skill, or launch your tech career? Follow these companies who are hiring Junior Developers right now.