Successful start-ups go through several smaller milestones before they reach the first major financial milestone. These smaller milestones represent outcomes of smaller teams working on countless initiatives that help reach the ultimate milestone. It's always beneficial to let your team know how their contributions and efforts fit into the bigger picture. Having a culture of transparency and that emphasizes your team's relevance and criticality of their work helps leads to the overall financial success of the organization. But how do you know what to make as the right important financial milestones for your company? And how do you develop a culture of transparency with your team on choosing those right financial milestones that are right for the company?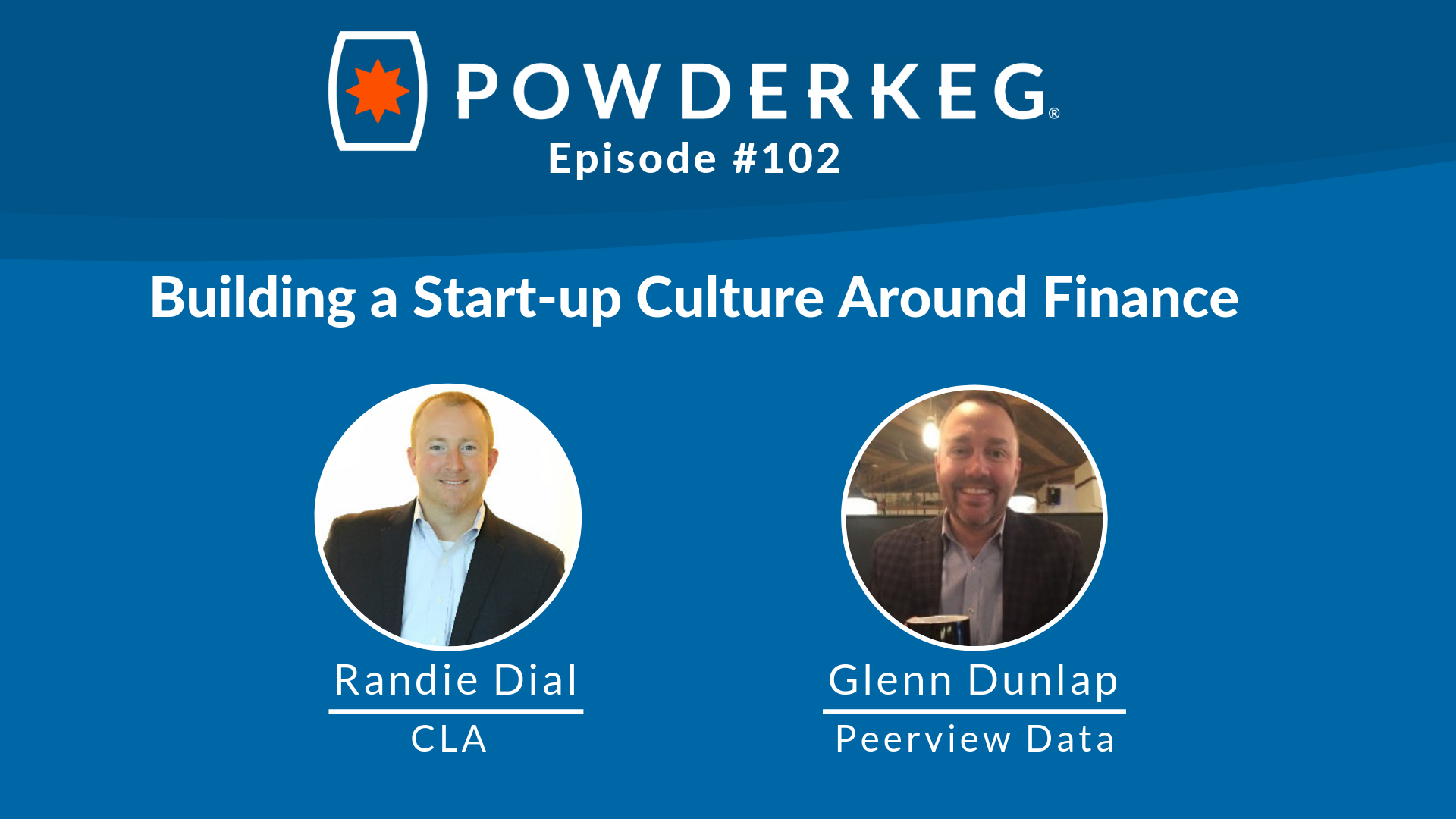 On today's episode of the Powderkeg podcast, you'll hear from two guests that have decades of experience innovating in finance and helping small business leaders and entrepreneurs build successful companies. Our first guest is Glenn Dunlap, Co-Founder & CEO of Peerview Data. Peerview Data is a SaaS company that specializes in benchmarking and comparative analytics solutions for CPA firms. Joining him is Randie Dial, managing director of CLA Indiana. Clifton Larsen Allen is a professional services firm and the eighth largest accountancy firm in the United States.
In this episode, Glenn and Randie will discuss the ways of getting in the entrepreneurial mindset of setting the right financial milestones to have a successful start-up. You'll also get to hear how they're able to retain great talent and why it's important to build a culture that is transparent and that makes the on-boarding process for newcomers truly special. Tune in for more! 
In this episode with Randie Dial and Glenn Dunlap, you'll learn:
Please enjoy this conversation with Randie Dial and Glenn Dunlap!


If you like this episode, please subscribe and leave us a review on iTunes. You can also follow us on Soundcloud or Stitcher. We have an incredible lineup of interviews we'll be releasing every Tuesday here on the Powderkeg Podcast.
Randie Dial and Glenn Dunlap quotes from this episode of Igniting Startups:
Links and resources mentioned in this episode:
Companies and organizations:
 People:
Did you enjoy this conversation? Thank Randie Dial and Glenn Dunlap on Twitter!
If you enjoyed this session and have few seconds to spare, let Randie and Glenn know via Twitter by clicking on the links below:
Click here to say hi and thank Randie and Glenn on Twitter!
COMMENTS?
What stood out most to you about what Randie & Glenn share in this podcast?
For me, it's the most important metrics and goals every start-up should focus on

You? Leave a comment below.
WANT MORE?
To subscribe to the podcast, please use the links below:
Click Here to Subscribe via iTunes.
Click Here to Subscribe via RSS (non-iTunes feed).
To download the PDF file for the full transcript of this podcast, please use the link below:
Click Here to Download PDF file
If you have a chance, please leave me an honest rating and review on iTunes by clicking here. It will help the show and its ranking in iTunes incredibly! Thank you so much!