We've all heard about how the city of Oakland is becoming a rising counterpart to Silicon Valley. It's becoming a rising and dynamic hub of innovation and creativity that is full of visionary innovators. But how is Oakland utilizing this amazing talent of creative, productive, and tech-savvy residents? And how is the entertainment industry in California collaborating with rising tech companies in entertainment tech?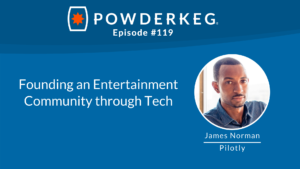 On today's episode, we'll be speaking with James Norman. James is a serial entrepreneur who started and launched his first company at the age of 16, an automotive e-commerce site called MJH Sound.com. While previously he has been known as a visionary in automotive product planning. In the past 7 years in the media and entertainment industry he has become a key thought leader in over-the-top media and consumer video consumption behaviors. And is currently the Founder and CEO of Oakland-Based Pilotly, an online platform that enables content creators to get feedback from a representative audience at a scale.
In this episode, James shares his personal experiences into the world of entrepreneurship and how they have influenced and defined his role as the founder and CEO of Pilotly. Along with James's thoughts on the power of the entertainment industry in Hollywood and how his company is becoming a leader in entertainment technology. Tune in for more!
In this episode with James Norman, you'll learn:
What sparked James's entrepreneurial journey

What the tech ecosystem is like in Oakland, California

The importance of culture at

Pilotly

and what it means

James's advice on raising capital as a beginning entrepreneur
Please enjoy this conversation with James Norman!


If you like this episode, please subscribe and leave us a review on iTunes. You can also follow us on Soundcloud or Stitcher. We have an incredible lineup of interviews we'll be releasing every Tuesday here on the Powderkeg Podcast.
James Norman quotes from this episode of Igniting Startups:
Links and resources mentioned in this episode:
Companies and organizations:
Venture Capital Firms:
Conferences:
People:
Did you enjoy this conversation? Thank James Norman on Twitter!
If you enjoyed this session and have a few seconds to spare, let James know via Twitter by clicking on the link below:
Click here to say hi and thank James on Twitter!
COMMENTS?
What stood out most to you about what James Norman shares in this podcast?
For me, it's his advice on raising capital as a beginning entrepreneur.

You? Leave a comment below.
WANT MORE?
To subscribe to the podcast, please use the links below:
Click Here to Subscribe via iTunes.
Click Here to Subscribe via RSS (non-iTunes feed).
To download the PDF file for the full transcript of this podcast, please use the link below:
Click Here to Download PDF file
If you have a chance, please leave me an honest rating and review on iTunes by clicking here. It will help the show and its ranking in iTunes incredibly! Thank you so much!