Hiring great talent is not easy right now. Recruiting is often the biggest pain point for tech companies that are looking to scale up.
The competition for top workers affects everyone, whether you're a developer, salesperson, marketer, or customer service representative.
But here's the secret: Companies that are well known as a great place to work don't have as much of a problem attracting great candidates.
So how do you become known as a great place to work? 
You establish a strong employer brand.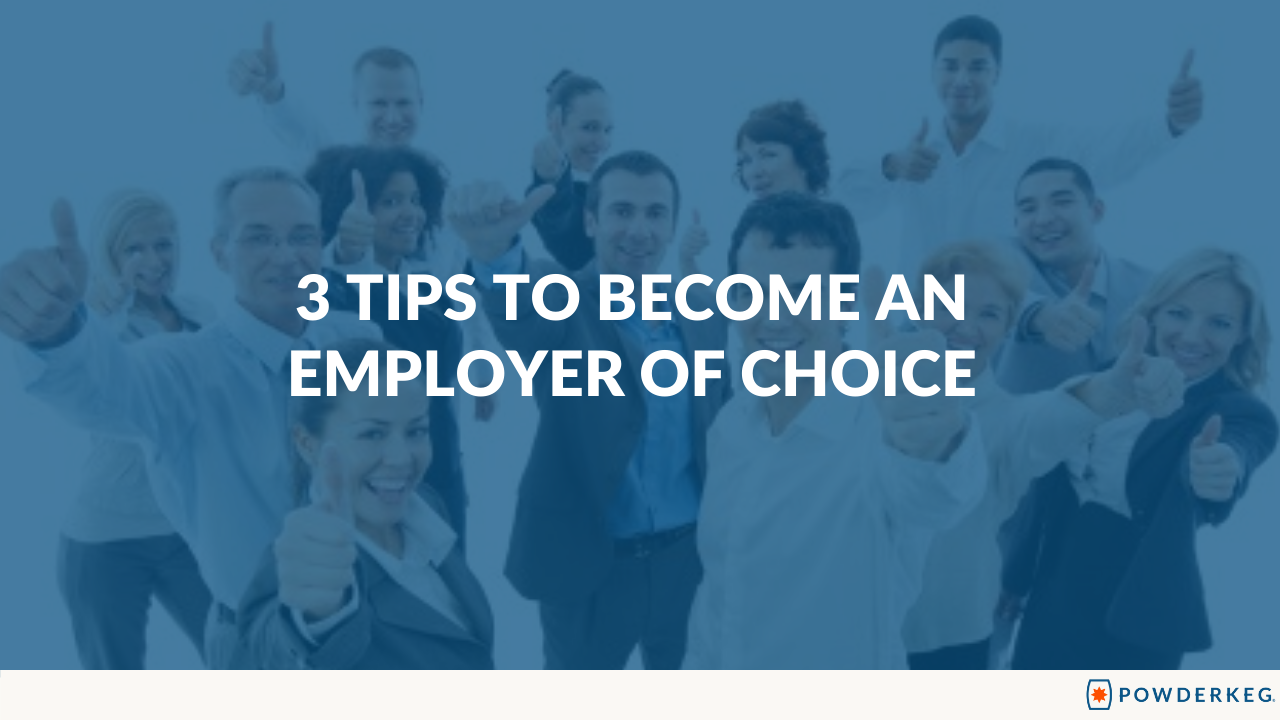 Here are some tips on becoming an employer of choice in today's tough labor market: 
1. Tell a Compelling Employer Story
Everyone plays a role in your company's story. You can empower your team members — and even play a role yourself — in sharing with your community why you love working for your company. 
Every little bit helps, and in a way, we are all recruiters now. We're representing our companies to friends, family, professional colleagues, and social media audiences – so even though most teams have recruiters whose main focus is on hiring, helping out makes everyone's job easier.
For example, if you like working for your company, take small actions like posting on social media about your job, the culture within your team, or a leader you admire. It only takes a moment, and it won't just help your company – it will help you build your professional brand, too.
The Harvard Business Review defined the primary components of an employer brand as:
Reputation

– Can a company move a job seeker's career forward? Is the work culture a good fit? Is the company making a community and societal impact?

Proposition

– The employer value proposition (EVP) defines the employer-to-employee relationship, and includes things like performance and behavior expectations, reward systems, financial compensation, and work/life balance.

Employee experience

– Delivering on your EVP helps you foster positive employee experiences, which contribute to higher performance.
To learn more about cultivating an attractive employer brand, join us at Powderkeg Unvalley for the panel session "How To Tell Your Employer Story," led by Rachel Downey, CEO and Founder of Share Your Genius.
2. Treat Your Candidates Well
Many companies' recruiting processes aren't hitting the mark. According to a 2022 Greenhouse survey, companies are failing to meet candidates' expectations during the interviewing and hiring process.
75% of job seekers say they have been ghosted after a job interview.

58% of candidates expect to hear back from a company within one week of their initial application.

58% of job seekers are unimpressed by time-consuming recruitment processes, and 70% of job seekers report they will not submit an application if it takes more than 15 minutes to complete.
Top workers now have the leverage to insist on streamlined, modern recruiting experiences – so when candidates apply, treat them well. 
Our Powderkeg Unvalley panel session, "Recruiters: Why Response Time Should Be Your #1 Priority," will give you more details on providing a great experience for candidates. William Tincup, Editor-At-Large at RecruitingDaily, will lead this session. 
3. Focus On Your Leadership Team 
Have you ever heard the phrase, "People don't leave bad jobs, they leave bad bosses"?
Without great leaders, recruiting is tough.
Build up your current leadership team's management skills, and hire new candidates that are incredible managers. Here are the top skills that will help you become a better leader:
Communication

– Great leaders are communication masters, including skills like explaining, listening, and reading body language.

Positivity

– A positive work atmosphere increases morale. Develop a positive attitude and be willing to laugh at yourself if things don't go as planned.

Trustworthiness

– Demonstrate your integrity and be open and honest. Encourage vulnerability and honesty within your team.

Creativity –

Many employees like creative leaders who embrace new ways of thinking. Think outside the box and try to be innovative, while listening to others' ideas.
Start by identifying the personality traits and behaviors you're looking for in your leaders, then use the recruiting and interviewing process to find those qualities in new candidates and existing employees. 
Create a leadership development plan that builds on natural strengths and helps people become great managers that people will love working for.
Want to learn more? Heather Haas, President of ADVISA, will lead the panel session on "Building A Leadership Team That Attracts Talent" at Powderkeg Unvalley in May. RSVP here to get her insights.