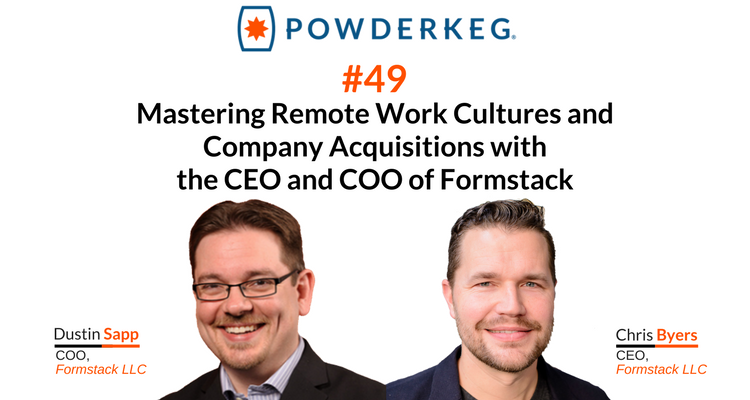 Modern technology has made telecommuting and working remotely easier than ever before, opening the door for businesses to find and hire the best talent no matter where in the world they live. However, Chris Byers and Dustin Sapp will tell you that hiring the right people is only the first step; building an exceptional culture to support your remote team is equally important.
Byers and Sapp are CEO and COO of Formstack, an Indianapolis tech company that provides easy-to-use, online form-building software for 15,000 customers around the world. Although Formstack maintains an office of about 30 employees at its Indianapolis headquarters, the other 70% of its workforce live in 75 cities and seven countries around the globe. The team at Formstack has worked hard to create a culture that accounts for the unique benefits and challenges of remote work, empowering every employee to do their best work in spite of physical distance.
In our interview, Chris and Dustin share many of Formstack's secrets for building world-class remote cultures. They explain the importance of fostering genuine relationships between team members, how to do this through face-to-face and virtual interactions, and why the team must always be aligned around the company's vision. As an added bonus, we also discuss Formstack's just-announced acquisition of Fast Forms for Salesforce and how the move will fuel Formstack's continued growth in the future.
In this episode with Chris Byers and Dustin Sapp, you'll learn:
Why your company needs a dedicated team aligned around a core vision (10:55)
How to build and maintain a highly effective remote work culture (19:11)
Key reasons why your company should or shouldn't go remote (28:00)
Tips for overcoming the unique challenges faced by remote companies (29:43)
The Formstack method for executing a smooth, drama-free acquisition (36:49)
How high-growth companies can succeed and scale even without raising capital (48:13)
Please enjoy this conversation with Chris Byers and Dustin Sapp!
If you like this episode, please subscribe and leave us a review on iTunes. You can also follow us on Soundcloud or Stitcher. We have an incredible lineup of interviews we'll be releasing every Tuesday here on the Powderkeg Podcast.
​
"Don't do remote because you want to save money." — @rchrisbyers on @PowderkegCo
Click to Tweet
​
"The idea of diversity is much different when you're hiring remote." — @dustin_sapp on @PowderkegCo
Click to Tweet
​
"If you continue to persist, you can grow a meaningful business without having to raise capital." — @rchrisbyers on @PowderkegCo
Click to Tweet
"If you get the people part wrong, an acquisition is going to be a big waste of money." — @dustin_sapp on @PowderkegCo
Click to Tweet
Links and Resources Mentioned in this Episode:
Companies and Organizations:
Conferences:
Universities:
Rose-Hulman Institute of Technology
Books:
Software and Apps:
Interviews:
Powderkeg Podcast #1 with Kristian Andersen
Powderkeg Live Interview with Ade Olonoh
People:
Chris Byers (@rchrisbyers)
Dustin Sapp (@dustin_sapp)
Kristian Andersen (@kristianindy)
Bob Compton (LinkedIn)
Robert Harris (@ilaunchtech)
Mike Fitzgerald (LinkedIn)
Simon Sinek (@simonsinek)
Ade Olonoh (@adeolonoh)
Dee Guttikonda (@DGutikonda)
Keith Stoute (@keith_stoute)
COMMENTS?
What stood out most to you about what these entrepreneurs share in this podcast?
For me, it's the tips for overcoming the unique challenges faced by remote companies.
You? Leave a comment below.
WANT MORE?
To subscribe to the podcast, please use the links below:
Click Here to Subscribe via iTunesClick Here to Subscribe via RSS (non-iTunes feed)
If you have a chance, please leave me an honest rating and review on iTunes by clicking here. It will help the show and its ranking in iTunes incredibly! Thank you so much!