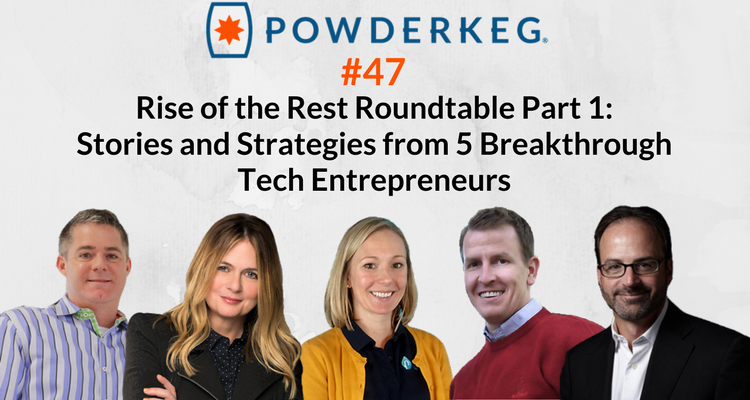 This Thursday, AOL co-founder Steve Case's sixth Rise of the Rest tour is making a stop in Indianapolis, IN, where Powderkeg's headquarters are proudly located. Ten local tech companies will participate in a pitch competition that showcases the best in Indy entrepreneurship and promises a $100,000 investment for the startup that comes out on top.
In anticipation of the event, I gathered all ten finalists for candid roundtable discussions about their companies, their struggles and successes, and the state of Indianapolis as an ecosystem for tech innovation. In this first half of our two-part episode, I speak with the heads of DemandJump, 120WaterAudit, PoliticalBank, Torchlite and Fuzic. Our conversation is a great introduction to a few of the high-growth companies that will be competing at the sold-out event on October 12.
If you didn't manage to snag a ticket to Rise of the Rest or don't live in Indy, don't worry, because Powderkeg will be broadcasting the entire event from Union 525 in downtown Indianapolis with the help of our friends at Edge Media Studios. Just visit RotR's Facebook page on Thursday to tune into the livestream and see which company goes home with the check.
Until then, enjoy our exclusive chat with these five breakthrough entrepreneurs, and check back next week for our second roundtable featuring the remaining finalists.
In this episode with the first five RotR founders, you'll learn:
Why Indianapolis is rapidly becoming the nation's tech nucleus (7:45)
How the success of ExactTarget paved the way for Indy's current generation of tech startups (11:20)
Key pivots each startup has made on its journey to becoming a successful business (22:50)
How their pitches have changed to reflect the evolution of their companies (34:58)
Ways Indianapolis can still improve as a hub for global tech companies (46:55)
Please enjoy this conversation with the first five RotR finalists!


If you like this episode, please subscribe and leave us a review on iTunes. You can also follow us on Soundcloud or Stitcher. We have an incredible lineup of interviews we'll be releasing every Tuesday here on the Powderkeg Podcast.
Links and Resources Mentioned in this Episode:
Companies and Organizations:
Coworking and Office Spaces:
Universities:
Books:
The Hard Thing About Hard Things
Websites:
Rise of the Rest Facebook Page
People:
Christopher Day (@tophday)
Megan Glover (@megancglover)
Adam Berry (LinkedIn)
Susan Marshall (@s_marshall)
Scott McCorkle (@smccorkle)
Steve Case (@SteveCase)
Scott Dorsey (@ScottDorsey)
Chris Baggott (@chrisbaggott)
Ben Horowitz (@bhorowitz)
Scott Jones (@chachaman)
COMMENTS?
What stood out most to you about what these entrepreneurs share in this podcast?
For me, it's the key pivots each startup has made on its journey to becoming a successful business.
You? Leave a comment below.
WANT MORE?
To subscribe to the podcast, please use the links below:
Click Here to Subscribe via iTunes
Click Here to Subscribe via RSS (non-iTunes feed)
If you have a chance, please leave me an honest rating and review on iTunes by clicking here. It will help the show and its ranking in iTunes incredibly! Thank you so much!

Episode Transcript
This episode of Powderkeg is brought to you by PERQ, a marketing technology company that connects consumers to brands. And what I love about perk is that perk is a lot like Indianapolis, the city where they're headquartered. You see, Indy has all the opportunities that a big city offers with all the small town charm. So similarly, perk has big company stability, and all the excitement of a small growing tech startup, it's really the best of both worlds. And perk is hiring for a bunch of positions. So if you're interested, check out perk.com forward slash careers, that's p r q.com. Forward slash careers, and see if there's a fit for you or for a friend. Again, that's parcc.com forward slash careers. And we're live here with powderkeg live a special Rise of the rest edition, hashtag rise of rest. We have half of the finalists for a rise of the rest tour Indianapolis, amazing companies represented at this table here right now today. And we are coming at you live from Indianapolis, Indiana downtown in Edge Media Studios. These edge Media Studios guys, they know how to do live casts. Well, I like calling them edge casts because they just do them at such a different degree, you have to like categorize them as an entirely different thing. Strategic is the holding company that that owns as media studios. And we're super fortunate to be in here today. Because we have just a powerhouse of talent at the table. So I want to introduce everyone here at the table. Starting with you, Mr. Christopher de, Christopher de is the co founder and CEO of demand jump. Christopher, thank you for being here. I want to be here, I want to offer you the opportunity to give an elevator pitch for demand jump, but I want to first introduce everyone at the table. So I'm gonna give you a minute to think about what your elevator pitch might be for demand jump, because I'm sure you've never given up before.
First time, first time,
I'm really nervous. To your left, we are joined by Megan Glover, the co founder and CEO of 120 water audit. Megan, thank you so much for being here today. And then, of course to my right Adam Berry, co founder and CEO of political bank or another great Indianapolis company. And to my left Susan Marshall, co founder and CEO of the wonderful torch light company that we are very familiar with. Yeah, and we've had on the powderkeg stage many a time. Thank you. Thank you for being here. Happy to be here. And then of course, we have Mr. Scott McCorkle, one of the cofounders of exact target serial entrepreneur. And now the executive chairman of fuse IQ, and torch. You guys get double representation. It's not fair. I love it. I love it. We're gonna give everyone the opportunity to give an elevator pitch here because the companies that you're here representing, I'm gonna ask you to represent music, primarily Scott, you gotta know you're invested in a lot of companies. Thank you for that. That is a great story here in Indianapolis the exact target exit that that exited for around $2.5 billion. Now Salesforce tower being the largest, tallest tower in all of Indiana. It's an incredible accomplishment for you. And then for all of us as a community to have sort of the waves of just positive feedback into the community. Talent. Capital. Customers. Yeah, lots
of incredible startups. Yeah,
it's awesome. Well, let's start with this incredible startup. Demand, John. Yes, sir. Tofu as I sometimes call you, please call me Toth.
All my friends call me. All right. I
love it tough. Take it away. I'm not going to slow clap your anything. Okay. So can you give us the 32nd pitch?
Yep, 32nd pitches, we built a traffic cloud prescriptive attribution. So retail used to be all about location, location, location. When the digital era came along, we all forgot about the where. And everybody started focused on the who became the wild wild west focus on the who, thinking that our website was the center of the universe. That's not true. What we've discovered with the traffic cloud is that marketers on average only have 20% visibility into their actual competitive digital ecosystem. It's a massive problem. They don't they literally don't have 80% visibility to the potential revenue for their company. And so that's what we solve. We help our customers drive more traffic than their competitors full stop.
I have lots of questions for you about but I'll come back. Let's let's let Megan give her pitch for 120 water audit.
So 120 water on it. I mean, simply put, We're revolutionizing the water quality industry. We build an enterprise level platform and testing kits that our customers use to collect data, manage data and trend data to help them stay compliant for lead and other contaminants and probably most importantly, make informed data driven decisions to protect our public health.
I don't like it because it tells me that I have a ton of lead in my water at my house. And Robert
we all do. It's okay.
I'm just kidding. Of course I love it. It's good to know what's in your water what you're consuming daily. It is it prompted me to get a double filtration system that I drink all of my water out of it instead of a tap. Yeah, yeah. Yeah. Good. Thank you for being here. Megan, Adam, give us a pitch on political bank. Yes. So
political Bank is a one stop ecosystem for candidates, elected officials and voters. And the idea is that there's about 800,000 candidates who run for office in the United States every two years in the process of just getting started, let alone managing, managing your campaign is very difficult. So what we want to do is create a platform where candidates can very quickly and efficiently launch campaign website, recruit volunteers raise money, convey their positions on issues, and where voters can go and find those candidates and support them by name, demographic, location or issue.
I love it. I have lots of questions for you. All the answers are coming back. Susan, we give us the elevator pitch on Torchlight where it is today.
So Torchlight is a digital marketing project management platform that helps you identify gaps tells you what you should actually do, and then connects you with the resources that help you get it done. So we have a network of about 250 digital marketing experts that can help you execute your campaigns. And then the project management platform keeps track of all your marketing plans, campaigns, deliverables, keeps everybody on the same page. We developed Torchlight a couple of years ago, because marketers are going through a massive transformation right now. They're bombarded by multiple tools and technologies. And it's frustrating trying to figure out how to navigate it all. So we knew it had to be a combination of technology and people in order to make them successful. And so that's what we've built. And we grew 100% year on year and keep growing. So we're obviously solving a big problem. And we're super excited about the future, torchlight.
Congrats on all the progress. I'm eager to talk more about that. Yeah. And Scott, yes, representing music,
music, we used music and messaging for for wall location based businesses. You know, audio really is not a marketing channel today. And there's lots of things that store owners or business owners don't control, but their space is one of them. And they should be able to engage their customers with a full marketing tech platform that leverages audio. So that's what we've built. And that includes content management, or the workflow to get the right content that you want from an audio messaging perspective, automation and personalization to the same degree you would expect for any digital channel. All the ROI and attribution. What am I saying? Is that having an impact, and then something really special? That'll be fun to talk about a full blown advertising network where I can think about distributing audio advertising through eventually hundreds of 1000s of locations?
That's awesome. I probably heard music and I don't even know it. Probably is probably true. And we, if you've been to Sky
Zone, you've heard music.
Oh, I've been to Sky Zone.
Yeah, we have a lot of sky zones as customers. That's awesome. Well, I
I'm very excited to talk with you guys. Obviously, being selected as a finalist for Rise of the reds. I don't know if you know this, but Indianapolis had the most number of applications, out of all the cities on this tour, which I was very proud to hear. Yeah, it is exciting. I think it's just a testimony to the ecosystem that we have here that there's this many viable tech companies. And I mean, it wasn't like it was an easy choice, whittling it down. Obviously, you guys are exceptional companies. But there were a lot of other exceptional companies that didn't get it to the the final round. So to have half of you guys here today is super exciting. I've been fortunate enough to be on three or four of the other tours previously in other cities. So it's really cool to kind of like drop in and see what an ecosystem is like, whether it's Philadelphia or it's Baltimore, or it's, you know, somewhere down down in the lower Midwest like Des Moines, Iowa. It's just really cool to see the differences. I love what we have here in Indianapolis. I think it really is exceptional. And I'd love to talk to you guys a little bit about what it's been like growing your company here in Indianapolis. You know, Christopher, I know you started your first company. Here in Indiana, you grew up in a small town, dirt floor, is that right? Almost there for particle boring particles that are part of disintegrating, quickly disintegrating quickly, you've started several companies here that that you've been able to grow and exit from? Why did you decide to start this most recent company? And why do you decide to start here in Indiana?
So the reason I like to solve problems, so listen, listen, listen, I think is the most important skill set any of us can have. And so, you know, I've experienced in previous businesses challenges and marketing and feeling like, you know, what should we do next, quantifiably, right, if you think about a, a CRO, you know, has a CRM to go to a CFO has an ERP, what does the marketer have? What does that cmo have to go run their business on a day to day, week to week, month to month basis. And we believe all these tools that exist out there are all focused on good execute something, go automate something, go engage with your customer go look at their journey or create an experience. Those things are all super important. But they're only half the equation. Right? None of them telemarketer what they should do to begin with before they go do any of those things. So that's kind of what we're focused on. Why Indianapolis, the people, I mean, look at the people around this table, right? And I look back to when I was 20. Seven years old starting the first technology company. This didn't exist this frothy environment. How long was that? 1520 years ago, 1718 years ago. It is unbelievable what we've built right? And you go to the exact targets, right? And that success breeds success, right? Look at Susan coming out of that. I mean, it's just, it's awesome. So I think that we should consider Indianapolis, in my opinion, is no longer the crossroads of America, I think it's the nation's nucleus. And we should own it. Full stop. And we can start with marketing technology, in SAS, in general, but all the other different types of businesses are popping up. It is much more cost effective to build a business here. We graduate the second highest number of engineers regionally as compared to anybody in the country, only behind the Research Triangle. Well, we've had four or five $6 billion and exits in the last 10 years, roughly
7 billion, 7 billion of IPOs. And exits Yep.
You stack those numbers up again, we go, we can go head to head with anybody in the country.
I love it. I love fiery, we're getting into here on powderkeg. Live
the nation's nucleus,
like that. You heard it here. First, hashtag rise over s nation's nucleus is Indianapolis. I'd like to dive in a little bit, not to alienate, but we have a preponderance of marketing technology here right now. So I want to go down that thread a little bit. Scott, can you take me back to obviously there's this huge history of exact target and the effect it's had on our tech community. Can you take me back to where things were when you guys started? UT? Oh, wow. What was what was the business environment? Like? What was the tech culture? Like?
I mean, I think if you've looked at Indiana broadly, it's always been a business friendly climate, you know, lowering regulation, low taxes, state and city support for new new businesses. And that goes back to the early days of exact target. I mean, we were able to acquire some economic incentives very early, that were very helpful or business was that from the state, state and city, okay, state and city, both that if you look at the history of exact target 10s of billions of dollars in incentives, and I that's perhaps top of mine, because just yesterday with music, we announced a three and a half million dollar incentive package with in the state of Indiana and additional incentives with fishers. Oh, congratulations. Thank you. Yeah, for a plan for two to 55 jobs over the next three years. And that kind of support is just wonderful. But But I think if you if you go back to the early days of exact target, you just can't help but think of just this pioneering time for digital marketing. The idea that you can have this communication, packaged and managed and automated, at customer at scale with customers, and whether it was just a golden age, it was really an exciting time to start a company.
I love it, what were some of the biggest hurdles you had to overcome. You know,
there are several I could remember, like it was yesterday, the transition out of kind of smaller medium businesses into the enterprise. And I don't think that's a transition that every company has to make. But But I think if you really want to be market leader, you kind of have to be at the enterprise level. And we made that transition. And it was it was super painful. It really, in all respects. You know, there were there were five accounts that came to us, really within a few months, Bank of America, Best Buy Nike, Microsoft at Expedia, we would have been happy to have one one of them. And we want all five. And it really it just put the company on a different trajectory. I mean, it almost broke every process and every, you know, aspect of the company. But you know, if it doesn't kill you, it makes you stronger. And kind of the rest is history.
I love it. I think we have a very sales first business culture here. And it has certainly catapulted a lot of companies at torchlight. I mean, is a great example. I won't share any of the numbers. But I remember sitting in on the judging panel for the mirror, or it's one of the technology awards here in Indiana. And hearing your first year numbers. I was just like, Yeah, wait, that's those are your numbers for this year, like it was crazy. You guys just came out of the gates, well, we
jumped in, on advice from some very experienced people who've done this before jump in and just start selling. Even if you don't have the complete solution, figure out what you should build. And through that process, you'll build a customer first product. If we had built what I had envisioned two years ago, we would have had to throw that away by now. So what we have today, our project management capabilities are totally different than what I envisioned. And it's all because we just started servicing customers and bigger marketing teams. And they started telling us what they want. And so since we have a great dev team, we've been able to build it really quickly. So and then we were able to use that cash from the services piece to start to build up our development team and our technology.
And prior to even starting torchlight. You were in a leadership position at ExactTarget. Right? Yes. What were some of the lessons you learned there that you've carried over and implemented and as you've been now at the helm of Torchlight?
I think I think exact Target was a sales oriented culture, but it was also a customer driven first culture. So I was on the product team and product marketing. And we were constantly talking to customers listening to what they had to say, changing what we were doing based on what our customers wanted. So I think being customer first thing, customer focus was something that I learned from ExactTarget. You know, prior to that I was at Apple. And it was totally different culture. It wasn't customer first, it wasn't let's listen to the customer and tell have them tell us it was. We're all geniuses, we'll come up with something brilliant and push it out to the market. And that's just a unique obviously.
So it was a different culture, for sure.
For sure. For sure. So yeah, I learned a lot of executors.
I've got so many questions on that Friday. But I want to, I want to pivot this over to you, Megan and Adam, because I know you guys both are experiencing huge growth came out of the gate swinging. I mean, a lot of people I know have used 120 water audit to test, test their water at home and continue with a subscription service to make sure that they're continuing to live a healthier lifestyle. And likewise with political bank. I mean, you and I grabbed a beer on a Friday, Adam, and I can't believe the number of candidates you have on the platform. Yeah. How many candidates do you have now?
Just over 1000. That's awesome. From all 50 states and District of Columbia.
So talk to me about how you decided to even start political bank. Why was this the problem you thought needed to be solved? Yeah, I
will first T shirt, by the way. Oh, thanks, man. I, yeah. Marketing.
The original marketing technology. Yeah,
I'll tell you about Clickbank and how it started. But I first want to give you a quick shout out. And thank you. I mean, you have been on tour with these guys for three, four years. I know you've done some lobbying for them to come to Indianapolis. So thank you, just a little bit in pattern for your efforts. So actually, I
have a funny story about that, because I was on the second tour, which the first tour I saw hit like Nashville, Cincinnati, and like, everywhere, but Indianapolis. So like, geography all around. I was like, No way like and when I got the opportunity to go on tour, I was like, yes, because I want to be the Trojan horse that gets them to come to Indianapolis. And I was on the bus. And Steve Case shows me his email. And he's like, you know, this guy. And it was Scott Dorsey, who emailed him while we were on on the tour. And he was like, hey, well, why don't you come to Indianapolis? And it was like, you know, this guy like, Yeah, I know that guy. They're getting hit on all fronts by people wanting to wanting Rhys arrest to come here. So we have a lot of a lot of people to thank for that. And I mean, without the companies, they wouldn't become
well, Indianapolis, great place to start a company, as Christopher mentioned, that's not so political bank, right. So I have a background in politics. I am a lawyer by trade, don't hold that against me. But, but I did hate being a lawyer. So, but I've always had an entrepreneurial mind. So I knew I was gonna start a company someday, what would it be? Well, I had this, you know, 12 years of political experience helping candidates get started, and it hit me. In 2014, as I was helping this candidate, get his campaign started, I was telling him, you know, you need to clean up your Facebook page, Twitter account, blah, blah. And, and having a website really wasn't even an option, because he's, you know, this lower level candidate who couldn't really afford a really robust website. So I thought, why don't we create this platform, where we can just say, hey, go to political bank, start your website. And then oh, by the way, if you need campaign yard signs, we can offer that to you. If you need voter targeting software, we can offer that to you that story is a one stop shop that in theory saves these candidates time, money, and other resources, which are, you know, very valuable to these candidates who are, you know, you know, if you're running for Congress or US Senate, I mean, that's a full time job, and you've got million or millions of dollars, these local candidates do not. So let's make it super simple. For anyone who even has the the most remote interest of pursuing elected office, let's give them an easy way to get started and give them a competitive chance.
I love it. Because you've got this social angle of getting more people involved with with politics, people who might not normally run for office, who are qualified for office to jump in the arena bingo. And at the same time, get more people involved with voting and getting involved in local politics, as opposed to just national policy.
That's right. And along the lines of these guys, I mean, talking to your customers, I mean, we've done a lot of talking with our customers to find out exactly what they want. We've heard a lot of these stories of candidates who, you know, first time candidates who leveraged political bank for success and ended up winning their election almost to their own surprise.
Wow, that's so cool. Yeah, that's really cool. I'd love to we'll have to jump back on here some time with some of your customers and Yeah, that'd be awesome. Have that conversation be awesome. Yeah, it'd be great. Yeah. Well, Megan, I know from a customer standpoint, a lot of your early idea for the product came from a lot of the news that was coming out of Flint, Michigan. Is that right?
Yeah, I mean, actually it the whole idea of in concept for 120 was happened at Harry's coffee shop with co founder and mentor mine, Chris Baggett. To take the whole conversation
full circle, target one of the co founders as well. And you
know, we in to talk to your point, it's about solving real problems, right. And the the idea was, there's got to be a better way for consumers to know what's in their water. So we launched on a bootstrapping budget, a consumer kit, and quickly realized that the water quality market, it's not Flint, right? Flint is an example of how it's broken across the entire United States. And so quickly realized that the opportunity was not only in the households, but essentially every single place where water was being consumed. schools, public water systems, parks, public parks, so we, we made a little pivot to do a proof of concept in the b2b space and landed our first five schools. Our first elementary school in a very affluent suburb of Indiana, 10% of the taps came back high with with lead pets, and being technologists, my backgrounds in you know, b2b marketing technology, you know, growing startup and scale up companies. I went back to Chris and I said, this was the most paper driven process I've done in my last 15 years of my career, there's got to be a better platform to collect the data, manage the data, and analyze the data. And so we went out, and I think it was actually at last year powderkeg, were 120 launched our wireframes were how we were going to transform the school market. And as of today, we've landed the state of Indiana, they pre purchase they bought into the vision they saw, they saw how a AR platform could completely revolutionize these, these testing efforts. So that is awesome. Yep. So we are actually the platform and the testing kit of record for all public schools in the state of Indiana as well as contracts with the City of Pittsburgh love and Colorado and Lewisville, Texas. Congratulations. Yep, that's
so great. Yeah. And, and a little scary that 10% of the taps came back high in an affluent, particularly like in an affluent, probably newer school. Yeah,
yeah, you know, I've learned so much my, I rely on the scientists that are on our board and that we've, you know, that we've, that we that mentor us, but I will tell you, it's getting kind of geeked out on the water quality, and the science behind it is really fascinating. And it's really, you know, it's massive, and it's not just led either. So I'm not trying to be a scare tactic. But you know, we're really on the forefront of this transformation that I think we're going to see in water quality and, and other environmental compliance regulations.
Well, congrats on making that pivot to that is something that you see a lot of tech companies need to execute. And some of them do it well and signed five deals really quickly. And they're off to the races. And that was clearly the right pivot. Sometimes, it's really hard to change when you've been building so much momentum in one direction. And then to be able to change that. Has anyone else had a pivot that they've had to execute? Either at their current company or at a previous company?
Yes. So
everyone now?
Yes. We don't call it we don't call it a pivot, we just call it a little bit. A little swerve in the road. Swivel. Yes, level. So, you know, when we first launched political bank, we thought, okay, well, you know, we have to start with it with the MVP version, and how are we gonna make money? Well, let's charge art. So let's give them the website. But if they want to use it to raise campaign donations, then they would have to pay a monthly fee. Well, lo and behold, people want things for free these days. So we had to decide to take down that fee requirement in order for the raise money. And fortunately, it worked out and we saw we saw our numbers start to spike. That's that's my, my, my swivel story. I love it. Yeah. Execute flawlessly. Yeah, yeah, it appears it worked. Trust me, it worked out. It worked out very well.
24:14
Good. Usually, the best pivots are the ones where it's like, you make the change, and then everything starts getting easier. Right? Right. So it looks like you might have
24:24
55, at least at least, less fatigue, even counting. But but to in demand jump specifically is number one, when we first launched in what to market, we went to agencies, we thought that would be a natural fit in and what we discovered is a lot of the agencies, the business model is set up to charge a percentage right of of your spend. And so they actually want to optimize this but they don't they don't really want to optimize that right? And so they're incentive for you to spend more money not to make more money, which is a, you know, it's a big problem for what we are all about, right? We want to make more money for people. And so So we we switched and went direct. And that's not to say all agencies are are bad and whoever's listening out there. I'm not saying that, but we have a lot of great agencies we work with, yeah, but but a good chunk of agencies truly, they really don't. They want to do just good enough, not get fired. And if that's the truth, they might be a little brutal to say, but it's the truth, tell me how you really feel. But let's say there's probably three or four agencies out of 10, that that I think, truly are trying to embrace a better way to do things. But the other thing that in it's the latest about 10 months with the platform, but what we realized we went to market was, we were showing people the most powerful things that they should be doing on how they spend their money. And it was a really abrupt, it was like a really a big wake up call for how they're used to doing business from a marketing perspective. And it was too big of a leap. And so what we discovered was we needed to lead with the customer data. So we say there's four main pillars, right customer data, competitive intelligence, prescriptive analytics, prescriptive attribution. And this attribution concept is really at the core of everything. But it took us 10 months to figure out how to bake in this customer data piece. But what happened was after we finished it, the number one question we get today, when we meet with prospects is can this replace my Adobe analytics? And the answer is, yes.
That's great. That's a good, good place to be. is fun. Yeah, similar.
We have a similar Yeah, we started selling to much smaller companies, startups, huge, huge need there for sure, for a lot of the services we were offering. But the technology that we've built is a collaboration platform project management platform that really lends itself to bigger teams. So so what we've started to do is pivot towards selling to bigger marketing teams, which means we are changing the way we sell and who we sell to, and how to position. And so you've learned a lot by doing is what I've what I've experienced. And we feel like we really know who we need to go after and what they look like. I think the hard part is probably getting everybody aligned around executing against that, that that vision or that idea. But so we so we've had to kind of switch a little bit about who we who we target and the value that we can provide through both our software and services. And Susan,
as you as you're selling Torchlight to these larger enterprise accounts, what is what are some of the lessons you learned in making that shift in sales strategy? In other words, like, what did you find work really well? Or what are some of the things that worked really well for startups, but didn't work so well, in the enterprise
outbound is starting to work really well for us. So we've been able to through multiple iterations, we outsourced outbound, you know, actually cold calling and setting up appointments and to bring it in house, we've found a good formula there for that. And we're getting even tighter between sales and marketing around a more of an Account Based Marketing Strategy. So we had marketing over here, just generating a lot of leads. And they weren't necessarily converting some more, but we weren't sure why. So now we're getting closer and closer with with sales and marketing, very targeted. So what are those two, those two other customers that we're going after, and let's make sure as an organization, we're all looking at them every day and thinking about how to how to go after them and providing value. So we kind of went from here to try to figure it all out to getting very, very narrow and targeted. Do you think we'd be great at it? Because we're a marketing platform we're learning to as we go.
As we go. The cobblers kids doesn't wear shoes. Yeah. Yes. We know how that goes. Yeah. But outbound and it can work. Yeah. Well, what have you found to work really well, without bound?
I think it's the people.
The right people on the team doing outbound phone and email, yep, phone
and email, making sure they know exactly who to be calling. I mean, it's just the basics, I guess. And what the value prop is, what the qualification qualification criteria is budget authority need timeline, just really getting all the process down and then repeating what works over and over and over again,
is there a particular playbook that you kind of borrowed to get, you know, 80% of the way there and then customize from there? Was there a book you read? Or was it really just kind of creating it from the ground up? What would what would I want as a customer? Yeah, that experience today?
I think part of the marketers dilemma is that there are so many blogs and books and competing points of view and Account Based Marketing versus inbound. And so there's, I don't think there's one go to source right now. And that's, that's actually one of the problems we're trying to solve to in our platform through this template idea. So we've created a community around what you actually should do through a template. So if your objective is you're retailing and trying to drive b2b leads, and you have Pardot. Here are all the tasks and deliverables and roles that are associated with that. And so publishing that out to the community, letting marketers find that and then executing through our platform is how we're planning on driving more demand, very similar to to get hub which is a developer way of sharing code. So this is a way for marketers to share content upset ideas. And we do that a lot through blogging and everything else, but not practical. Here's exactly what you gotta go do and who should do it. And now let's put it into action. So we're super excited about our template strategy.
Oh, that's awesome. Yeah. Scott, how about with music? What's sort of the secret sauce there to? I mean, you have a very different customer than a lot of the other people at the table with a, you know, you mentioned four walls and a physical location.
Yeah, you know, the use cases that we're seeing are pretty extraordinary. And I'd love to just describe a couple of them here in a moment. But as we have the conversation, I can't help but highlight something that is very unique for a startup. And it just makes it so hard. And I find it kind of emotionally and intellectually refreshing just to admit the hardness, right. And just until we all find product market fit, you know, we really don't have anything, and you just have to be completely transparent and honest with yourself, your company, your investors that we're trying to figure this out. And even once you get that product market fit only the Paranoid Survive, there are competitors there, you know, things change in the marketplace. So just that being open to is it really working? And the answer to that is No, that's okay. Right? What what Startup figures about at the beginning? Very, very few. So, and I think we all have surprises, and you have to be open minded to those surprises. And it feeds in great to your question. So when we were thinking of for wall marketing, naturally, we think retailers? Well, we have lots of entertainment centers that have become very large customers, we have our first example that just went live of a pharmaceutical company, paying for refusing to go into specialty doctors for clinical trial signups. And if we kind of look at these breadth of use cases is extraordinary. And it just shows that audio really is a powerful communication channel. And it needs the same kind of platform that any other digital marketing channel would need, and we don't see it. So we're gonna try to build that.
That's awesome. How's that? How's that resonating right now and in the marketplace with music, in particular, like, what are people getting really excited about?
It really is the control of the content. Yeah, it's that I have a message. And I can get that message produced in a professional way. Larger companies have their own voice talent, we've actually organized a network of hundreds of freelance voice talent. For organizations that don't, sometimes an agency will provide this for our customers. But here is this content. And I want to create rules around how the content is used. So if it's raining, I want different content than if it's not raining. And you know, all the kinds of things we would think of as digital marketers with the level of dynamic pneus or personalization, well, that doesn't apply to someone just playing music in their space, you know, which is sort of what we all think of is created atmosphere and four walls. It's just Well, let me get some licensed music. And it's just not enough. We need the same level of personalization. Christopher mentioned Sky Zone, you know, there's an operational, but for those that don't
know, what is Sky Zone,
it is a trampoline park. Okay. And if you have any kid being the coolest businesses,
from an unbiased source,
it sort of is maybe one of those best ideas ever. You get 35,000 square feet of warehouse space and put a bunch of trampolines in it. And it there's, there's a very intense process of moving people through that experience. You know, these tickets expire time for the new group to come on. And few, six manage that whole process. It's all orchestrated. And all that audio comes out of our platform, including, you know, be sure to get a slushie at the concession stand, because they're pretty tasty.
Sugar. I'll keep you going too. Yeah, exactly. Right. Yeah. Well, I do want to point out that all of you have voice talent voices here on the powderkeg podcast, I would just want to compliment. Sounds so good on the mic. I'm excited to hear your voices on the stage. Next week on October 12, which is when the rise of the rest pitch is going down. We're having it at Union five to five, just south of the circle in downtown Indianapolis, and you'll each have a chance to pitch to Steve Case.
So yesterday, all tickets at all levels are sold out.
Packed house, how many people
16,000 Pretty big.
Well, we are going if you weren't lucky enough to get a ticket, they were free, which might be why it sold out as quickly as it did. But we will be live streaming all of that. So all of your pitches will be live streamed, you'll be able to catch that live stream thanks to powderkeg and edge Media Studios. It's helping us out there multiple camera angles and you'll be able to find that@facebook.com forward slash rise of rest. Go there. Check it out. You can say notify me when this goes live. You don't want to miss these pitches, because they're going to be great. I want to ask each of you about How you how you've kind of developed your pitch along the way, and what you've evolved, what you've dropped out what what you've added. But it just really quickly, for those that are listening or watching on Facebook Live, I want to encourage you again to share this this particular story because these companies are amazing. The more exposure we give to them, the more exposure we're giving to Indianapolis, as a tech community as a tech hub, the more we're giving exposure to talent for these amazing job opportunities, because I'm sure all of you are hiring right now. So I just want to encourage for those of you that are watching those of you that are listening, if you're listening on the podcast, of course, you know, share the podcast with other other folks. But Megan, can we maybe start with you? And we'd had you pitch on the powderkeg stage a couple of times. And I've noticed some changes along the way. I wanted to ask you, you know, what have you found? Is that the core of the pitch? Like, is there anything that has never changed from the beginning, in terms of the storytelling, and then your what has changed?
I think the only thing that stays constant is the massive problem. Yeah. And then it's the solutions that have changed, right? You know, it's a, you know, our solutions have evolved from, you know, we're just a retail consumer kit to now we're an enterprise level platform, and we serve very complex verticals and industries. So I think the only constant has been the massive problem that we're trying to revolutionize and solve through our products and services. And then, you know, everyone has an opinion. So I mean, I was looking at my folder and preparation, we, I mean, there, I'm probably more than 50 versions of of the deck, the deck over time. So I think it's managing everyone has a different flavor of what they want to see and how they want to see it, whether your partner investors, you know, traders, so I think just, you know, yeah.
Are you customizing the deck before each time you give the pitch, whether it's to a customer or to an investor?
Yeah, it depends. Yeah. It depends on who we're talking to. For sure.
Yeah. I think that's fascinating. You know, going back, I don't know if you guys save any of the folders from past versions of the deck or even past companies. I've, I've got a couple of hard drives somewhere that are just hilarious to go back and look at some harebrained ideas that I had in the past. I know none of you at harebrained ideas, but it's all perfect. Yes, absolutely. Well, thank you for sharing that what what has been the biggest change in how you've pitched 120? Water audit?
I tend to talk too much. Right? So I think the biggest change is how do you how do you tell this story in the most impactful way in the shortest amount of time? Right? And then translating that to visual, I mean, you know, a great visual is worth 1000 words. And we're still perfect, we don't have that down. Right. So I think it's how do we want? How do we get better at telling our story visually, so that we can condense the physical aspect of the slide deck, but then also, how do we take this massive story and whittle it down to four minutes? Is anybody else struggling with that? Let's be real. Love it. Real here? Yeah. So. So I'm constantly reminded by peers that we have less than seven days. So why
is there one is there one visual in particular that really resonates with your target market, whether it's customer,
I had to so our first deck was a picture of my son, because he gave us the best quote for the business. I mean, I loved it. And he said, because, you know, he knows what I do. He knows that mommy tests water for a living. And he's like, yeah, when we're thirsty, we just go and fill up our you know, faucet, and so I had this quote, and I'm biased in a picture of him, you know, sitting right there. So that I that's not going to make it into the rise. But I'm kind of biased to that. I just, you know, I love I love that because it's kind of it hits home on what we're doing.
Maybe it should, maybe it should I think obviously the the intellectual appeal is always important. You got to play to the logos, but that the ethos and sort of why we get up and do what we do. Yeah, so emotional pain point. Yeah.
That's great. Yeah. So So bringing it home to people, a lot of those elements have not changed. And probably I'm partial to a pretty visuals of the platform that we built, which is pretty kick ass so
it's always nice when you can include pretty visuals of your your UX. Yeah, that's awesome. Yeah. How about you, Adam? Any anything in particular that you've learned along the way and iterating on the pitch?
Yeah, no, I mean, I've probably like everyone at this table have done a lot of pitches. If you were to estimate in two years, probably 6070 pitches. Yeah, I say
the customer investor.
All levels convince, you know, these conferences, you know, investors, customers. I mean, it's actually if you're gonna adding customers, I mean, gosh, whatever. I don't know. It's a lot. Yeah, you're
talking like TrueBlock pitches. Yeah, yeah, right. You're talking like, events. Right?
Right. Right. So a lot, but I would say you No, Megan nailed it. I mean, the one thing and one thing that we know, with absolute certainty is that there's this massive problem that we feel like we are uniquely positioned to solve what has changed over time? You know, depending on the audience, obviously, but what has changed over time is just the progress of our company, and what we can include to show how we're gonna grow in the market, you know, the partnerships that we've that we've developed over time, you know, the, the traction that we've had. So fortunately, we're able to change the deck in that way.
I love it. Yeah. Scott, I'm gonna ask you put your investor hat on. All right, for a minute, because I know, you're, you're you've had the opportunity to probably hear a lot of pitches. What is it in your opinion that that separates the good pitches from the maybe not so good pitches?
You know, a quick reflection on that just with this group? Yeah, the 10 finalists? Like, wow, right, it's really fun to see kind of that collection of companies all sort of brought to light it totally, really, really incredible. But you know, it's does someone want what you're making, right? Is Will someone pay money to have some problem solved for the product you're building? And then there's kind of like levels to it is it like, it takes all this to solve a little problem, or it takes something but kind of little to solve a big problem? You know, so little investment to solve big problems? Those are, those are really nice and exciting. So it's really finding that fit of what what are you trying to do? Who cares about having that problem solved? And then can the economics of what you can charge what people will pay? Well, that support a viable business? So yeah, that's it's just, it's, it's fun to look at all the different I know, you've looked at 1000s of companies, right? It's just fun to see the ideas, right? I mean, how do we have an entrepreneur say, well, here's something I'm thinking of doing or have done, it's like, I've never thought of that before. That is a great idea. So it's really a fun part of it.
Thank you for sharing that perspective. I think it's, it's great to have you here to be able to play both sides of that situation. But the entrepreneur,
it's fun to be pitching to be pitching. Yeah, yeah. You kind of tell quick story. Yeah, by the way, after this, I'm on my way to practice. Okay, good for the whole music to good. And I was struck by I really enjoyed Ben Ben Horowitz, his book, The hard thing about hard days. And he makes a big point about teaching and us as the founders and leaders, teaching the our teams. So you know, people are like, hey, you've done this, how many 1000 times? So you'll just, you'll crush it, right? It's like, well, maybe, you know, you crush a pitch the same way you get to Carnegie Hall practice. So we're doing all of our practice very group oriented. But we'll we'll do half a dozen 10, like full throated full on practices with the whole company. And that kind of dials in the messaging, right? You have the sales folks going? I kind of like that, that you know, so we're dialing in our messaging at the same time, we're trying to figure out, you know, what the company should do? So it's a great, great catalyst for that,
Oh, that's great hidden benefit of pitching it rather than just like lots of practice and iteration. Yep. That's great. Susan, you've got an interesting pitch. And that you might have more audiences than other people sitting at the table, or with a two sided marketplace. That Torchlight is, how have you kept your pitch versions, like, separate? You know what I mean? Because you're, you're pitching not just in person, but you're pitching on the website, as well. You're pitching through outreach email, whether you're reaching out to a torch lighter, or, you know, Freelancer on the platform versus a client, or a brand that might use the platform to get some work done. On the marketing side? How do you keep all those versions straight?
So you're talking about our dual marketplace? And how we talk to freelancers versus brands who need
Yes, you should just be the question asker. And
so we haven't, we've have a lot of great freelancers that have come to our platform, which is great. And so the challenge, there is less about messaging them to come and be part of our network, but more about vetting and getting the really great ones that can help support our brand. So from a messaging and pitch standpoint, it's been almost all focused on getting customers. Yeah. And because there's just a ton of people out there, it's just finding the right ones.
If the work is there, the Freelancers will come. Yeah, absolutely. That makes a lot of sense. Yeah. Yeah, sort of finding that critical path of as long as you've got this. I mean, for us, you know, we're in a marketplace where we're serving tech entrepreneurs and investors, and, and professionals as well that want to work at these companies, as well as even customers that want might want to buy from these tech companies. Yeah. And we very similarly, it's like, let's serve the entrepreneur. Everything else will fall in place. If we get the right entrepreneurs there. The right investors will show up. Absolutely. If we have the right entrepreneurs there the right talent will show up. Yeah.
And if we keep making those customers happy and growing our revenue those investors will. So customer, customer customer focused on
That's awesome. Well, and then I want to ask everyone what's next. But I'm curious too, if you've given a lot of pitches. I think I've heard your pitch maybe. Have you done twice on that powderkeg stage? I think it might be right no I wonder John swagman, your co founder did it once another time? Yep. But you didn't want that Scott Jones's house. Yeah. I remember it was one of our holiday celebrations. That was very early days demand. Yeah.
So if I went, I can't even remember what the first pitch was, honestly, I was thinking about as everybody's talking here. I mean, Megan, you said, you're on 50, we're probably on 150. So it's really hard. The simple story is really hard to get to. Our pitch today is nothing like it was 24 months ago. I also think there's a there's a customer facing story, and there's an investor patient story. And also, you know, all investors are not created equal, right. I use this is the eighth or ninth company, I think that I've been blessed to be a part of starting. And I still get treated like crap from investors. And I think we, you know, it just right. And I just think all entrepreneurs, we're all in it together. And we shouldn't go out there. If you're an entrepreneur, starting a company, and an investor tells you, you're a loser, and your idea will never work. And you have no experience and whatever they tell you. If you truly believe in what you're building your vision, just keep taking one step in one step and one step. And I think success is largely about perseverance. Right? And pivots, we should all embrace pivots, right? Because just like Susan said, if you if you think if you haven't figured out on day one, and you had some success, well, and you weren't willing to embrace pivots or change, then you probably did your company a disservice. Because it wasn't as great as it could have been. Right. So anyways, yeah, we were, I mean, it took me two years to think of two words, traffic cloud. And so you know, what, you trademark now, which we filed for the trademark. And so, but yeah, it's it's hard. And we might turn around in 12 months and go, What in the heck was that? Right? It's very probable that we will, right. But yeah, it's hard. The simplest things are the hardest,
that I want to thank all of you guys for sharing a little bit of how the sausage gets made and how you create such amazing companies. Before we sign off, I'd like to open the conversation back up to Indianapolis. And I'd love to hear maybe just closing thoughts like one thing you feel like Indianapolis has as an opportunity to work on and improve upon, and maybe one thing that Indianapolis so that we all, each individually get to end on a positive note, you know, what do you think our biggest opportunity is that you're leveraging right now in your company, and why that's moving you forward?
I would just like to lead it off with Amazon, you should come here.
I love it. You know, man, I'd love to offer this thought because there's enough happening. That's very exciting. Absolutely. I will lead community leaders, even your business leaders to ask questions like, Are when will we be the next Silicon Valley? Or are we the next Silicon Valley? And I've always thought that's the wrong question to ask. Because there's really kind of only one Silicon Valley. And it's an idea, not a region. So our goal is to be part of innovation at a level that hangs with the most innovative companies in the world. And I think that's what's starting to happen, right? I mean, these are really notable companies that could be anywhere in the world. They choose to be in Indianapolis, so that we are part of innovation at that scale. That's the goal. It's not about how many of these or how many of those are, you know, it's been part of it, to be a part of it. That's right. And part of the innovation.
So our big opportunity is to shed this comparison mentality to Silicon
Valley, and let's even call it an insecurity is yes,
yeah, yeah, absolutely. Yeah,
I could, you know, sort of dovetail on that. I mean, I think that we have to be, we have to embrace what, you know, the climate that we're in and coming from a government and policy background. I think our legislators need to be more in touch with the, you know, the entrepreneurs and the investors on the ground. There's so many things that we can do from a state policy, legislative perspective that would, you know, make and yeah, we don't have beaches, you know, we don't have you know, Indiana needs to be a place that is attracts people who are graduating from Stanford to come to come to India, why, you know, there are incentives that we can put in place to facilitate that. I love that. Yeah. That that would be huge.
Well, so this will be my last night I'll be quiet.
So So what other large company I get invited to come to Indianapolis, Let's just Let's
hammer down Amazon, Amazon. So I continue to believe that there's the last well, I shouldn't say the last but the the one big remaining thing we have not solved and some people disagree with me on this and some people agree. But it's growth capital. And so if you want to start a company in in Indiana, you can you can go raise money, if you're 1000 500,000 million, 2 million, you can go raise money, but once you've kind of proven you've gotten traction and you've had, you know, Product Market Fit and in you're getting to a million in ARR, you're kind of passing that number, it needed to go hammer down with a $5 million raise. You'd have to go outside Have the state Yep, to get that capital. And, you know, some would say that's not a problem that that's okay. And maybe it is okay. But But what happens in the in this whole world is success breeds success, and it's about risk adjusted returns and about the recycling of that capital of that wealth. That's that's how we add wealth to the state of Indiana to the citizens of Indiana, is recycling that money. And right now, we are giving away the vast majority of our risk adjusted returns. That's where the wealth is made. And we need to solve that problem. One step, I think in the right direction is the next level fund. That's great. I think their strategy is absolutely spot on with a fund to funds concept. I think all that is great. Can
you give the 32nd on next level fund, so terrific for those tuning in that maybe aren't in Indiana or aren't aware?
So, so Governor Holcomb and Micah Vincent, who's the head of OMB and some others, but the I really want to commend them for taking a very bold move a very bold step. And insane aside $250 million, it's called The Next Level fund. And those funds came out of it was cash, at least was just sitting there from the toll road deal that Governor Daniels did. And so they want to try to put that capital to work. And they're going to the have a five member board. And they're going out now and looking for VCs that they can be an LPN, and I think at a significant level, right, a $5 million, or five to $10 million, kind of a number. So that's significant. And then in probably make a requirement that those VCs make a trip or two and India and we, you know, we congregate all the all the companies together so they can come in and see everybody at once. But that's how we will start to move the needle. And hopefully this next level fund will start dispersing these larger coastal funds to say, Hey, maybe I should set up shop in Indy, in southern outpost in to really help with deal flow. But the whole goal being growth, capital risk adjusted returns, we have we have seed money here. We have friends and family money here. We have peace here. We don't have growth, VCs here.
Thank you for sharing that perspective. Yeah, that's right. 100% agree.
Well, and I think, you know, from my point of view, I mean, we're not we're not to that phase yet. But I think people, I mean, people, people, people, I think it's a strength and a weakness, you know, in terms of, we've been able to grow our business, because of the amazing talent. I mean, all of our development team hails from Salesforce and ExactTarget. So that's been, you know, a blessing and kind of feeding that ecosystem. But we still need more, right? It's still really, really, really hard to find strong talent of a players when you are either bootstrapped, or startups, you know, scale, because we're all competing for the same talent. And there's just not, there's not enough. So, you know, in tech points, doing wonderful things to the external program, you know, and facilitating that from a development perspective. But I think there could also be more in all disciplines of startup, you know, not only technology, but marketing. I mean, it's sales and marketing. I mean, it's really, really hard to find Class A talent that's affordable for startups. So I think
it really quick you mentioned the externship program at Tech point. That's the program that's matching students while they're still in undergrad in CS programs with high growth tech companies where they can intern out during the summer as opposed to go into the coasts and interning at Microsoft or Google or something like that. Yeah, yeah. Yeah. Yeah. Great program. And is it in its third or fourth year now? Oh, boy.
Third year, I guess. Yeah. 1500 applicants from 40? States. That's awesome. Eventually, 150 internships?
That's so great. Yeah, good perspective. I totally agree. You can never have enough talent on that front.
Yeah, no, I would just echo what these guys have said. I mean, finding, and retaining great talent, I think is one of the biggest challenges for a CEO. And, you know, we've been lucky through our connections, but I was reflecting back on if I hadn't been an exact target, how would I have found all of these people to begin with? You know, we have a great dev team because of that, and many of our sales people in marketing. And so, you know, how do we encourage other people to come into this startup community who weren't from this exact target background and have access to that talent? You know, there's such a shortage, but I see more and more people staying and not going Yeah, it feels like we're on the right trajectory there with people but that that is a big,
so if you're watching or you're listening, and you're not in Indiana yet, what are you waiting for? We have these amazing companies. We've got a great community and culture here vibrant downtown, awesome music scene, great food scene, if you're not, you know, seeing all of our articles and all of the national publications on the food scene here you're missing out because there's some seriously great spots, and just a great tech community as well that that you guys are clearly leaders in. Thank you guys so much for sharing your perspective here and good luck next week. Clearly some tough competition for all of you. I'm gonna go around the horn here and just say Toth. If people want to find you, what's the best social network to find you on? And then what's your website address?
So website is demand jump.com. And if you want to find me socially, I'm Twitter's at Toth day. LinkedIn is I think, Christopher day 25 Love it. And whoever else, if you want to find, I'm going to
ask you to limit limited to one social account, one social account. Otherwise, we'll be here and people will be like, and my SoundCloud is
120 Water audit.com. And at Meghan C, Glover, awesome.
Political bank.com And then LinkedIn, just search out and Barry, I don't know what the domain is.
torchlight.com we're torchlit.com and then I'm s underscore Marshall on Twitter.
Yeah. usic with a Z fusing, media.com and at s McCorkle on Twitter.
Great. And I encourage you if you're still listening, still watching, please engage with these people here. They're all very active on social media, clearly good conversationalist, super smart entrepreneurs and collaborators here in this tech community. Thank you guys all for participating in this conversation and being a part of Rise of the rest. And then we'll be live all day on October 12. We're gonna be doing all kinds of things. We'll be at developer town, we'll be at speakeasy, we'll be at Union five to five, we're going to do a cluster truck delivery with Chris Baggett and Steve Kay's. It's gonna be awesome. We're all going to do it live on Facebook. And that's facebook.com. Forward slash powderkeg. If you're not subscribed to the podcast, you'll hear this one go live next Tuesday. And you can find that podcast@powderkeg.com forward slash iTunes. Thank you so much for listening. Thank you so much for watching. And thanks for being a part of this awesome community. And for more stories on entrepreneurs, leaders and professionals outside of Silicon Valley, make sure you give us a little subscribe on iTunes, you can find us at powderkeg.com/itunes is a handy dandy link we created just for you, you want to subscribe there because we have some amazing guests coming up. So please don't miss that. And while you're at it, please leave us a review on iTunes. This is how we reach new people. And the positive reviews we've already received have helped us dramatically grow our audience for sharing these entrepreneurs stories. And while on on that subject, we've got a helpful companion website@powderkeg.com. You can find show notes for this episode, as well as all of the past articles, and interviews and even events. So come on out to one of our powderkeg pitch nights, we have them all over the United States right now. But at those pitch nights, you can come and connect with other tech entrepreneurs, investors, and professionals that are just like you. So it's a great opportunity to get out from behind your computer screens. You know, take those headphones out, and come learn about the latest companies innovation strategies that are just disrupting industries and changing the world. We also livestream those events. So if you can't make it out in person, or if we're not in your city yet, you can check us out at facebook.com/powderkeg. We've been getting some really awesome feedback from you guys. So thank you for that. But I go to a lot of these powderkeg events myself, I just want to mention that again. So I'd love to catch you there in person if you can make it again, you can learn all about those events, as well as new articles and episodes of powderkeg igniting startups@powderkeg.com I'll see you there or we'll talk to you in the next episode.