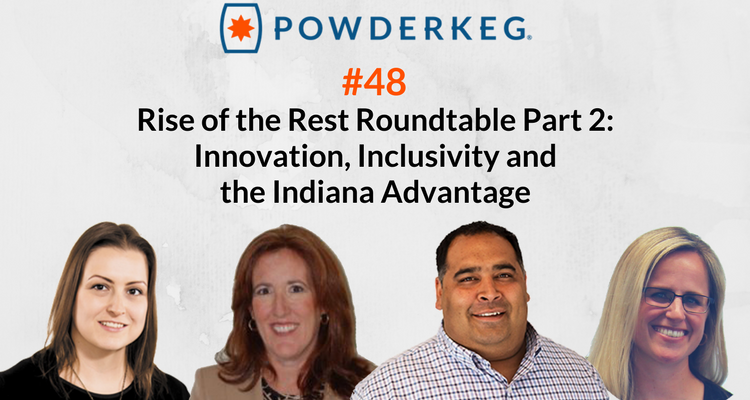 ​Last Thursday was a huge day for the Indianapolis tech community. AOL co-founder Steve Case's Rise of the Rest tour bus stopped by, and ten high-growth startups competed for a chance to win a cool $100,000. In the end, the grand prize went to the water-testing company 120WaterAudit. The company's CEO, Megan Glover, was among our panel of guests on last week's episode of the Powderkeg Podcast, which you can check out here if you missed it.
Even though Rise of the Rest Indy is over, the founders who pitched at the event can still provide invaluable lessons and examples for fellow entrepreneurs to follow. In this second part of our RotR Roundtable, which was recorded two weeks ago, I speak with leaders from the final five companies that pitched on stage last Thursday.
Our conversation touches briefly on the innovative work these company are doing in their respective spaces before diving deeper and exploring the inspiration behind each one. The real meat of the discussion centers on some of the unexpected benefits of starting up in Indiana—a state that most people don't traditionally associate with tech innovation—and the ways that a commitment to diversity and inclusivity have given these founders a decisive edge in their industries.
In this episode with the final five RotR founders, you'll learn:
The innovative work each company is doing in its space
What inspired each founder to start their business
How Indiana's tech ecosystems and universities have given these startups an edge
The critical roles diversity and inclusivity have played for their companies
How they like to prepare for an important pitch
Please enjoy this conversation with the second five of RotR finalists!


If you like this episode, please subscribe and leave us a review on iTunes. You can also follow us on Soundcloud or Stitcher. We have an incredible lineup of interviews we'll be releasing every Tuesday here on the Powderkeg Podcast.
Quotes from This Episode of Powderkeg:
Links and Resources Mentioned in this Episode:
Companies and Organizations:
Bloomington Economic Development Corporation
Venture Capital Firms:
Startup Accelerators:
Coworking and Office Spaces:
Conferences:
Universities:
Rose-Hulman Institute of Technology
Websites:
Powderkeg Podcast #46 with Aman Brar and Mike Reynolds
Powderkeg Podcast #47: Rise of the Rest Part 1
People:
Despi Ross (@despiross)
Mohammed A. Mahdi
Lisa Laughner (@laughgoelectric)
Aman Brar (@amandbrar)
Kristen Nunery (@myCOItracking)
Steve Case (@SteveCase)
R.J. Talyor (@rjtalyor)
Kristian Andersen (@kristianindy)
Kristen Cooper (@KristenCooper23)
COMMENTS?
What stood out most to you about what these entrepreneurs share in this podcast?
For me, it's the critical roles diversity and inclusivity have played for their companies.
You? Leave a comment below.
WANT MORE?
To subscribe to the podcast, please use the links below:
Click Here to Subscribe via iTunes
Click Here to Subscribe via RSS (non-iTunes feed)
If you have a chance, please leave me an honest rating and review on iTunes by clicking here. It will help the show and its ranking in iTunes incredibly!
Thank you so much!

Episode Transcript
This episode of Powderkeg is brought to you by PERQ, a marketing technology company that connects consumers to brands. And what I love about perk is that perk is a lot like Indianapolis, the city where they're headquartered. You see, Indy has all the opportunities that a big city offers with all the small town charm. So similarly, perk has big company stability, and all the excitement of a small growing tech startup. It's really the best of both worlds and perk is hiring for a bunch of positions. So if you're interested, check out perk.com forward slash careers, that's p r q.com. Forward slash careers, and see if there's a fit for you or for a friend. Again, that's parcc.com forward slash careers. We are live again with another episode of powderkeg live a very special Rise of the rest edition. Check out that hashtag rise of rest. We are with five of the finalists who will be pitching live. Next week, October 12. all competing for $100,000 check from Steve Case and the rise of rest team. It will be an investment into one of these companies. We had a Live episode yesterday that included five of the other finalists, so 10 finalists in total. We have the other five here in studio today. amazing range of companies and coming from all over the state of Indiana. Very, very excited to introduce our team here that we've got in studio today. But first I want to give a huge shout out to site strategics. Site. strategics is amazing digital marketing agency based here in Indianapolis. And we are in Edge Media Studios, which is the podcasting studio and video production company that helps us look great when we're doing these amazing live streams. At the same time, they will oftentimes live stream our pitch competitions and you can actually catch their live stream next week as all five of the companies that are joining me today will pitch live on stage. Before we dive into introductions, I do want to remind you, all of this is live. And what we want to do here is share it as far and wide as possible. So if you're just tuning in, please share this in your Facebook feed. The more we share it, the more other people will share. And more people will understand that Indianapolis is an amazing place to start a technology company. And you'll see that here as we make introductions around the table. Just a great place for entrepreneurship. So first up at the table I want to introduce from the quantify team. We have despi Ross, who's the VP of Customer Experience and DSP. Thank you so much for being here.
Thanks for having me.
And to despiece left we have Muhammad a Madi, who is the co founder of design myself. He is sharing a microphone today with destiny. Muhammad, thanks so much for being here. Thank you for having you came all the way from Bloomington, Indiana right Bloomington, Indiana awesome, near and dear to my heart as where I went to school down there and try to get back as often as possible if we didn't hit any traffic. Perpetual construction for the last decade. And two, next to you Mohammed, we have Lisa Lochner who is the president and CEO of Go Electric. Thank you so much for being you came all the way from Anderson and Yeah, glad to be here. Thanks for Thanks for being here. I'm your host, Matt Hunckler. I forgot to mention that I'm the founder and CEO of powderkeg. Find out more on powderkeg.com. You don't want to hear about me you want to hear about this guy to my left arm and Brar, who is the co founder and president of canvass. Thank you so much for being here. And we were in the studio. Last was that last week or week before last? Yeah. Good to have you back here. Glad to be back. Absolutely. And last but certainly not least, we had this founder on the powderkeg stage, I think a month or two ago she brought down the house just killed it with her pitch. So I'm really excited to see the the pitch next week from all of these companies. But Thank you Kristen Nunnery who is the co founder and CEO of my COI.
Thanks for having me.
Absolutely. Well, speaking of pitches, we're not going to do your full rise the rest pitch here, we're going to save that for next week. We want to give people a reason to tune in. Because I know that those are going to be amazing, great q&a, I'm sure with Steve Case, co founder AOL and some of the other revolution, folks. But I'd like to do like maybe the elevator pitch. So desperate, could you maybe kick us off with your short 32nd We just stepped into an elevator. And I'm asking, you know, what's quantify?
Absolutely. Quantify is a marketing r&d platform for social ads. And that means that we help our customers who are marketers discover what advertising creative channels and audiences are going to work for their business and we work with them with our CX team and our software to coach them on what is working now but also what will work next.
I've got a lot of questions for you to answer them, Muhammad Can you tell us about design my soap? How did that how did that get started and what what are you doing?
Yeah, so does that my soap is the world's first online soap making studio. It's DIY soap making online and it's pretty much you're making yourself without the cleanup. We do the cleanup for you where customers get the chance to personalize their own soap they We get to pretty much create their own ingredients, choosing ingredients, choose exfoliant choose essential oil blends, and we make it right for you and ship it to your door within 10 days. And we get to do all this with our proprietary manufacturing process, which we termed the volcano method.
So I love the title. Sounds like the only way I could possibly make my own. So I'm excited to try that. And of course, Lisa, can you tell us about Go Electric?
Sure, go electric builds, it's a hardware software solution that helps keep the lights on at businesses and also reduces your energy costs every day. So we're able to provide uninterruptible power from any energy resource, which is awesome. So we do a lot with renewables to keep them working and powering your facility. And then when your business is stuck in a grid outage, like a lot of businesses, unfortunately have had in the last few months with all the weather problems. We keep everything going and making sure your energy costs are minimized.
That's awesome. A huge, like social impact side of
it is environmental and social. Yeah, we're really looking to accelerate renewable adoption across the world across the United States and across the world. So we've got a great technology and just amazing electrical engineers that
are making it happen. I love it. And you're doing it from Anderson, Indiana.
We are we're at the flagship Enterprise Center, they just opened up a brand new facility and we're renting 1000 square feet. And we're producing 12 systems right now for Hawaii, New York, Utah and Colorado.
That is awesome. Very cool. We got to talk more about that. But first, let's get to more elevator pitches. And I know you have the canvas pitch down to a tee. We talked about it on the episode 45 of the powderkeg podcast. But for those that haven't tuned into that amazing episode of you and Mike Reynolds, could you maybe give us Yeah,
for those that aren't sick of me yet. Canvas is the world's first text based interviewing platform. So we launched June 13. And already connecting everything from Fortune 500 to startups to candidates such as welders, machinists, customer service rep sales professionals, registered nurses, physicians, and now even pilots. So it's been real is that all right? Yeah, that's
awesome. Yeah. Such a cool story. I'm, I'm eager to dive in and get a little more context to before. Cool. Yeah. And Kristen, could you give us the elevator pitch on my COI?
Absolutely. So we help protect businesses from keeping them from expensive insurance claims and litigation. And basically what happens is, you know, every business out there is hiring contractors, suppliers, vendors, signing leases with tenants every single day. And when they do that, and they sign those contracts, you know, they they take on risk, because that subcontractor might cause an accident, you might hire an electrician in this building, and they do faulty wiring, the building burns down, right. So anytime they sign those third party contracts, they put insurance requirements in them based on the risk that you know, that person is doing that company is doing. And it's important to verify that they actually have the right insurance. So when those accidents happen, there's an insurance policy that picks up that claim. And that's a very manual tedious headache process. Nobody likes doing but everybody has to do it. And so we bring forward a software solution to help drive automation into that. So we drive compliance up, we protect our customers and bring automation into a very paper, manual headache of a process.
That's awesome. Oh, and you've been hitting some awesome growth numbers. I know, we have actually shared stage. So congratulations. Thank you a lot of people working on some really cool, very diverse companies here. And I think it's always interesting to get a little bit of backstory of how, what the inception of this idea was, what was the problem? You know, what was the initial solution? Was there a pivot in there? And one of the one of the companies I'd like to start with Mohammed is is design my soap? It sounds like such a unique approach. I imagine there's not a ton of online. So designing platforms out there. How did you decide to get into the soap business? You know what
we started a soap soap company five years ago, myself, my brother and Anthony, our other business partner. And one day, you know, we just needed soap and we like we're makers at heart. So we're like, you know what, let's make it ourselves. And we YouTubed videos, checked out library books, and we're like, we didn't really know about the financial market at that time. And you know, we're like, all these others. So traditional soaps have like, sodium tabulator be fat or pork fat. So we're like, you know what, let's make all natural bar soap. That's all that's vegan friendly. And that's how friendly so we use ingredients that you can pronounce it olive oil, canola oil ingredient you can cook with and then just in December 2016, we wanted to disrupt the soap making field with design by soap.com. And we thought this would differentiate us in the soap market because you know, some people, they make people make soap at home and the farmers market and stuff and with our proprietary method, we can get soap ready the same day because with traditional soap making, it takes about 30 to 60 days for the soap to cure. And with our soap making it's ready and safe to use the same day.
How'd you figure out how to do that? In a world where you're learning from books and YouTube videos? How did you just say, you know, this whole recipe of taking 3060 days that sounds great, you know what we were
trying to first like, do the traditional soap making process of like, okay, the cold and hot process that there used 60 days, queuing and then when we were doing the way we were making it, we're like, Wait, something's not right. And then we realized that it is safe to use. So we just somehow just came up with it. And then now that volcano method is, is what's making design my soap happened, where we can just use that method to make the soaps and get it shipped out to your door within 10 days. And it was just one of those things where it just happened. And we just, we pretty much like you know, breathing and eating and living so did you say eating Yeah.
That's that's put your money where your mouth is? Lisa, did you have a similar story where you're just kind of like got into electric vehicles and the whole goal electric movement and read all the books and watch the videos? Or was there a sort of a different approach to
a slightly different approach. So I'm not an inventor and never will be. But I've got a lot of experience launching startups. So before I went out on my own, I work for Rolls Royce here in town. They had a fantastic role for me at the end of my career, which was Rolls Royce corporate ventures, and it was the coolest job in corporate world if you're an engineer. In Indianapolis, you're in Indianapolis. Right? You might not know that. Oh, that's right. Yeah. Most people associate with England. So yeah. Rolls Royces largest manufacturing facilities right here in Indianapolis. So. So that role, we were supposed to find really cool Rolls Royce technology and literally spin out companies. And I found it was so much fun. And the team and I were pretty darn good at it that I wanted to do it on my own. Because you know, the corporate world, we have a paycheck. So there's, there's not much upside, there's no downside, which trust me after, you know, going through some of the cycles in the startup world, sometimes you look back in the game, and maybe it wasn't so bad. But so wanted to do something, though in renewable energy or something that would have a really great environmental impact. So literally just kind of went around Central Indiana, talking with entrepreneurial community here to find out who's doing something that you know, with the technology that would be awesome to help proliferate renewables, and are to lead engineers names kept on being brought up in all the engineering and entrepreneurial circles. And that's Tony Sovereign's, our CTO and Alex crevassed. In our chief engineer, they had a patented technology, there were two engineers not really knowing what to do with it. And I was a person who knew how to start a company. So the three of us got together and started to figure out applications. We did pivot though the first application for what they invented was a way to manage multiple energy resources, and then go on and off the grid in what they call a bloodless fashion. So your lights don't flicker, nothing reboots, you know. So it literally is an uninterruptible power transfer. And so we first created a Off Grid Electric Vehicle charger and net went nowhere with it, and 18 months. And along the way, though, we put in a proposal for a Small Business Innovation Research Grant called SBIR, I think people are familiar with those. And we want it and it was a $3 million dollar contract for a micro grid project at Camp Smith in Hawaii. So that launched us and then we have just grown like crazy since then. So yeah, so we've concentrated on both the micro grid side of things. But then we also looked at how can you take, you know, which is kind of a really big thing and make it work on the individual building level to make sure a facility can can have energy resiliency. So this past year, we figured out how to do that. So now we can be a what they call a UPS system for like a grocery store or gas station or pharmacy, we look at businesses that if the power goes out, they have a lot of downside, they're throwing away food or you know, they're really losing sales or lives are at stake. So so we tend to target those and then we know if we can keep them up and running when the grid goes out, they can actually keep the what the community up and running to when the grid goes out. So So we feel like we've made it with you know, with the environmental part of it, but also with kind of the social responsibility part of it going forward.
Such a cool story. I love that. Yeah. I would love to learn more about that. We'll come back in just a minute. I despi I would love to talk to you about your expense. I know you're a podcast host as well with the new new thing, which I've had the pleasure of listening to a couple of episodes. One How did your path lead you to quantify AI and how did that whole opportunity get unveiled?
Yeah, it was, you know, last year, RJ Tahlia, our CEO, co founder of quantify and he was pitching the idea to a lot of marketers. I was working at an agency at the time. He pitched the idea to me and I wanted to use that product. You know if I could have bought that product and taken it back to work with me I would have
what was about it that that you said, wow, gotta have this gotta work on this.
Yeah. So the problem that we're trying to solve is that social advertising is really complex as a network. And as a marketer, there are so many options and knowing how to best leverage them to drive your business, the objectives you care about is as hard and as for an agency to, you know, amplify that by the number of clients that you're working for. Right. And so as somebody who is working on digital for many brands, you know, I could see the application across all of my clients, people need this people are struggling, you know, results on Google, it's getting more and more competitive and more and more expensive to do the same thing. And so everybody's looking to social advertising as a way to diversify your ad spend and and figuring out where to do that and how to do it is something everybody can use help with. So I immediately identified with that problem, and was excited when an opportunity came along to help solve it. What's the
secret sauce for those of us don't want the shortcut answer? How do we get our social advertising working for us better use quantify Oh? When you use quantify, what is it? What's the secret sauce behind quantify that makes it?
Yeah, so it's combination of things, you know, we have a data scientists, our team, Mark Clerkin, who's working with our engineers to figure out how we can look at data and aggregate to inform your decision. So we can make recommendations to you in real time based on what you've done before, but also how the markets performing overall, to help you make more informed decisions. And we also have a really amazing CX team that is built with marketers. So you know, we have really built our customer experience service from the perspective of marketing consultation. So in addition to helping you get your account up and running, and you know, getting you on boarded, and all those things that CX would typically do, we also are really focused on coaching you both in the product and with our team to help you understand how you get the most out of
it. I love it. And can you maybe give us the a little bit of the backstory of how Canvas came together? And you have a really cool entrepreneurial backstory here leading up to the start of Canvas?
Yeah, well, you know, we're all kind of products of our experiences. And so I think maybe the most potent recent one was just scaling apparatus. And it was that team kind of going from the local to regional, national, and then global company. You know, honestly, it was pretty simple. I mean, Canvas was really a product that we wish that we had, as we scaled from 50 to 1500 employees across the globe. And so there's just an obviousness to it that when we thought about, you know, how does work happen inside of a company now, but yet, we're still like, the thing we keep asking talent to do is to jump on a 20 minute phone screen, which is really a process that nobody likes, the recruiters don't love it. And candidates don't love it. And so it was there another way to engage and augment that process. One analogy I use is, you know, as I start thinking about, like, imagine if match or Bumble worked, where you scheduled phone screens with everybody you're interested in, it would be ludicrous, right? Yeah, we can get to know someone via text that might end up being your your next life partner, feels like that could work as a first step with regard to your next employment opportunity, right. And so that was kind of some of the back thinking around the product and the idea. So we've added that idea, got a lot of positive feedback from HR leadership out in the space on the coast here in Indiana, and then decided just to kind of jump in and make our little dent in the HR marketplace.
So I might be interested in a role at Canvas, let's say Sure. What's that interaction, that first interaction look like for me, as someone that's maybe I'm on your website, and I'm checking out Canvas, and I want to get more information? Yeah, two
things. One, one is you could use an inbound experience, right. So you might see someone website and decide to tax, you know, digital marketing to, you know, five to two, five to two, and then just get engaged with it with a process to get engaged with the recruiter and have a conversation about the opportunity. So I'm literally
having conversation, text conversation, but with the recruiter as opposed to get on the phone.
So you can we can bot augment that we can go straight to human we can do, there's a lot of different preferences based off the type of company and the volume of the experience. The other side of it is really and this was the first product we launched, which is just really a, you know, a substitution of that next step, you've articulate interest in an opportunity, instead of a recruiter reaching out whether you're passive or active as a candidate and saying, Hey, let's get on the phone, and an opportunity to kind of vet vet each other through through tax, right, so the recruiter is using the really beautiful software are under the equation. And candidates don't have to download anything, right? So they can get engaged in a very frictionless way with a company. And so what's what's kind of happened the economics of recruiting is that the old world where you thought about just synchronous phone calls, your recruiter could do four to six of those in a day. And in our world, you can literally do you can do 100 of those in a day via via text or in the same way that if I said, Matt, you need to talk to to as many people as possible today, right, but I don't tell you what mechanism to use. I mean, calling people on the phone would be too slow. was way to engage with talent, right? But that's literally what we've been doing for 140 years, right is trying to engage with talent via phone calls. And so that's the process can be inbound kind of initiated by the candidate, or can be initiated by the company as super
cool. I can't wait to try that out. Yeah. Awesome. Christina, how did you get to where you are starting MySQL? I? What, what were you doing before that?
Yeah. So before this, I flipped houses. So I graduated from college, I moved back to Indianapolis and started flipping houses. That's awesome. Yeah.
What was the biggest lesson learned flipping houses? Asking for friends?
biggest lesson learned? Gosh, that's a hard one. Don't hire small subcontractors that don't have insurance. Yeah. kidding on that, but. Right, right. But that's ultimately you know, what was factor here in starting my COI is, you know, when you're flipping houses, I was hiring a lot of small subcontractors, right, you're hiring the guys who the owner of the company is the one that's coming out on the jobsite that's doing the work. And they they're the ones that have very tight budgets at home where you know, a car accident for a family member or child means your insurance isn't getting paid, right. So those were the types of guys I was hiring to flip the houses, and they're ultimately also the same companies that our customers hire, right? So our customers are hiring these small businesses to do work for them, the chances of them, either canceling their insurance or not having the insurance are supposed to have is very, very high. Seven out of 10 are non compliant to the contract. So, yeah, so it's, um, you know, I understood it from really small scale from what I did in the real estate market. And, you know, for me, that's handful of subcontractors per house. But for our customers in the commercial world, you know, they have 1000s, of vendors and subcontractors that they're working with. And it's, it's a nonstop everyday Paper Chase process, you know, it's nonstop phone calls, emails, calendar, reminders, lots of headaches, you know, our tagline is what you love, we love it, it's great.
What was the one of most challenging parts of of going from, you know, flipping houses very non software oriented business, to my COI, the software business side of of business.
Yeah, you know, I, I had a lot to learn about software. Yeah, I think we even getting our product to market. So getting our software to a place where it was really ready to go to market to be able to handle risk management function for large corporations, you know, that's, it needs to be in a very strong stable spot to be able to go do that. And so it was a long journey to get the software to where it needed to be. And we went through a handful of different developers and companies who worked with before we actually got it to a place that we're ready to take to market. So there were a lot of lessons learned, you know, through that process, but we eventually got there, you know, first time it didn't work out with the product. And we had to scratch that and start over, but it didn't stop us. You know, we had to throw it out and say let's hit the reset button. And we did end up getting to a place where we, you know, went to market and one of our first customers was Caterpillar, right? So we are at a place we have that credibility and we could bring on large fortune 100 companies.
So that's great. Congratulations on the growth. Thanks. Well, and all of you have decided to start and grow your company in Indiana, of all places, right here in Indiana. I'd like to talk to you a little bit about that process, what benefits you got out of it? And also maybe what some of the challenges have been as well along the way. Lisa, admittedly, I don't know very much about Andersen. I went up maybe to the flagship space. I'm going to have to say five, six years ago. So I imagine it looks very different today. What is it like starting a company and Andersen any first of all? Where is Anderson? Indiana?
Yeah, Anderson is about 25 miles northeast of Indianapolis off highway 69. And the there's two locations now for flagship one is actually at an old GM plant site that was torn down number of years ago. So Purdue school of technology came in and built a satellite school to address you know, some of the local school of technology students needs. And then attached to that building is a 35,000 square foot manufacturing space. So that flagship manages and that's where we're in.
So cool. what's fueling all of that is it city of the city that's behind it. Is it mostly Purdue University, you know, just up the road in West Lafayette? That's
yeah, it's actually all the above we have found the mayor's office and Madison County Purdue to be wonderful partners for us. So the mayor's office actually built the building produce leasing to the best of my knowledge for the classrooms and then flagship you know has leasing capability for the manufacturing space. But they have been so helpful for Go Electric and our growth. We need to we were at a dip facility and they really wanted us at at the new flagship facility. They actually dedicated to Bill wylam, who was kind of an icon in the electric vehicle industry in Indiana. So it's the wildland center. Oh, great. And so there's three companies in there that all are involved with, either with batteries or renewable energy or innovation of some kind. What we have found, though, just you know, from a workforce development and attraction, Central Indiana is awesome when it comes to engineers. And you know, no wonder we've got Purdue and Notre Dame and Rose Hulman. So, and a lot of what we do is electrical engineering. So we actually have had really, really good luck finding technical talent a little bit harder on the software engineering, but so far, I have to admit, I don't think we've ever had what I consider to be a really desperate, you know, search for talent. I think Central Indiana is rich in those areas. And that's what our company needs.
I know Purdue has the Grand Prix. de vie copy our car races now they have the Eevee Grand Prix. I grew up in West Lafayette, which is where Purdue is so I always remember like going to the Grand Prix experiencing that. And I thought it was so cool when they launched the Eevee Grand Prix for electric vehicles. So it's cool that you know, start them young and get them get them started. Yeah, interested in engineering and I was went to the engineering summer camps up there. Oh, that's awesome. And in West Lafayette didn't follow through with the engineering degree, but it's really cool to have have kind of grown up in that ecosystem. And it's cool that that's feeding everything in Anderson. Yeah, we feel real fortunate for be there. That's awesome. And Bloomington, I have spent some time there, but not really sure what the maker community is like there and what your experience has been been in that city, which of course is just down the road from Indianapolis.
Yeah. All three of us graduated from Indiana University and go Hoosiers. Yeah, go Hoosiers and none of us actually have a business degree. We didn't graduate from Kelly. I'm a political science major. Anthony has a linguistics background and my brother's a psychology major. And we started the company in Bloomington and from the beginning it was a Bloomington not even just Bloomington, Indiana was very welcoming, very supportive. And just to community. They're supportive of local businesses and whatnot to to the city. They're helped us like the BDC, the Bhutanese economic development company. They helped us as well just get grants and stuff to fund certain projects that we had. And I just feel like with Indiana University, we work with any university and Ivy Tech as well. We have an internship program that we work closely with and there's a lot of untapped talent and indeed Indiana all throughout Indiana to and not just IU but like Purdue University and here in Indianapolis as well. And then we just use those resources and we help the interns and they help us and in my
that's really cool. Bloomington such a cool town. Very interesting. It almost feels like the boulder of Indiana in some ways. I mean, we were talking about boulder before we went live here, but it just seems like there's a lot of entrepreneurial activity down there. Obviously a lot of that is spawned by Sprott box, the accelerators, I was down there, and there's just some really cool programs obviously Kelley School of Business has won a top entrepreneurship programs. So it's it's awesome to have a year and have your perspective at the table and we
feel like Bloomington we want to put Indiana on the map not just Bloomington but we want to we Sophie so company design by so we want to what do you think of Indiana you think of the all natural soap capital of the world? Yeah, that's what we're aiming for. Just like a
lot of things kind of in that space coming out of Bloomington. I know. We had I annex three which was a big pitch competition and tech conference earlier this year. There was someone that was in like the beekeeping space that had a business out of Bloomington. And there's just like a lot of cool like, things that seem like their niche, but like when you dig into the financials, it's like no, these are these are big businesses that are growing like crazy out of Bloomington.
Now Bloomington is community helps a lot with startups and local companies as well.
And that's awesome. I was talking to one of the the architects last night who's working on that new co working space that's finally gotten Greenlight, Greenlight it and it sounds like there's gonna be a whole new hub of entrepreneurial activity down there. Yeah, we
were at the co working space that they have right now in blooming tool. Yeah. And it's really unique. It's really interesting. They help like businesses to come there where you can just like if you want to have an office for a day or have an office for a month and they're really supportive of that as well so it's really unique and it's like a laid back environment. I love it.
That's cool. It's cool to see all those like trends and co working and CO work beatdown is down there as well shout out to those guys. See it hit you know, even even college towns like Bloomington and just see that rising tide and are the three guests are all from Indianapolis, but in you know headquarter in different areas at despi I know you guys at quantify are part of the high alpha portfolio. Can you talk to me a little bit about what that is and and what it's like are you guys on the circle?
Yeah, we are awesome. Yep, we're on the circle. We just moved to new office on floor 10 of the circle tower building. So
so for those who don't know that aren't from any nathless The circle is like this literally the center of the city. Indianapolis is one of those few cities that was designed Flatland. We're going to design the city from the center out from the start. And it's one of the best engineered cities in the country. But when we're talking about the circle, that's what we're talking about. Sorry. Sorry.
disadvantage when we travel and try and drive in Detroit or Yeah,
and Lancer. So yeah, it's like, what is this? Things don't line up like this. Right. Right. In Indiana. Yeah.
Yeah. Right. Yeah. And it's been wonderful. Being a part of high alpha, this is my first startup experience, and high alpha, it's definitely been a big part of quantify success and growth in the past year. So yeah, we're excited to be part of that family.
Well, it's such a cool opportunity, you know, seeing, you know, people ex exact target, as well as people who have been involved with the tech community for a really long time, like Christian Anderson, you know, one of the founders of studio science, and having that portfolio of companies from lessonly, to cyxtera, to octave, that are all just doing amazing things in a b2b SaaS space. And it's cool to quantify as one of the more recent portfolio companies out of that group I just mentioned, it's cool to just see that, like community, within a community help the overall community of of tech and entrepreneurship in Indiana.
Yeah, it's been great. There's such a strong network in the software space in Indianapolis. And we've definitely benefited from that, both from a recruiting perspective, but also just having mentors and colleagues to kind of bounce ideas around with you know, and everybody's willing to help. You know, it's not that we aren't competitively, you know, there's certainly a good amount of that. But I think at the end of the day, we all want to see each other succeed. And so especially in the high alpha portfolio, you know, there's a lot of support for each other, as we grow.
That's really awesome. Thank you for sharing that perspective. At canvas. I don't know where you guys are headquartered out of right now. Where are you located in Indy?
Actually right here? Not kidding. We're here. We're headquartered at the intersection New York, New Jersey street. Oh, cool. A couple blocks off Mass Ave. That's awesome. It's been a lot of fun. Well, and
speaking of recruiting, you guys, obviously power recruiting, but at a more meta level? What has it been like getting the talent together for the initial team?
Yeah, you know, I think we've got our strong kind of core team of full time Canvas employees. But I think we've also received a lot of benefit just from the ecosystem, writ large Indianapolis round software and design, and whether it's everything from accounting to design, right, we've been able to kind of tap into the local community to make sure that, you know, we're really buttoned up in all aspects of our game. And so I think that certainly speaks to us continue to move through that maturation process as a city that we have a you know, certainly talent that we can acquire from for full time help. But then, when you're looking to services to augment your business, there's so many great options here in town as well. And so I think that's been something that we really have been the beneficiary of.
Yeah, well, and the cool thing is, it's not just any services, it's like, if you're getting an accounting firm, you're getting an accounting firm that works with other b2b SaaS companies. And if you're hiring a design firm, it's not just someone that knows how to use Photoshop and InDesign, it's someone that like, has helped run UX teams at companies that have exited here for hundreds of millions or billions of dollars, we're
actually there's just been just really nice ecosystem around the software space that's that's developed, whether it's product company services company, or whether it's colleges, universities, you know, kind of keeping in mind talent, but we're really excited about participating.
Yeah, we're excited to Chris and what's what's your experience been? Like? Starting up here in Indianapolis?
Yeah. You know, I'm actually most excited about how have watched evolve. So we came to market in 2011. So we started company in late 2009, when to market in 2011. So it's been fun to watch how it's changed from the point in time where we were first out, you know, doing our first seed round and getting support from the local community, seeing what's happened over the last couple of years. And it is really impressive. I mean, the the number of startup companies that are really making their way right now, the angel investment community that's here, the different support from the, you know, the services that you need. That's all changed a lot in the last few years. So
what's been the biggest change from your initial seed round you raised in 2011, to maybe some of your most recent fundraising experience?
Yeah, there's been a lot of money poured back into our community since that timeframe. You know, we've had some strong exits here in Indianapolis. And that's driven a lot of individuals that are now angel investors and you know, high alpha is there now and others that are similar that are that weren't around at that point in time, you know, when we were out doing our first seed round. So that's really feeding our you know, feeding the startup ecosystem right now. I'm also really excited to see how it evolves because I right now, it's all focused on startup and they're starting to become an issue to focus more on scale up, you know, trying to get more VCs in town and You know, tech point has a tailwind program that tries to help on, you know, support scale ups. And I think over the next few years, we'll start to see more and more at that phase for the businesses as well.
Definitely, there's this like very rich base of companies now that you can't even really call it startups. There's still startups in the sense that they're constantly launching new products and features and testing things out. But there's a strong base of a revenue model there. There's serious growth. And it's it's at that stage of like, how do we get more talent in here? Because we can't grow this thing without the right people to support it.
More talent, more capital? Yep. It's exciting to see.
Absolutely. Well, you mentioned tech point, Chris. And I know a lot of you have mentioned other things like the flagship group, and even the service providers here in Indianapolis. Are there other organizations that you've come across in your entrepreneurial path that have been particularly helpful? And if so you, and maybe they're not even organizations? Maybe it's just a mentor, along the way, that sort of been a guide? Does anyone have a experience there where maybe you like, we're faced with a tough decision or a potential barrier, but the right organization or mentor came along, and you kind of help break through? I know you do, because every entrepreneur has like dozens of those. But I was, I want to throw that out to the crowd to whoever wants to whoever answers first, and then we can, we can all share the mic, of course, we do have six of them.
jump in on that, coming back to what I just mentioned, but tech point is doing so much in this community. So I you know, that that's one that comes to mind, of just, you know, really driving some of the changes in community supporting the different companies, PR talent, you know, getting more developers here, just all of their different initiatives, I think, is making movement with the companies here locally. So I'd give a shout out to those guys.
Absolutely. And tech point.org, you can find out more information about that. I was publishing great stories there frequently at the powderkeg events covering the companies that are on stage, they're always involved in the community in some way or another, it's been really cool to see how that that whole organization has evolved in the last four or five years. Absolutely. Anyone else have a
37:10
Yeah, for quantify? You know, one of our core values that we founded our company with was to build a company that represents the country. And for us, that's been a challenge in recruiting, how do we reach outside of our network to bring in people who have different perspectives, people of color women, LGBTQ candidates? Like how do we find people who can bring a different perspective to our company, so we were really excited to participate as sponsors and disrupt in the in August, awesome. And our we're excited to see what that organization will continue to do to help foster that conversation, specifically around tech, you know, we are all the time looking for opportunities to have this conversation to as a company, because we feel it's really important to push it forward.
For those who weren't there or don't know what disrupt Indy is. Yeah, I know, you don't work for disrupted, could you maybe give your firsthand account of what that experience was?
Yeah, it was an event organizing companies and thought leaders around the idea that, you know, we have to start talking about the fact that there are not enough women and people of color in technology companies. And that is a problem for a lot of reasons. You know, first, we need those different perspectives to make our company stronger. Right. So this was a two day event where companies came together from India, but also from other places. And there are panel discussions and talks and networking events to give people an opportunity to really talk about this, and talk about what we can do, you know, give candidates a chance to connect with companies and that sort of thing. And, you know, we are really looking for more of that. And indeed,
yeah, that's really cool. We had a diversity and inclusion event that we ran up powder keg last week at the Athenaeum there on Mass Ave, and Christian nunnery. Sorry, Christian Cooper, Christian, Cooper, Christian, non Christian, Christian Cooper, who leads start up ladies lead that whole programming for us and she just does an amazing job with the program. I want to give her a shout out and that program startup ladies, they're doing a lot to get a lot of the women that are working at and growing from the leadership positions of tech companies, not just in India, but statewide. It's really cool to see more programs like that. And I know even tech point has that a women in tech program and there's Indiana, women in tech, high alpha even has Blue Angels. I know which it's just really awesome to see a lot of that even in the last year, there's that conversation being had bigger and bigger stages of the media and events and incorporation at all levels.
Yeah, absolutely. Yeah. We're excited to see it and I'm glad to be a part of it.
Well, I appreciate you sharing the perspective of just your experience that disrupted and that's really cool. What's the the culture like in Bloomington or an Anderson, just in terms of like, you know, whether it's diversity or just different backgrounds? What is bringing outside thought or outside outside perspective into those communities?
I think there's because there was a legacy of manufacturing, you've already got diversity with respect to how do you apply what, what, both from a workforce and what you know, into a new advanced energy industry, we're, you know, kind of on a footprint look like a traditional manufacturing company. So we've got a lot of male engineers, a few female engineers, obviously, a female CEO, leader. And when we recruit, we get a pretty good balance, I'd say for what's out there. I mean, there I have to met, there's still very few women in tech. So the amount of resumes you get kind of show that, you know, that smaller amount, but definitely well prepared. And I feel like we've done a reasonably good job of trying to keep diversity in the in the company. So I guess I don't have a feeling like we're missing something, I think it's there, you still have to go out and find it. And that can be tough sometimes. But we're getting there. It's just it's never been a topic that has been difficult to talk about, because we just feel like we're doing a reasonably good job at it so far.
That's great. And you have Anderson university there as well. We do. Yeah, some like diversity, just from the student body population. We
do Yeah, we draw interns both from Purdue and from Anderson university into the company. So we've had men and women come through, Go Electric for for roles, both from marketing, all the way to engineering
produce is so diverse, I mean, just my friends from high school, like I'm, I'm the tall, you know, straight white guy, but like, all my friends are from all you know, everywhere else in the world. And it's, it's really cool. I mean, I've got the lamest backstory of all my friends from high school. But it's, it's, it's, I feel really fortunate to have grown up in that diverse community because I feel I just get exposed me to a lot at a really young age.
And I think Bloomington is very diverse in its own, like bubble. I feel like just with IU and just with like IU runs kind of Bloomington, but they have a separate section of just like supporting the local artists supporting just a local makers and everything as well. And they have a really good ecosystem of just a lot of people like to help the community and they don't expect anything in return and everything. And I think that's big, big push of like how I felt like when we started the company, it was it was great to start in Bloomington. Yeah, and especially like when we first started, we went like the farmers market. And then we just got a lot of feedback from other mentors, other people that were in the field and just to help us go national.
And that's so cool. Yeah, I
feel like with IU two is helped a lot.
I used to work pretty closely with the university. Yeah,
we work closely with our internship program. So we have an internship program where we work with the Kelley School of Business B. And we also had a couple of interns in the chemistry department to help us with like our essential oils and everything as well with with testing them. And then with our internship program, what's unique is is it's not just like the typical go get coffee or do busy work. It's more of we empower, like our interns too late if they if they want to experience in sales or marketing. Hey, you know what, let's, let's figure out a marketing plan. And let's implement it. Let's see if it works. So it's more like project based and hands on so they can get real life experience and stuff as well.
Absolutely. That's really cool. Thanks for sharing. And I, you had a really interesting story that you shared during your fireside chat right after you helped apparatus sell for 30 Some million and change. And I'm wondering if you'd be comfortable sharing some of your perspective of just growing up in this community in Indiana, and how that's been challenging, or how it's evolved along the way?
Yeah, no, it's certainly evolved. I mean, I think, you know, everyone kind of has their origin stories, if you will. And ours was interesting in the sense that my parents emigrated from India ended up in actually southern Indiana and believe it or not, we were we actually picketed out of town. So we lost her first family business because they set up like a strike on the front of the store. And it was just crazy experience. And I think I learned a lot from my dad and I've talked with him over the years, which is, you know, there's, there's no time to be a victim, right? You just you pick up the pieces, you just go and I think that's just the number one, you know, so whether it was in high school or one time, you know, having a really pretty terrible thing spray painted on our door or house grown up on the west side of town. And, you know, like, it was like my dad just well, let's just clean that off and get back to it. You know, there wasn't a lot of time or focus on being injured. It was just about, you know, being here such a great opportunity for us and let's just, you know, keep swinging the axe and chopping the wood and try to make great things happen. So I think, you know, I actually am appreciative of those experiences, and I think we're growing I'm leaps and bounds. And I think just as Kristen mentioned, I'm really proud of the progress that we've made as a community here in Central Indiana and elsewhere in the state. And I think we just got to keep, keep that heading in the right direction and making our mark as individuals. And I think what we have going for us, and it's just how competitive but supportive the technology community is here. And I think it is something that's really special. And I really appreciate the fact that, you know, I haven't tested Kristen yet, but I know if I, if I call her text, Chris and said, Hey, I really have a question for you. My guess is that we're measuring the response time and hours, you know, across our, our peers, and the people that we work with your city. So I really appreciate that part of it
is really cool. And I appreciate you sharing that perspective. And because I'm sure that was not an easy experience of those were not easy experiences. But the fact that you see that, you know, that's not everyone in Indiana. And that, really, I've seen a lot of effort made to help level the playing field. We're certainly not there yet. But when Indiana passed some terrible legislation a few years ago, it was really cool to see Indianapolis and and the rest of the state say no, we want that, that terrible legislation revised. And quickly, the state did revise it. And it's just it is cool to see that there's this nucleus, at least in the tech community, in particular, of just inclusivity and encouraging diversity, because we understand that in order to be innovative, we have to get that diversity of thought.
Yeah, one things I'm really proud of, we'll have some more announcements about this, but it's in production. But like right now with Canvas today, it's so cool, you hit a button. And it it neutralizes the interview, right? So when a recruiter sends the package of information over to the hiring manager, you don't know if it's Amy Brown ramen Brar in the machine learning engine is really cool. So if I were to if you ask a question, like, tell me about your leadership experience, and if I said while I was, you know, captain of a football team, it even knows to redact the word football, because it's a gender tell. So it's a really, really cool experience to help get people on base. Because that's, you know, really, I think, our bigger challenges really with unconscious bias and some of those systematic things. And so we really have to think about how do we solve these problems differently. Because I think most people wake up every morning wanting to be nice, right? Wanting to be a welcoming, and don't have malignant intentions. It's just that there's lots of reasons why we make repetitive decisions. And we have to figure out how to break those patterns. And I think there's lots of things we can do, as a community, with technology with process and otherwise, to make it out there.
It's so cool to hear that you and cameras are innovating in that space. That's awesome. I
didn't I didn't know you had these in production, that one button and it works. That's awesome.
I want to try that out. That sounds sounds really cool. I want to talk a little bit about the pitch that's happening next week, because it's a big deal. $100,000 at steak from a very noteworthy investor. You know, before we close up here, what are some of the things that you're gonna be doing between now and next week? To prepare for this stage? Prepare for that pitch, opportunity? Selling?
Practice? Practice, practice, right? Yeah, practice?
Absolutely. How do you guys like to practice for a pitch like that, or even prep for a sales pitch?
I think the thing I'm going to struggle with is, is it's kind of interesting, because there's some practice sessions that day. And I would say, I'm not saying it's a good thing, but I generally like to have it all in my head until that moment where I like release it to the world. So I actually am kind of nervous about my own personal creative process and how I do this. And I actually have anxiety about the practice part. And because my typical Mo is, I just, you know, I think I think I think and then I'm ready when I'm ready. I'm just ready, right? I'm ready to deliver it. And so I'm very, I don't love this part of it, the fact that we're going to actually practice it is actually, I have more anxiety about the practice than I do about the actual pitch. Yeah, I just don't want to practice it in that way. Because I feel like I'm letting my it's like playing the football game before we played the football game. Right. And I don't I don't like that. I
don't usually use a script. So. So having to practice and then having them agree. Yeah, you're good to go. And knowing that when I'm on the stage, it's going to be very similar, but it's not going to be exact and wondering do they do they get this so so I'm a little nervous. Same thing that about the pitch practice, because same thing I usually okay, I know, I have seven minutes. Here's my slides and 99% of it I've done over and over and over again. But I always modify everything ever so slightly for what the situation is. So this is a new situation. So we've got some modifications. So anyway, yeah, so we'll see what happens.
Well, for as someone who has seen a lot of onstage pitches through what we've done at powderkeg. And then even just some of the partnerships we've done with Rhys, the rest or recess or other national organizations that run these pitch competitions South by Southwest, one of the things I can assure you is that the practice which I'm the same way, like or at least I was the same way until I started trying it this other way, because I was forced to do it that like organizations that are like no, no, no, you have to like rehearse it and do it as if you're doing it. It's gonna go better the second time and it's gonna go better the third time, it's gonna go better the fourth time, and I'm really eager to hear all of you guys pitch on stage. It's gonna be great. I know it is. If people wanted to find out more about your company, where's a good place for them to find you?
website? My coi tracking.com? And are you on social Christian? We're on social, but you're gonna find a lot more on our website. Okay, cool. And the website we actually all share, we just hired a VP of marketing. It's coming from Angie's List. And so you'll see some changes with social coming forward here.
Okay. Very cool. Very cool. Me too. Yeah, me too. And where can people find out more about you and Camus Great.
Go canvas.io. Social, you can follow me at Armand de rar.
You can find us@quantify.ai and we're also on LinkedIn, Facebook, and Twitter. You can find on our blog, our the new new thing podcast, as you alluded to earlier, so if you want to hear more about what kinds of things Yeah, so yeah, marketing, experimentation, taking risks, try new things. So you can hear from scientists, Coffee Roasters, marketers, it's kind of runs the gamut. It's a really fun podcast, why podcasting? Before quantify was launched as a company, we began the new thing as a way to experiment ourselves. And it's been a great opportunity for us as marketers to connect with so many people in Indianapolis, but in the larger national community, to talk about marketing and what is important to marketers. So it's been a great tool for us.
Cool. And you can find us at design by soap.com. And our socials are Sophie so company.com on Facebook, Twitter and Instagram.
Love it. Are you on social yourself? I am not. Okay. Too busy making soap?
Yeah. I need to get out of there though.
No worries, no pressure from my Lisa, how about you, we're gonna find you and go electric.
We're at Go Electric Inc. Don't forget the i nc.com. And then we're also on LinkedIn, Facebook, and Twitter.
Cool. Well, we'll link that all up in the show notes. If you are tuning into this on the powderkeg podcast, you can find that power@powderkeg.com. And then just find the show notes. For this particular show. You'll find links to everyone's bios and where you can find them on social as well as their companies. Even some of the companies we've mentioned, organizations like tech point and disrupt Indy, we'll make sure those get linked up in the show notes. If you want to hear more stories like this, please check out powderkeg.com forward slash iTunes for more. And if you want to see all five of these companies pitch on stage next week on October 12. Tune into the live stream, which you'll be able to find@facebook.com forward slash rise of rest search for that hashtag rise of rest and you're going to get to hear all these great companies. Thanks so much for tuning in. Drop your comments below. We'll be sharing the link for the Facebook Live with everyone here at the table. So hopefully they can dive in and answer questions if you have them. Thanks so much for tuning in. And for more stories on entrepreneurs, leaders and professionals outside of Silicon Valley, make sure you give us a little subscribe on iTunes, you can find us at powderkeg.com/itunes. It's a handy dandy link we created just for you. You want to subscribe there because we have some amazing guests coming up. So please don't miss that. And while you're at it, please leave us a review on iTunes. This is how we reach new people. And the positive reviews we've already received have helped us dramatically grow our audience for sharing these entrepreneurs stories. And while on on that subject, we've got a helpful companion website@powderkeg.com. You can find show notes for this episode, as well as all of the past articles, and interviews and even events. So come on out to one of our powderkeg pitch nights, we have them all over the United States right now. But at those pitch nights, you can come and connect with other tech entrepreneurs, investors, and professionals that are just like you. So it's a great opportunity to get out from behind your computer screens. You know, take those headphones out, and come learn about the latest companies innovation strategies that are just disrupting industries and changing the world. We also livestream those events. So if you can't make it out in person, or if we're not in your city yet, you can check us out at facebook.com/powderkeg We've been getting some really awesome feedback from you guys. So thank you for that. But I go to a lot of these powderkeg events myself, I just want to mention that again. So I'd love to catch you there in person if you can make it again, you can learn all about those events as well as new articles and episodes of powderkeg igniting startups @ powderkeg.com I'll see you there or we'll talk to you in the next episode.