📈 New Unvalley Report Insights
Ready for a nice shot of good news to go with your eggnog in these last few weeks of the year?
Our longtime friends at the Rise of the Rest, in partnership with Pitchbook, just released their Beyond Silicon Valley report, which spotlights where venture investments – particularly early stage dollars – were going this year.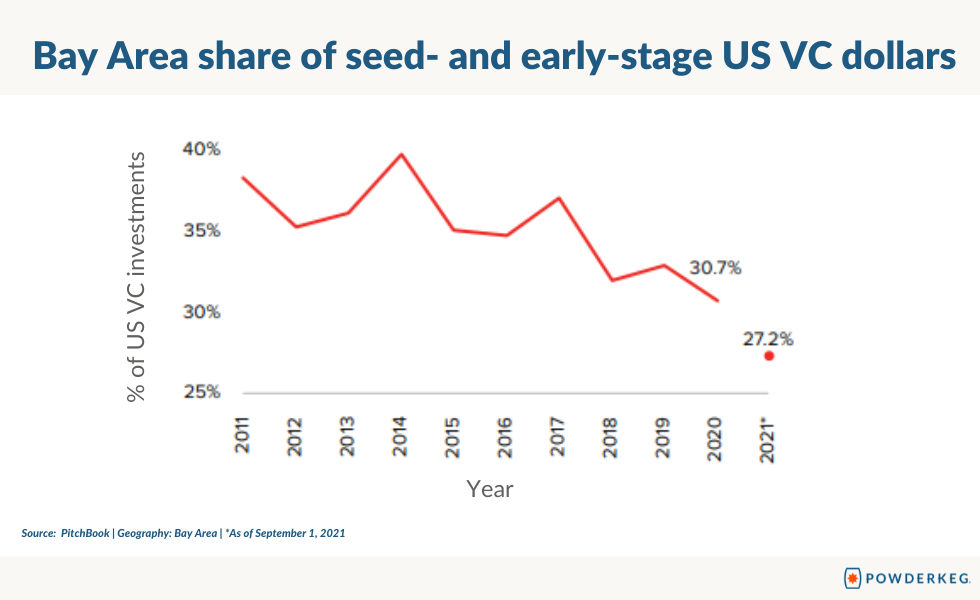 TL;DR: The data looks very, very promising for tech communities between the coasts. 
Here are some key takeaways from the report, mixed with a dash of helpful resources from the Powderkeg community:
1. Investors are pouring money into startups in rising cities.
The pandemic seems to be accelerating investor interest in emerging tech hubs in the United States.
In 2021, the proportion of early-stage VC investments going to Silicon Valley startups dropped below 30% for the first time in over 10 years – despite a record year for the venture capital industry as a whole.
Want to know what's happening in some of the fastest-growing tech ecosystems between the coasts? Follow these cities in the Powderkeg community:
2. More VC firms are popping up outside the Bay Area.
The number of active VC firms outside Silicon Valley increased significantly in 2021, providing more networking and investing opportunities for startups in rising cities.
We featured many of these incredible Unvalley venture capital firms in this year's Powderkeg Unvalley conferences. Watch live interviews with these leaders in the Powderkeg Unvalley Video Library:
Arlan Hamilton, Backstage Capital

Mac Conwell, RareBreed Ventures

Mike Asem, M25 Ventures

Mary Grove, Bread & Butter Ventures

Allie Felix, Embarc Collective

Anna Mason and Steve Case, Rise of the Rest Seed Fund
3. Tech talent is everywhere. 
You already know recruiters and hiring managers are expanding their search for talent beyond their local areas now that remote working arrangements are more common.
Tech professionals are fleeing expensive areas like San Francisco and New York City in favor of more affordable cities that will contribute to a better work life balance.
For more than a month in 2020, 90% of the searches involving San Francisco on moveBuddha were for people moving out.
The top picks for relocation are Austin, Chicago, and Seattle. 
Startups all over the world are hiring, and you have a huge range of choices if you're looking for your next opportunity. Follow these companies to learn more about their company cultures, and check out open jobs:
Braze, is a comprehensive customer engagement platform. Follow here. 
PerfectServe, is a platform for healthcare communication. Follow here. 
Paro, is a platform that connects companies to remote finance experts. Follow here.
myCOI, helps CFO's and Risk Managers track Certificates of Insurance. Follow here.  
LawVu, a legal digital workspace for in-house legal teams. Follow here. 
Relay Platform, a platform used by insurance professionals to expedite quote and proposal times. Follow here.