You have options galore as a tech worker in today's job market. Here's proof:
Information technology employers listed 360,065 tech job openings in October, an increase of almost 76,000 from the previous month. That's the highest monthly total in two years. (source:

CompTIA Jobs Report

)

One-third of the job openings were for positions requiring emerging tech skills like AI, automation, robotics, and IoT.

The unemployment rate in the tech sector is just 2.1% – incredibly low compared to the overall U.S. rate of 4.6%.

Tech companies added 8,300 new hires in October, and 7,000 of those positions were in IT services and custom software development. (source:

Bureau of Labor Statistics

)
So if you are quietly looking to make a move away from your current position, you are not alone.
According to Dice's technologist workforce sentiment report published last quarter, many tech workers came out of the COVID-19 lockdowns with an increased willingness to shift employers.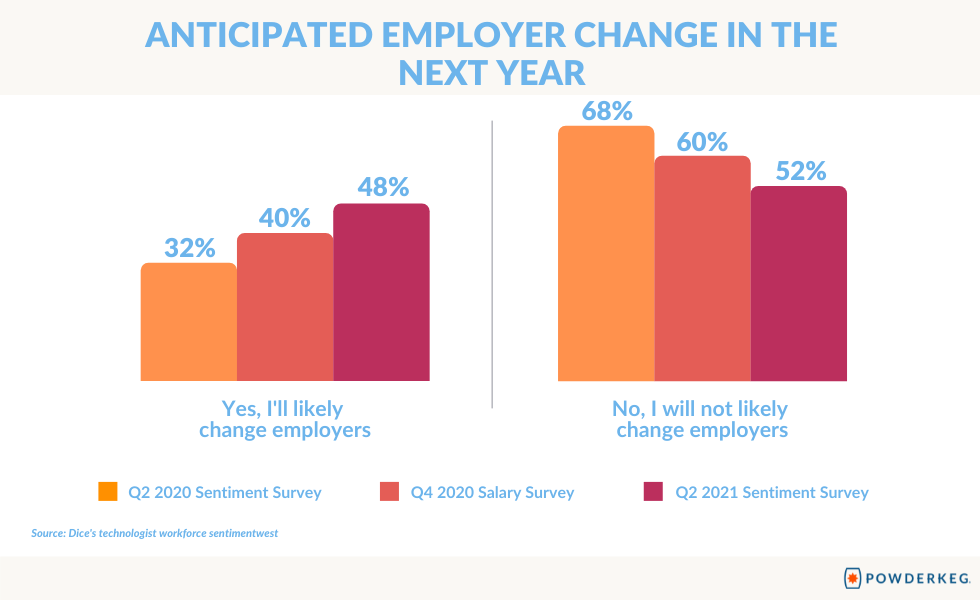 Forty-eight percent of technologists expressed an interest in changing companies, according to a Q2 poll, which is up 40% from the fourth quarter of 2020.
How do you keep your options open and look for a new job while you are already employed? Here are some best practices:
1) Focus your efforts by building a list of companies you'd like to work for. Discover new companies in your industry or your geographic area, or explore organizations that line up with your current interests.
With your Powderkeg account, you can Follow companies and collections to build your list of potential targets.
Search and sort companies by "Perks and Benefits" in the Powderkeg directory to identify and Follow companies that offer:
Remote work options

Equity in the company

Flexible work schedules

Diversity programs

Childcare

Parental leave policies
Or explore company collections that line up with your interests. You can Follow collections in sectors like:
Fintech

Health Tech

Cybersecurity

Artificial Intelligence

Education Tech
Get started on your "dream company" list on the Powderkeg site.
2) Tap into your network instead of spending countless hours sending out applications. Finding a job using your network isn't a new concept, but it's a particularly good idea when you're already employed and your time is limited. 
This recent Forbes article suggests spending 80% of your job search time building relationships and networking.
Connect with people in your ideal industries, or at companies you find interesting. Ask if they have any roles available in their organization.
Get active by attending meetups, setting up virtual or in-person coffee meetings, and connecting with people on LinkedIn. When you connect on social media, don't forget to comment on people's posts and activity so they can get to know you.
Communities like Powderkeg are a great way to build relationships. Here are two ways to make the Powderkeg community work for you:
If you come across a job post you're not a match for, refer the job to a friend! Powderkeg members can Refer on any Powderkeg profile.

Sign into Powderkeg

to browse jobs.

Show future employers that you read tech news and are active in your community. One great way to start is by sharing the

Powderkeg Newsletter

on social media.
3) Be careful where you post your resume. When you're currently employed, don't spam your resume across every job board. 
Be selective about who you share it with, and ask recruiters and hiring managers to be considerate of your situation. Most employers will respect your need for confidentiality.
You can count on employers in the Powderkeg community to exercise discretion.
Start your career search in the Powderkeg app, toggle to "Private" mode. In that mode, your data will be completely anonymous in your Match responses, so you can respond with confidence. Start your private job search with Powderkeg.
4) Tired of surfing through noise on job boards to find new opportunities? We have a better suggestion.
Follow companies in the Powderkeg directory to get notifications about the newest job postings, delivered straight to your inbox. Kick things off by Following these companies in emerging tech hubs:
Austin TX
Iris Telehealth, A digital telehealth platform helping providers and healthcare organizations provide clinically sound and financially sustainable psychiatry programs. Follow Here.
Jungle Scout, an all-in-one platform for selling on Amazon. Follow Here. 
L7 Informatics, provides a workflow management software platform for companies using data-intensive scientific techniques. Follow Here.
TrustRadius, a B2B review platform that helps technology buyers make better decisions and tech vendors tell their unique story. Follow Here.
Chicago, IL
ActiveCampaign, specializes in email marketing, marketing automation, and sales automation. Follow Here.
Cameo, allows fans to purchase video greetings with entertainment and sports celebrities on its online platform. Follow Here.
Hologram, is a cellular platform designed for the Internet of Things. Thousands of connectivity teams rely on Hologram to keep their fleets connected around the world. Follow Here.
Obie, is an insurtech startup that offers insurance and risk management for real estate investors. Follow Here.
Los Angeles, CA
AirVet, is a telehealth platform designed to offer continuity of care between pet parents and veterinarians. Follow Here.
DMArket, is a cross-chain marketplace to trade all possible NFTs and virtual items, and technology for building metaverses. Follow Here.
Kernel, is a neuroscience company that specializes in developing brain-recording technologies. Follow Here.
VENN, is a new 24/7 post-cable network aimed at gaming, esports and entertainment audiences. Follow Here.
Milwaukee, WI
Bright Cellars, is a monthly subscription wine club that matches members with personalized selections. Follow Here.
Caravela, works in the manufacturing and industrial process space, providing machine learning and other IoT solutions to our customers. Follow Here.
Continuus Technologies, helps businesses benefit from greater control, compliance, and transparency of their data. Follow Here.
Sift Healthcare, brings data science to healthcare payments, integrating machine learning and predictive analytics to reduce insurance denials, maximize patient payments and optimize revenue cycle operations. Follow Here.
Talimer, A talent-first engagement marketplace that offers access to benefits and business tools for independent workers while enabling businesses to secure hard-to-find, on-demand talent. Follow Here.
 Denver CO
10.10.10, gives impact entrepreneurs the context and tools to develop market-based solutions to the world's wicked problems, beginning with health. Follow Here.
Cleanshelf, provides automated discovery, simple management and effective optimization to help you control your enterprise SaaS. Follow Here.
RxRevu, a physician-founded organization on a mission to become the leader in prescription decision support, helping prescribers identify the most cost-effective medications for each patient, at the point of care. Follow Here.
Airdna, turns industry-savvy, short-term rental data into strategic, actionable analytics. Follow Here.