If you're an employer looking for top talent, hiring military veterans could be a huge, high-ROI opportunity for you.
According to the Department of Defense, more than 200,000 veterans enter civilian life each year.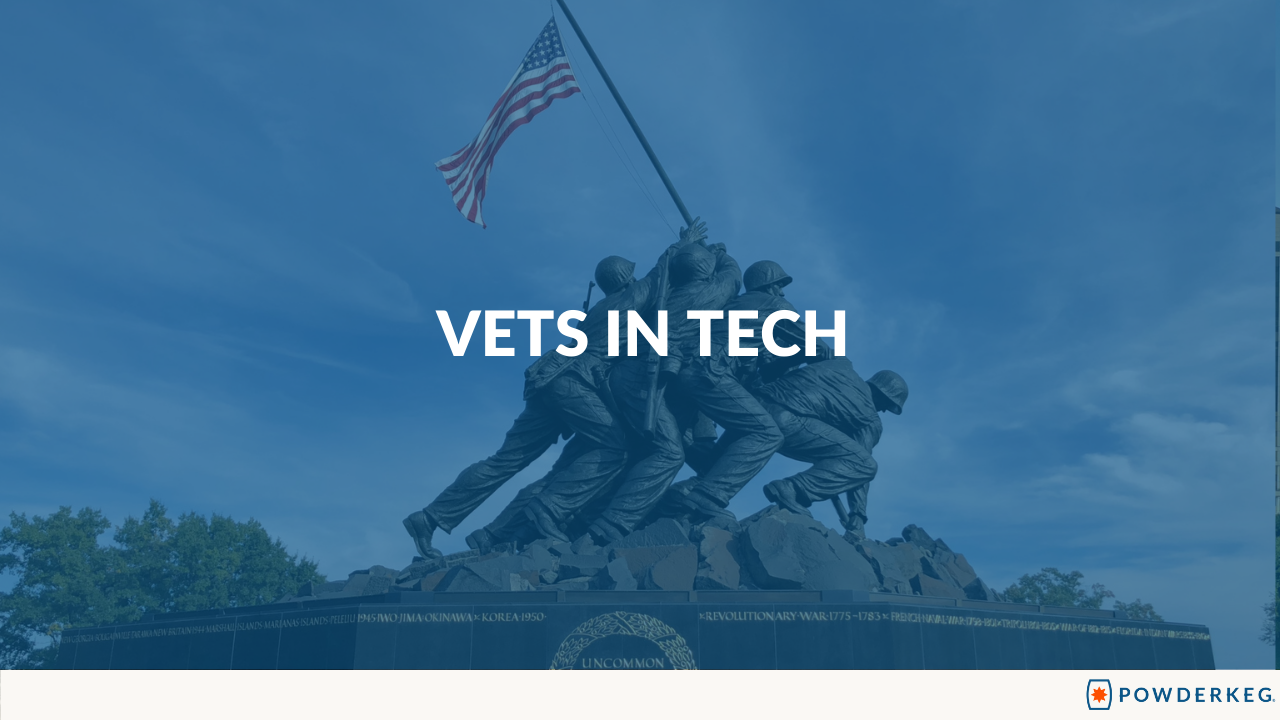 Employers and veterans in the Powderkeg community told us why veterans are uniquely suited to work in the technology industry. Veterans make great hires because they tend to be:
Disciplined

Hard-working and productive

Resilient

Versatile and agile

Loyal and dedicated

Skilled at working within teams

Accustomed to working in high-stress, dynamic situations

Great leaders
The ROI of hiring veterans is clear. Sandboxx, a veteran-owned company based in Arlington, Virginia, raised $8 million last year. Jeremiah Runser, Sandboxx's Director of Marketing, told us:
"Veterans just have a great work ethic. I've hardly met somebody who wasn't a veteran that didn't work hard. The thing that probably doesn't get talked about enough is that a lot of times veterans come out of service without a lot of translatable skills if you want to come into tech… – those [technical] jobs aren't really there. What's awesome, though, is that veterans are very adaptable."
There is still a huge tech talent shortage in the United States. The Wall Street Journal reported that employers posted approximately 340,000 unfilled IT jobs in January 2022, which was 11% higher than the prior 12-month average.
Companies like yours can help bridge the talent gap by reaching out to veterans about opportunities in the tech industry and helping service members transition into tech jobs as they return to civilian life.
Get great helpful tips from Workable about how to hire and retain military veterans for your team. 
Eleven Fifty Academy's Military Initiative for Veterans is rapidly gaining momentum. Their coding and cybersecurity bootcamps enable veterans to ramp up quickly and learn the tech skills they need to jump start their tech careers. 
Chris Wood, Eleven Fifty Academy's Military Admissions Advisor, is a veteran himself. He shared with us, "Veterans just have a tendency to figure things out. We don't wait around for people to tell us what to do. If we've got a job or a task, give me the tools, the information that I need, and let me run. We'll finish the job. We are used to doing very mission critical objectives under great pressure and completing that task on time."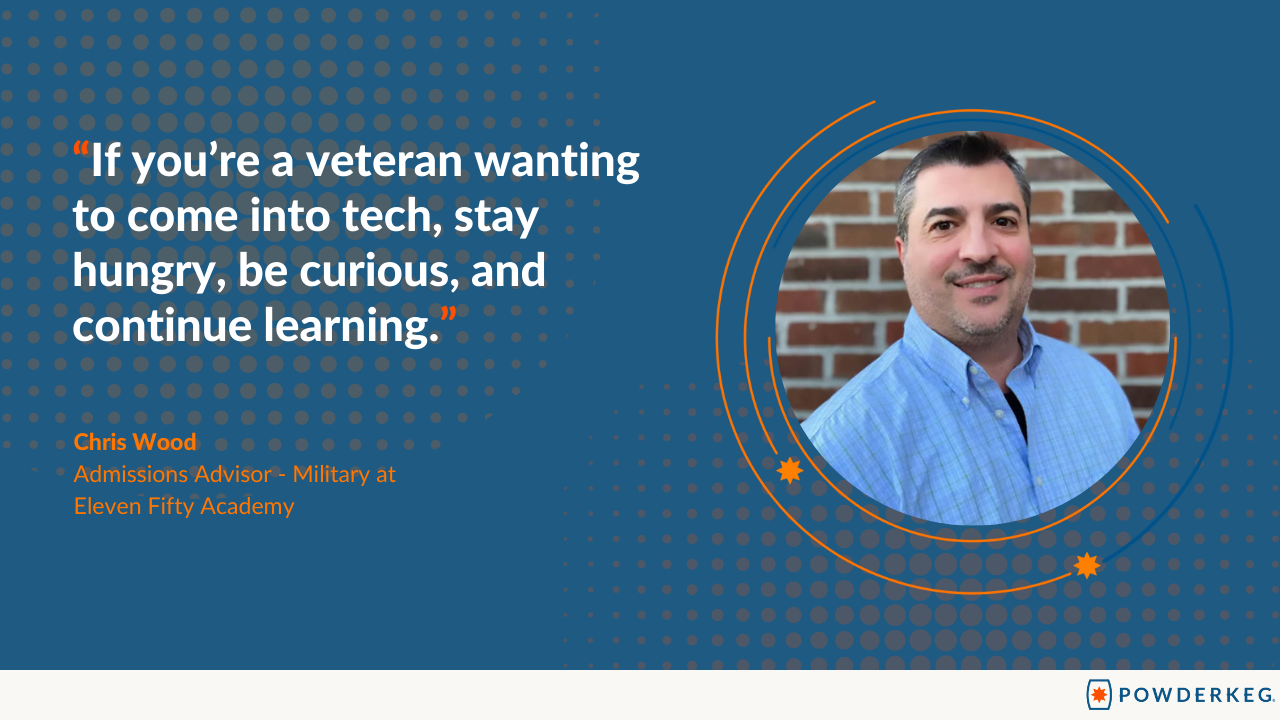 "If you're a veteran wanting to come into tech, stay hungry, be curious, and continue learning," Chris continued.
Are you a veteran looking for tech opportunities? Here's a curated list of open roles that are perfect for service members:
And here's a small sampling of the many companies in the Powderkeg community that are revved up about hiring veterans:
Amazon (Seattle, WA) an e-commerce website for consumers, sellers, and content creators.
GoDaddy (Tempe, AZ) an internet domain registrar and web hosting company facilitating online businesses.
Sandboxx (Arlington, VA) a military media and technology company.
Tesla (Austin, TX) specializes in developing a full range of electric vehicles.
Fiserv (Atlanta, GA) provides electronic commerce and payment solutions for merchants, financial institutions and card issuers.
RBR-Technologies (Odenton, MD) an IT consulting and engineering company that offers software & web development, and IT engineering services.
Coalfire (Louisville, CO) provides risk assessments, testing and implementation security solutions for technology-related businesses.
Boeing (Chicago, IL) The worlds second-largest defense company,Defense,Space & Security is the only aerospace business.
SpaceX (Hawthorne, CA) an aviation and aerospace company that designs, manufactures, and launches advanced rockets and spacecraft.
We are also partnering with Eleven Fifty Academy to build a network of companies on a mission to create more opportunities for veterans.
Find out more if you are an employer that is interested in:
Giving feedback on EFA's programs

Building new programs that can serve as pathways for military service members

Hiring veteran graduates of Eleven Fifty Academy's programs

Getting connected with with veterans who they can refer candidates

Giving back to the community
If you are a veteran, or know a veteran who is looking for a new job—Eleven Fifty Academy has a number of special programs coming up soon, and they have personalized tuition options for folks like you. Get in touch today to learn more.