Tech talent continues to move away from the coasts. A recent report from LinkedIn's Economic Graph team shows that tech workers are continuing to leave traditional tech hubs in favor of cheaper living costs in the Unvalley. 
LinkedIn's report listed tech's most resilient hubs – the cities that showed the fastest growth in engineering and tech talent (compared to population size) between December 2019 and May 2021.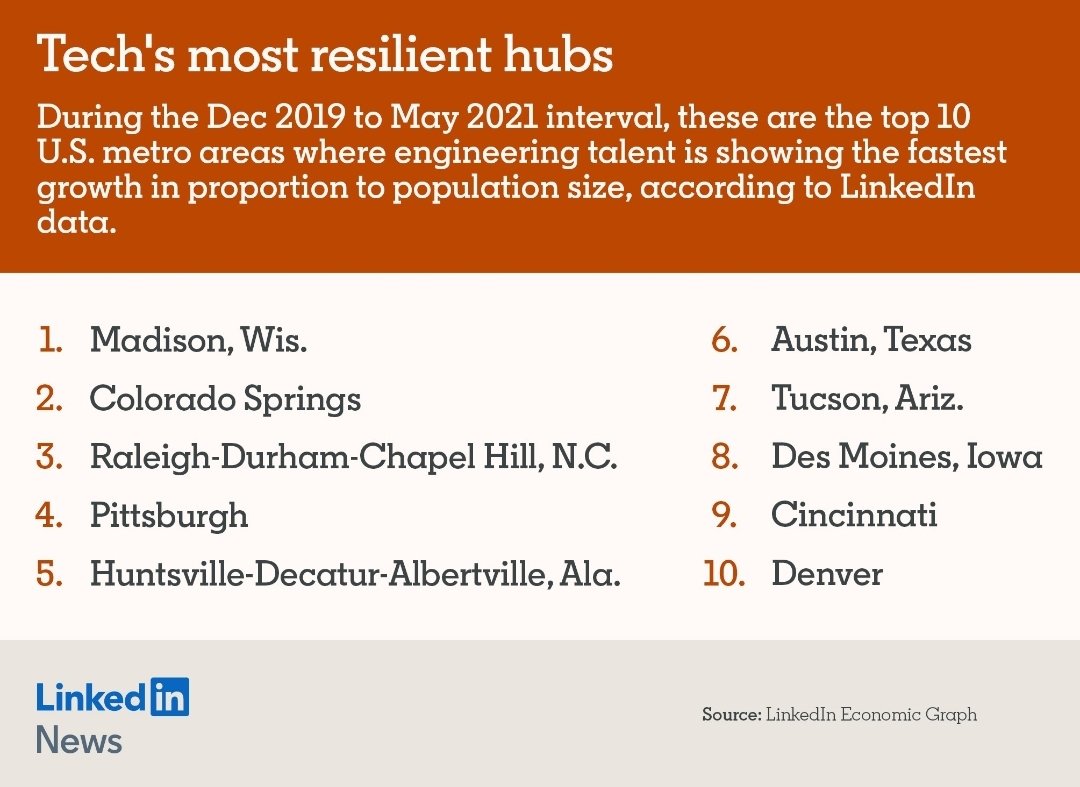 All of the Top Ten Most Resilient Cities are Unvalley tech hubs:
Madison, WI

Colorado Springs, CO

Pittsburgh, PA

Huntsville-Decatur-Albertville, AL

Tucson, AZ

Des Moines, IA
Long-haired Colorado people…need not apply? Unfortunately, not all states are making their borders friendly to remote workers. A new Colorado state law disincentivizes employers to hire remote workers based in the Centennial state.
The Equal Pay for Equal Work Act says employers advertising for an open job must include the role's salary, even if the position is fully remote. Nike, Johnson & Johnson, and CBRE are already openly excluding Colorado workers from their job listings, to avoid public salary disclosure – and more companies will likely follow suit. That's a big setback for people who want to move to Colorado for its scenic beauty and outdoorsy lifestyle. 
Meanwhile, other rising tech communities are incentivizing remote workers to move to their states with perks like relocation assistance, cash bonuses, and discounts on local co-working spaces.
Want to explore the startups in these tech hubs? You can filter by city, industry, tech stack and more in Powderkeg's Startup Directory.