Wondering who the biggest VC players are in your state (or the state you're thinking you're about moving to)? The answers might surprise you.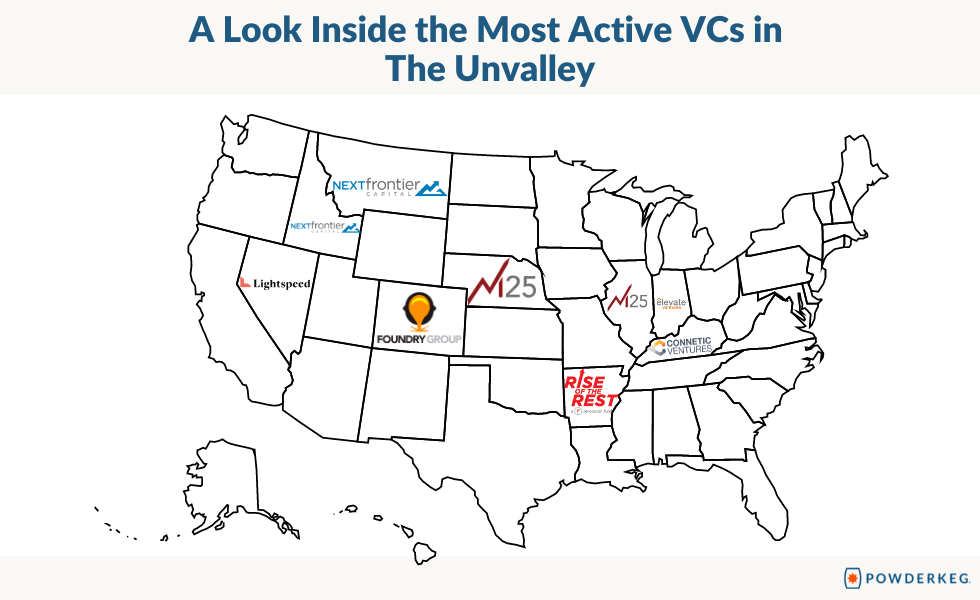 The United States of Venture Capital report from CB Insights analyzed the most active venture capital firms investing in tech startups in every US state – and there are some massive shake ups this year in many states.
Venture capital in the U.S. continues to break records despite the pandemic, hitting $210 billion as of Q3 2021. That's 1.5x the total funding for all of 2020 – and tech investment beyond Silicon Valley continues to skyrocket.
Here's a deep dive into a few of the hottest VC states, and which firm is the most active in each one:
COLORADO
Colorado ranks #5 in the top five most entrepreneurial states in the country, according to a Heartland Forward report. Only California, New York, Utah, and New Jersey outpace its growth as an emerging tech hub. 
Foundry Group is the top VC in the Centennial State, investing in technology companies and venture capital managers through the U.S. and Canada.
Brad Feld (Managing Director at Foundry Group and co-founder of Techstars) and Chris Heivly (Managing Director of Build the Fort) are the co-hosts of the Your Community Podcast and are featured speakers in our Powderkeg Unvalley Video Library. Find out what they had to say about creating thriving startup communities, and watch the full interview.
Then follow these Foundry Group portfolio companies to stay up-to-date on the latest news in Colorado tech:
ILLINOIS AND NEBRASKA:
Chicago funding peaked at nearly $2 billion in Q2 2021, including projects like ActiveCampaign, project44, ShipBob, and Clearcover.
The Windy City has seen a huge uptick in six-figure mega-deals this year. In the first three quarters of 2021, a dozen Chicago companies netted mega-deals. 
Meanwhile, the Cornhusker State is on the startup map as well. Nebraska – which has become known as the Silicon Prairie – is following national VC trends with companies like Hudi, Flywheel, and Lunavi.
Experts say the more reserved Midwestern approach to fundraising and burn rate is appealing to hesitant VCs who are craving less risky investments in the shadow of COVID economic chaos. Both Nebraska Angels and Invest Nebraska are on the hunt for promising new projects.
M25, an early-stage venture firm that only invests in tech startups headquartered in the Midwest, is the top VC firm in both Illinois and Nebraska. The firm is led by two of the youngest fund managers in the tech industry.
Listen to M25 Partner Mike Asem sharing advice in his session, How to Raise VC Funding in the Unvalley, in the Powderkeg Unvalley Video Library.
Follow these M25 portfolio companies to stay on top of potential opportunities in Illinois and Nebraska:
ARKANSAS:
Arkansas companies pulled in an estimated $89.7 million in VC investment in the first 3 quarters of this year – that's up 151% from $35.7 million for all of 2020. Approximately 75% of the statewide total was invested in Northwest Arkansas companies, and companies in the Little Rock metro area received the rest.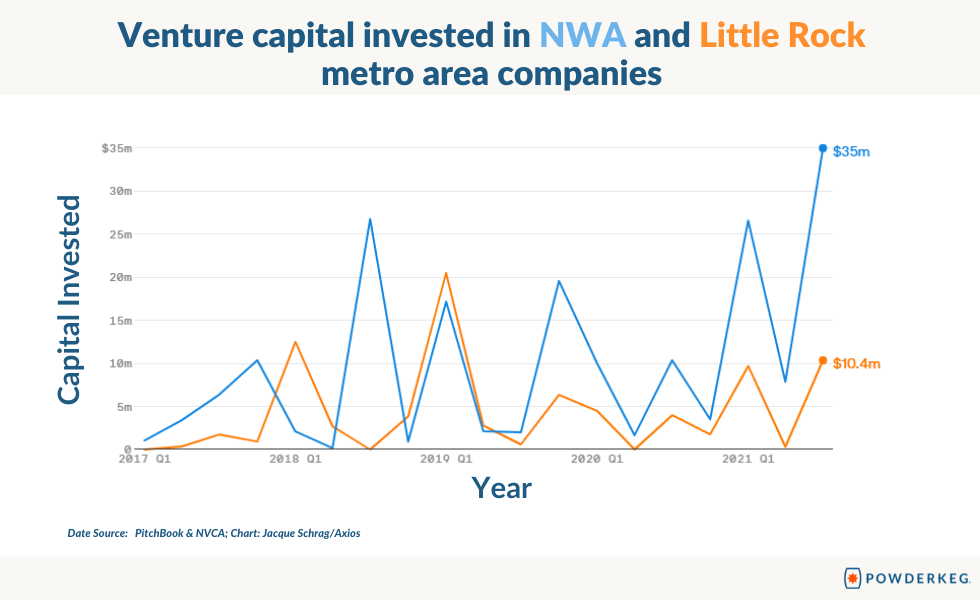 Rise of the Rest Seed Fund, which invests in startups outside Silicon Valley to foster innovation and momentum in emerging tech communities, is the largest VC firm in Arkansas. 
Watch these interviews with Rise of the Rest leaders, straight from the Powderkeg Unvalley Video Library:
Find your next opportunity by following these Rise of the Rest Seed Fund portfolio companies:
HONORABLE MENTIONS FOR VCs IN OTHER STATES: