Podcasts are becoming more popular than ever. Just last year, Edison Research completed a study showing that 51% of Americans over the age of 12 have listened to some sort of podcast just in the year 2019. As a fan, it appears that while the demand for podcasts is increasing, the supply of shows available is growing at an extreme pace. To turn into competition in this deeply saturated market, current podcasts have had to be able to market themselves well but are struggling to find efficient tools in order to promote themselves than most other products. So what can they do to keep up with the growing trend of podcasts? And who can help them better market their podcast? 
On today's episode of the Igniting Startups Podcast, you'll hear from Lindsay Tjepkema, the CEO and Co-founder of Casted, the first B2B Podcasting Platform, helping B2B Podcasters and Content Marketers become more effective through better measurement and activation of their podcasts.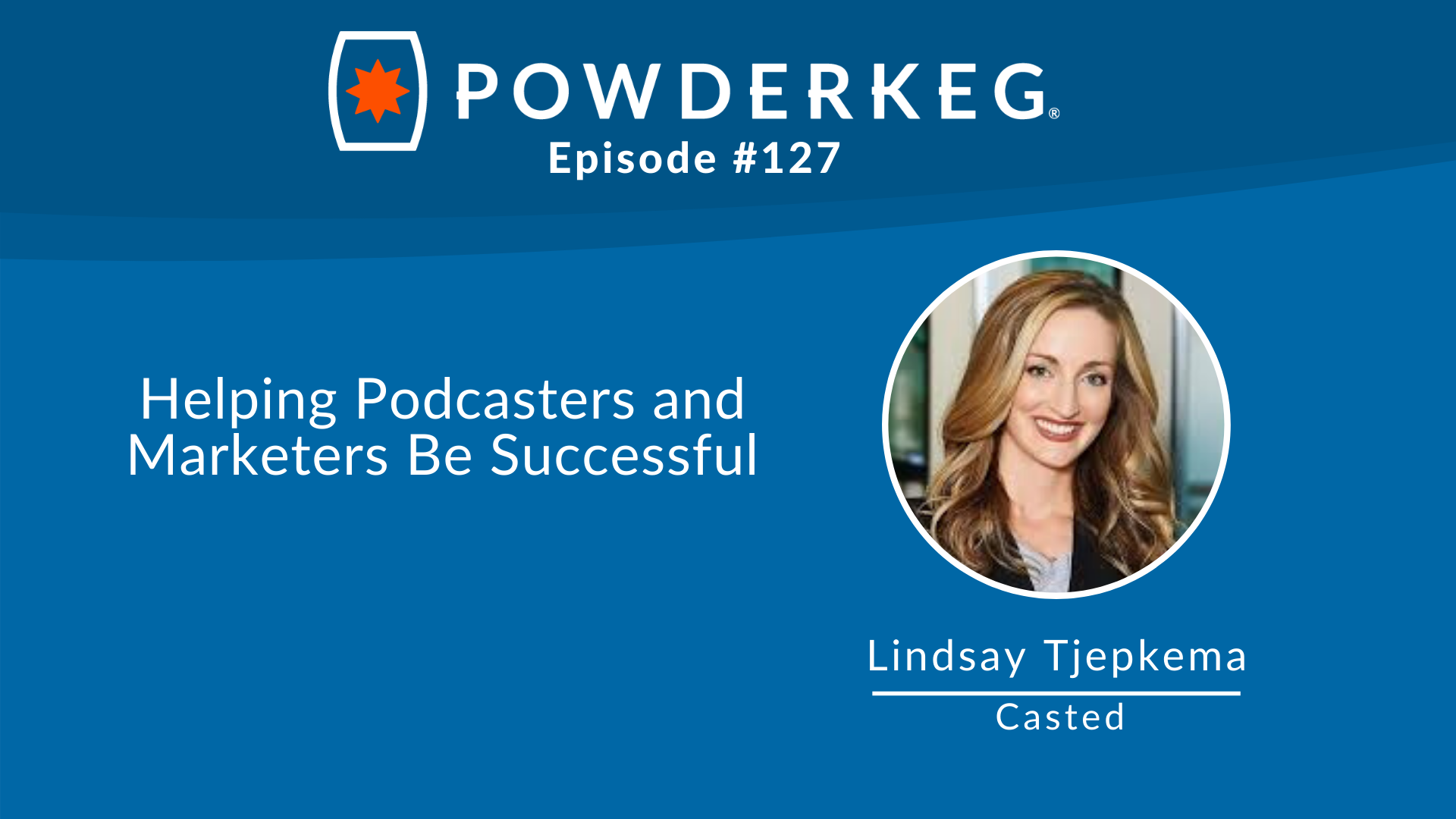 Lindsey had just 5 minutes on the Powderkeg stage to pitch Casted her startup to a live panel of investors and industry experts at our recent Powderkeg Pitch Night event featuring some of the most innovative Marketing Tech companies scaling in the middle of United States. The four experts you'll hear from on this episode include:
Lindsay is an experienced marketer and brand builder that creates well-planned and well-executed campaigns. Casted just announced their $2.35 Million round of seed funding just a few weeks prior to Lindsay taking the stage at Powderkeg to pitch in front of a LIVE audience. Tune in for more!
Figuring out your next career move doesn't have to be so stressful. So why not try Powderkeg Matches?
By joining Matches, you're joining a community of thousands of top professionals in the Powderkeg community to get connected with outstanding people at the hottest tech companies between the coasts. Get matched with great employers, land your next major opportunity, and get started today!
Please enjoy this pitch with Lindsay Tjepkema of Casted!
If you like this episode, please subscribe and leave us a review on iTunes. You can also follow us on Soundcloud or Stitcher. We have an incredible lineup of interviews we'll be releasing every Tuesday here on the Powderkeg Podcast.
Lindsay Tjepkema quotes from this episode of Igniting Startups:
"When you have big goals on behalf of your brand, you need the right equipment to go and achieve those goals." — @CastedLindsay on @PowderkegCo
"An interesting thing happened about a year ago, where more people are listening to podcasts, even those who are not. So if you're not listening to podcasts, you're officially in the minority now, which is crazy, right? which opens up an incredible opportunity for brands to connect with their audiences." — @CastedLindsay on @PowderkegCo
"So when someone comes in to listen to your episode, or listen to a clip, what else are they doing? How are they engaging with the rest of the content that we're recommending on that page that may or may not be a podcast, right? How are they clicking? Where are they coming from? Where are they going? And what information can we provide back to those leaders of marketing to help them understand how those conversations are fueling their pipeline?" — @CastedLindsay on @PowderkegCo
"How can you put podcasts and authentic conversations at the center of your marketing strategy, not only in theory but also in practice by using Casted and integrating with other marketing tools that you're using." — @CastedLindsay on @PowderkegCo
Links and resources mentioned in this episode:
Companies and organizations:
Venture capital firms:
Events:
 People:
Did you enjoy this Pitch Night episode? Thank Lindsay Tjepkema on Twitter!
If you enjoyed this episode and have a few seconds to spare, let Lindsay know via Twitter by clicking on the link below:
Click here to say hi and thank Lindsay on Twitter!
COMMENTS?
What stood out most to you about what Lindsay Tjepkema shares in this podcast?
For me, it's how can you put podcasts and authentic conversations at the center of your marketing strategy using Casted.

You? Leave a comment below.
WANT MORE?
To subscribe to the podcast, please use the links below:
Click Here to Subscribe via iTunes.
Click Here to Subscribe via RSS (non-iTunes feed).
To download the PDF file for the full transcript of this podcast, please use the link below:
Click Here to Download PDF file
If you have a chance, please leave me an honest rating and review on iTunes by clicking here. It will help the show and its ranking in iTunes incredibly! Thank you so much!