Ever hear of the "great reshuffle"? (No, it's not the latest TikTok dance craze.) 
The great reshuffle, also known as the great reconsideration, is a perspective on the "great resignation" that's been making headlines for several months. It's also the big trend we're still seeing in the United States as tech workers move between jobs— often to prioritizing their lifestyle or wellbeing. 
More Americans are quitting their jobs than ever before, and that includes tech workers who say their current job situation has become untenable and is no longer worth the paycheck.
A Citrix report about the talent shortage noted that 35% of tech workers who were leaving a job cited burnout as one of the primary reasons they were exiting.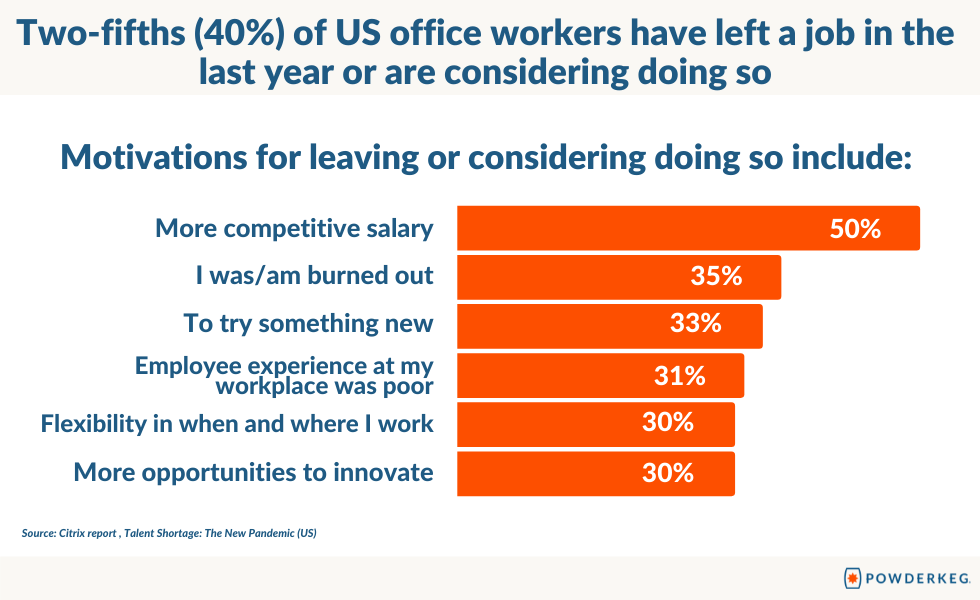 Tech workers are weighing their professional options carefully. They often feel comfortable asking for more flexibility, remote work arrangements, and other wellbeing perks because of the plethora of jobs available.
And because employers are competing for the best talent in a wickedly tight job market, they've got no choice but to adapt. Companies who want to win the battle for the best tech workers are working hard to improve benefits and company culture so they create a more enticing environment.
Are you a recruiter or hiring manager? Here are a few things to keep in mind:
According to the Harvard Business Review, winning companies are widening their pool of candidates to the current talent crunch. 
They're seeking workers across the U.S. (or worldwide), and considering candidates that have a broader skill set, rather than focusing only on technical expertise. 
According to Glassdoor ratings of tech companies, the most talented candidates are actively looking for employers that have:
A culture of coaching and development

A strong commitment to Diversity, Equity, and Inclusion (DEI)

Transparent and accountable senior management
Want to know more about what top companies are doing to stay competitive, and what industries and organizations you should add to your wish list if you're exploring your options as a tech professional?
We'll announce the winners of the 2022 Powderkeg Unvalley Awards next Tuesday, December 7th. These annual awards celebrate the top tech companies and best companies to work for beyond Silicon Valley.
We'll be recognizing companies in these categories:
Top SaaS Companie

Top FinTech Companies

Top Cybersecurity Companies

Top Ed Tech Companies

Top Health Tech Companies

Top BioTech Companies

Top Robotics Companies

Top Tech Companies

Best Tech Companies to Work For

Best Tech Companies for Remote Jobs

Best Tech Companies for Work Life Balance

Tech Companies With the Best Benefits
Then on Thursday, December 9th, you'll get the chance to hear from the award winners as we bring some of the top leaders in the Unvalley onto our virtual stage at the Powderkeg Unvalley Awards Celebration.
This free virtual event is for you if you are building a tech company or growing your career in areas beyond Silicon Valley.
RSVP for this virtual celebration today!