When asked about the common factors behind the most successful emerging tech hubs, Upside.fm co-host Jay Clouse said, "The ecosystems that are doing well are embracing new players and new institutions, and encouraging [collaboration]."
We interviewed Jay along with his podcast co-host, Eric Knight Hornung, at Powderkeg Unvalley 2020. Here are some of their best pieces of advice:
Collaboration is key.

Connect with other founders, reach out to other niche industries in the community, and install fewer gatekeepers.

Party in the back?

Having a distributed team lets companies hire the best possible talent. These days, many startups are using the "mullet strategy," where front-facing workers are located in Silicon Valley or New York, and the rest of the team is elsewhere in the country.

Bootstrapping is in

. More startups are figuring out non-traditional financing instead of going directly for seed rounds or Series A capital.

There is no "right" way

. Jay and Eric are keeping their eyes on Columbus, Salt Lake City, Pittsburgh, Madison, Indianapolis, and Memphis. But you don't have to follow those cities to succeed. Ask yourself, "What is the best way to grow our unique city into a thriving tech hub?"

To get more success secrets from the Upside hosts, click here to watch a clip from their interview with Jacqui Dietrich of Startup Space.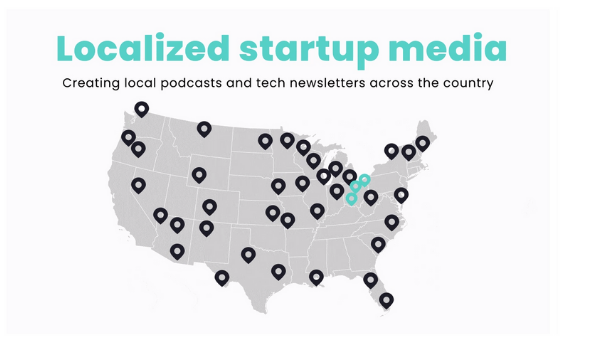 Not only do tech hubs exist inside the coasts, but they're thriving. During Unvalley 2020, Jacqui Dietrich had the opportunity to sit down with podcasters Jay Clouse, creator of Freelancing School and Community Experience Director at SPI Media, and Eric Hornung, Vice President of RKCA Investment Banking in Cincinnati. They discussed why some communities see more growth than others, how founders are adapting to changing times and some specific examples of booming ecosystems.
The "Drive-to-Empathy" ratio. The Midwest combines a hunger for solving highly impactful problems, with the ability to intimately connect with customers, partners, leaders, the market, and talent. This deep understanding directly drives scalable innovation that's targeted to the heart of building teams and products that make customers win.
–Sam Smith, Co-Founder & CTO at Demandwell
Tech and startup ecosystems inside the coasts are thriving. Experienced startup storyteller Jay Clouse emphasises the impact that institutions like colleges and corporations can have on a budding community. Clouse's co-host on Upside.fm Eric Hornung agreed and added that it's helpful to look at Silicon Valley and other successful tech hubs as examples for the up-and-coming ecosystems. Specifically, collaboration among players in each ecosystem has played a critical role in attracting entrepreneurial talent and growing economies. Fewer gatekeepers and more founders embracing other founders.
Trends they see from talking to founders
From their conversations with founders across the United States, Clouse and Hornung have discovered that distributed teams are a magnet for exceptional talent because they have no geographical constraints – even before the pandemic. Some organizations have also shifted to what Hornung calls the "mullet strategy, where the front-facing people … are in New York or San Francisco and the rest of the team elsewhere." Another trend the podcasters have found is bootstrapping. Entrepreneurs have turned less and less to venture capitalists for investment dollars. "It's not just one type of entrepreneur that gets funded. Other people can access entrepreneurship," said Hornung.
Who's "doing it right" and what does that look like?
Clouse admits that it's difficult to say which communities are succeeding in their attempt to build thriving ecosystems. But, there are plenty of cities making a name for themselves as we speak. Clouse goes on to add that his hometown of Columbus is uniquely positioned to benefit from a series of successful, billion-dollar ventures in the last decade, including CoverMyMeds, Root Insurance and Olive. Cincinnati-based Hornung emphasized the growth of Salt Lake City, Madison, Indianapolis and Memphis because of their focus on collaboration and suggested a different approach to the question: "I think it's 'How do I do it right so that our city grows?'" 
Clouse and Hornung have a heartbeat on startup and tech ecosystems across the country. They know what works and what doesn't to build a thriving entrepreneurial community in a city. However, they still advocate for a customized approach to grow it. What works for your city? How do you help your founders meet other founders and investors? These are the questions that we should be asking.