Did you know that 4 out of the top 5 fastest-growing software companies in the U.S. are located outside Silicon Valley?
This year's Inc. 5000 list, the annual roundup of the country's hottest companies, provided more proof that San Francisco isn't the only place (or the best place) to launch and grow a startup these days.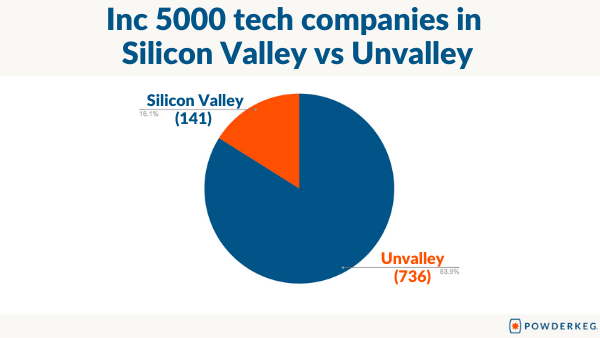 The top 5 Inc 5000 startups in the Unvalley by percentage growth are:
Banyan Software (#16)

– An investment company that acquires, grows, and holds niche-market enterprise software businesses.

DealMachine (#36)- A mobile app to help real estate investors effortlessly follow up with property owners to get more deals.
Radix Health (#52)

– Software solutions that optimize the patient scheduling process for healthcare groups. 

FreightWaves (#85)

– Market data and news provider for the $9.6 trillion global logistics industry.

Benevate (#91) – Software solutions for the enrollment, administration, and reporting of housing, economic, and community development programs.
The top 5 Inc 5000 first-timers in the Mighty Middle:
Kenect (#216)

–  Lead generation platform that helps companies communicate with their customers via text. 

Founders Software (#548)

– Investment holding company for the transportation, logistics, e-commerce, and technology sectors.

Pushnami (#554)

– Push monetization platform that combines traditional marketing channels with machine learning and patented data identity technology.

Kennected (#583)

– SaaS-based lead gen and marketing software that helps companies automate outreach, personalize follow up, and create new revenue streams. 

CENTEGIX (#1,098)

– An incident-alert platform that enables staff, security, and administrators in public spaces to request assistance.
Community organizers, entrepreneurs, and tech professionals from emerging tech hubs across the country have compiled lists of their local companies that made the Inc. 5000:
Do you have an Inc. 5000 collection for your community? Drop us a line and we'll add it to this resource.
Endeavour, a community organization that supports entrepreneurs in Kentucky, Indiana, and Ohio, celebrates SkuVault and HANDLE making the list. 
Want to see even more of the hottest companies between the coasts? Check out our collection of the top 25 fastest-growing companies in the Unvalley.