When confronted with a crisis like COVID-19, that has brought global uncertainty and record-high market volatility. Tech leaders are now forced to change the way their companies operate almost entirely overnight. This has had enormous ramifications for how companies are working. Leaders are now expected to be able to support and communicate with their teams with full transparency. But there is a silver lining, and that silver lining is that uncertainty can create opportunity–especially for companies that could be born or survive this uncertain period. This isn't the first time our world has felt the burden of an economic downturn, and it definitely won't be the last. So how can leaders better prepare and adapt themselves and their companies for times like these?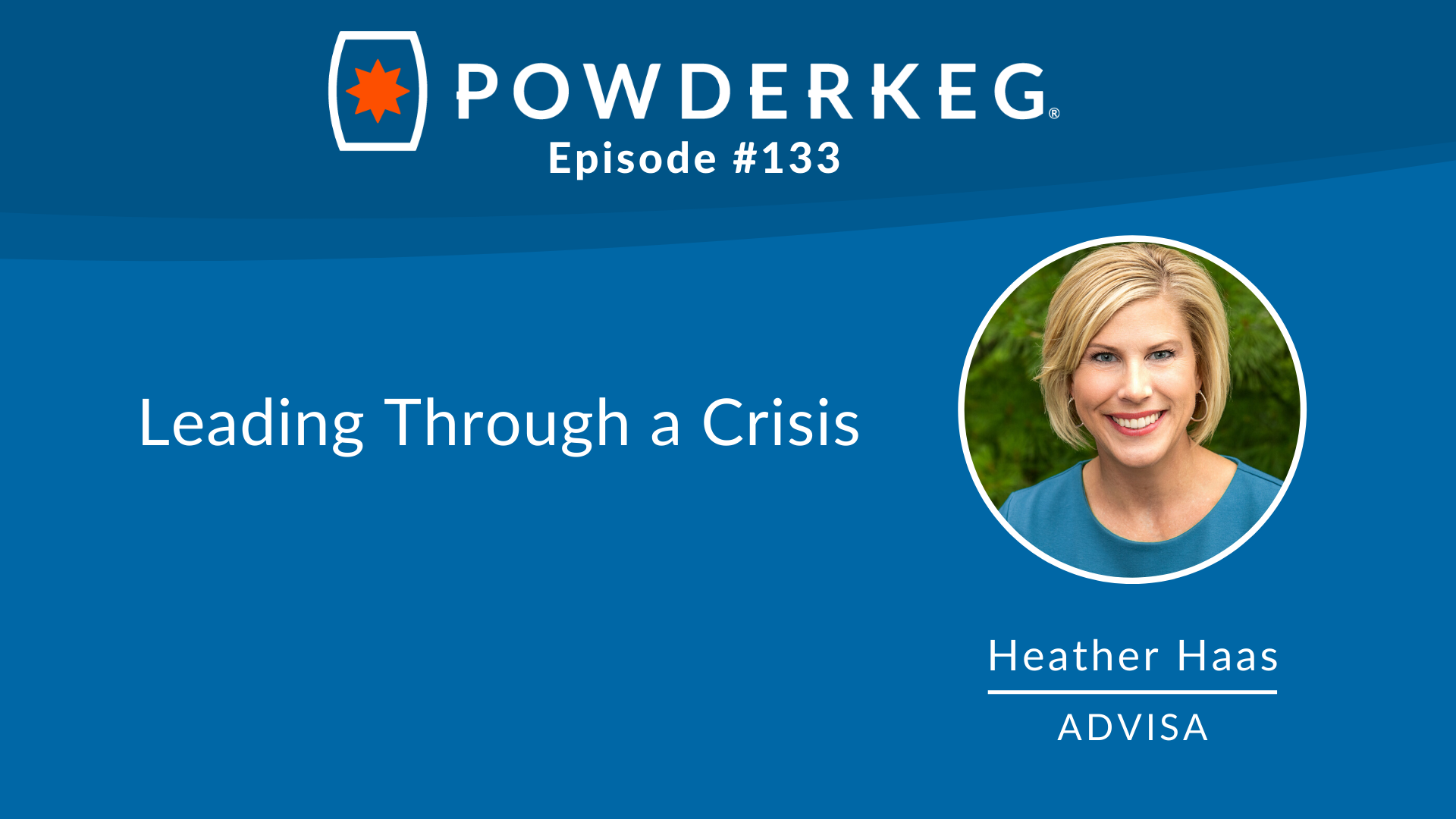 On today's episode of the Powderkeg Podcast, you'll hear from a leader with an uncommon passion and authenticity in helping leaders build high-performance teams based on trust and shared purpose. Heather Haas is the President of ADVISA. ADVISA, provides talent optimization software and assessments, well as leadership development programs and strategic consulting to organizations across the country.
Heather's passion for fueling others' success drove her from her beginnings as a classroom teacher and principal to her current role as President of ADVISA. Since making the leap into the business world, Heather has coached and trained thousands of leaders to understand and leverage their strengths, as well as build skills for engaging others effectively.
Throughout this episode, Heather will share the importance of being transparent with your customers and how important transparency can be in order to reassure your members of your team in such a time of uncertainty. Heather will also share the important key values of what a leader needs to have and why those values can play a significant role in a time of crisis. Tune in for more!
In this episode with Heather Haas, you'll learn:
Important values leaders should focus on in order to lead
When's the best time to be transparent with the team and with clients
The biggest opportunities that exist for you during the COVID-19 situation
What steps to take to better position a company and profitably serve others
Figuring out your next career move doesn't have to be so stressful. So why not try Powderkeg Matches?
By joining Matches, you're joining a community of thousands of top professionals in the Powderkeg community to get connected with outstanding people at the hottest tech companies between the coasts. Get matched with great employers, land your next major opportunity, and get started today!
Please enjoy this conversation with Heather Haas!


If you like this episode, please subscribe and leave us a review on iTunes. You can also follow us on Soundcloud or Stitcher. We have an incredible lineup of interviews we'll be releasing every Tuesday here on the Powderkeg Podcast.
Heather Haas quotes from this episode of Igniting Startups:
Links and resources mentioned in this episode:
Companies and organizations:
People:
Enjoy this conversation? Thank Heather on Linkedin!
If you enjoyed this session and have 3 seconds to spare, let Heather Haas know via Linkedin by clicking on the link below:
Click here to say hi and thank Heather on Linkedin!
WANT MORE?
To subscribe to the Powderkeg podcast, please use the links below:
Click Here to Subscribe via iTunes
Click Here to Subscribe via RSS (non-iTunes feed)
To download the PDF file for the full transcript of this podcast, please use the link below:
Click Here to Download PDF file
If you have a chance, please leave an honest rating and review on iTunes by clicking here. It will help the show and its ranking on iTunes incredibly! Thank you so much!