What's new for 2022? 
Here are some of the top trends we're watching this year, with actionable takeaways for how you can leverage these ideas to make the most of your career in tech in 2022: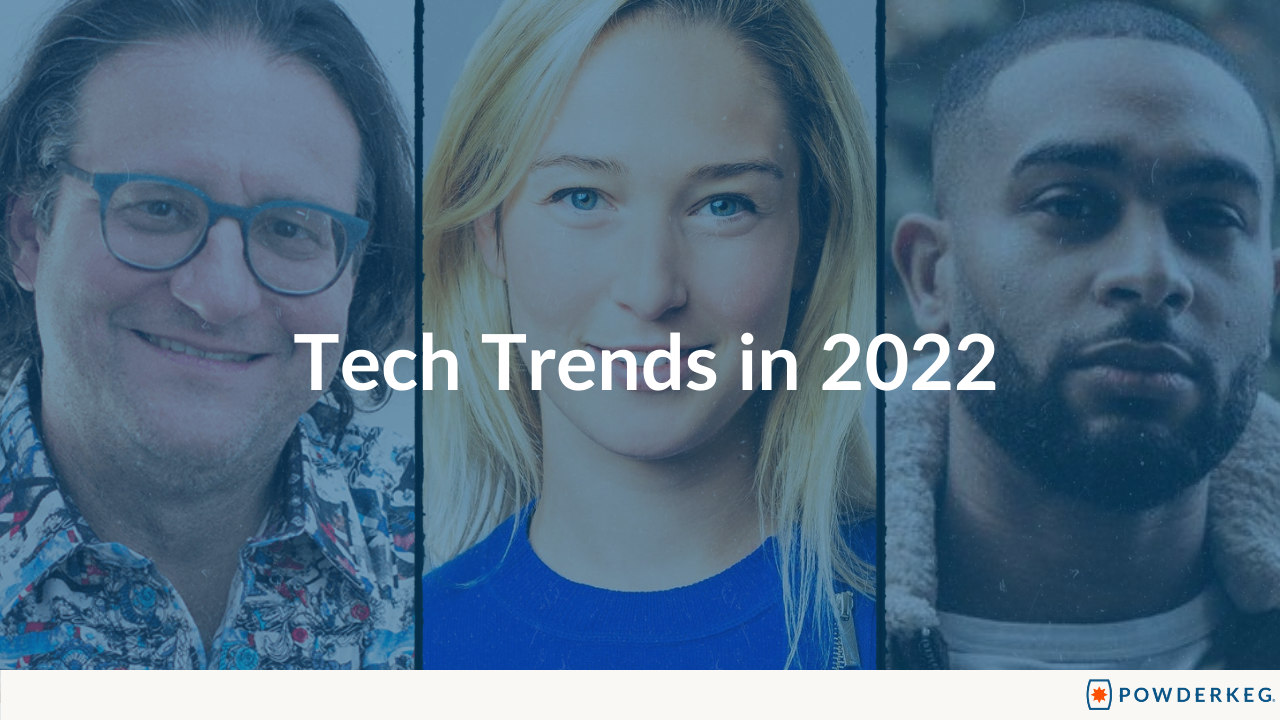 1. Building inclusive, game-changing startup communities. Brad Feld, Managing Director of the Foundry Group and founder of TechStars, joined Chris Heivly, Managing Director of Build the Fort at Powderkeg Unvalley 2021 to talk about the importance of startups communities.
Here are some quick actionable takeaways from their discussion:
Give first.

"This idea of being willing to put energy into the system, without defining upfront what you're going to get back," Brad said. "It's not altruism, you expect to get something back. You just don't know when, from whom, over what time period and what magnitude and what consideration. If you can get people behaving that way, by the way, by behaving that way yourself… some things start to really accelerate."

Include everyone who wants to join the effort.

"The undeniable thing, when I look back over the last decade, is that as a framework for how to approach the community… you have to have a very long term view, you have to be inclusive of anyone who wants to engage," Brad noted.

Actively help.

Brad and Chris both recommended taking steps to create positive change in the tech industry and beyond. Brad says, "

For me, what I try to do is take an active role in helping make change in whatever the vector of changes in the context of being inclusive, and supportive and engaged again, with three resources: money, time, and network."
Watch Brad and Chris's full discussion here.
2. Remote work is now a "must-have." The 2021 FlexJobs Annual survey showed that 58% of workers want to continue full-time remote work post-pandemic, and 39% want a hybrid arrangement. 
Tech leadership is realizing that physically being an office isn't mandatory for producing great results – which means hiring managers can now tap into vastly expanded talent pools.
But if you're a community leader in an emerging tech hub, what can you do to make your area more appealing to people who can choose to work anywhere?
Anna Mason, Managing Partner of the Rise of the Rest Seed Fund at Revolution, was the keynote speaker at our 2021 Powderkeg Unvalley virtual conference. She talked to us about the ways rising tech hubs can capitalize on current trends to attract top talent. 
Here are the top takeaways:
Stop comparing.

Develop a unique elevator pitch for your community, and stick with that messaging instead of comparing your city with others. 

Know what makes your community special.

You are your community's brand ambassador, so shine the spotlight on your community's most appealing qualities.

Think of your community as a startup.

Every startup needs to acquire and retain customers – and when you're trying to gain momentum for your community, your "customers" are tech professionals. Communicate directly with them about all the reasons your city is the place to be.
Watch the full discussion with Anna Mason here.
3. Increasing access to opportunities in tech. Ruben Harris is the CEO of Career Karma, a bootcamp matching company that helps people find the right job training programs. 
In our Powderkeg Unvalley discussion with him, How to Use Community as a Career Fuel, he talked to us about how his company uses community connections as a way to increase opportunities in the tech world.
Making changes – with community support. If people want to reskill, upskill, or look for a different job, they can use community as the fuel for making those changes. 
"Right now, there are huge dollars going into building effective training programs," he says, "But what we really need to figure out is how to give people psychological support to make a decision and move forward."
When Career Karma recommends a training program, the student is assigned a coach who can connect the job seekers to a community of people who have similar interests. Staying connected with communities like this can open up opportunities, kick-start retraining processes, and keep people motivated. 
Watch the full interview with Career Karma's Ruben Harris in the Powderkeg Unvalley archive.
Save the date! We're hosting the Powderkeg Unvalley Spring 2022 virtual conference on May 11th and 12th, and you can attend from anywhere. Mark your calendar today, and look for announcements about the speaker lineup in your inbox soon. Since you're a subscriber, you'll get exclusive access!