We just wrapped up Powderkeg Unvalley, our virtual summit featuring dozens of startups beyond Silicon Valley in many of the hottest industries in tech. 

Celeste Narganes, Director of DI&B at HubSpot and Roberto Ortiz, CEO of Welcome sharing their perspectives on Diversity, Inclusion, and Belonging at Powderkeg Unvalley: Fall 2021 keynote session.
Here's one thing that is crystal clear: Gone are the days of VCs putting on blinders to companies outside the Bay Area.
Business Insider just reported that companies in emerging tech hubs are pulling in over three-fourths of venture capital investment – up from just 50% in 2013 – and the move to remote work is a big part of that shift.
Inside that spike in investment beyond Silicon Valley, there are some standout industries that are thriving.
Want to know which industries to watch in 2022? Here's the shortlist:
Fintech: The demand for contactless payments and branchless banking accelerated innovation in the financial tech industry, and digital financial services will sustain growth after the pandemic wanes.
EdTech: Schools and colleges scrambled to update their infrastructure to accommodate remote learning in 2020 when schools shut down, leading to advances in digital learning technology and online course content. Experts predict a $350 billion valuation for the edtech industry by 2025. 
Artificial Intelligence (AI): Organizations are using conversational artificial intelligence (AI) and cloud-based call centers to meet the changing needs of customer support teams who are dealing with high call volumes, more inquiries about returns, and store closures.
Remote Work: Teleconferencing apps like Zoom and communication tools like Slack are now necessities for distributed teams, and companies are now using virtual reality (VR) and augmented reality (AR) to facilitate training. 
Health Tech: U.S. patients switching to telemedicine increased 50% from pre-pandemic levels, and that number is expected to keep rising. The pandemic has also shaken up traditional testing procedures for drugs and vaccines, allowing companies to bring products to market faster and save lives.
Cybersecurity: Widespread pandemic remote work and upticks in online shopping revealed flaws in many organizations' security systems, and hackers are wreaking havoc with ransomware attacks and more. Cybersecurity spending hit an all-time high of $11.48 billion in 2020, and that number is expected to increase.
Robotics: Autonomous mobile robots are helping factories and warehouses stay open without endangering employees' safety. The global market for industrial robots was valued at 37.9 billion USD in 2020, and it's expected to increase to 86.6 billion USD in 2028.
Today is the kick-off for the most exciting time of year: Powderkeg award season!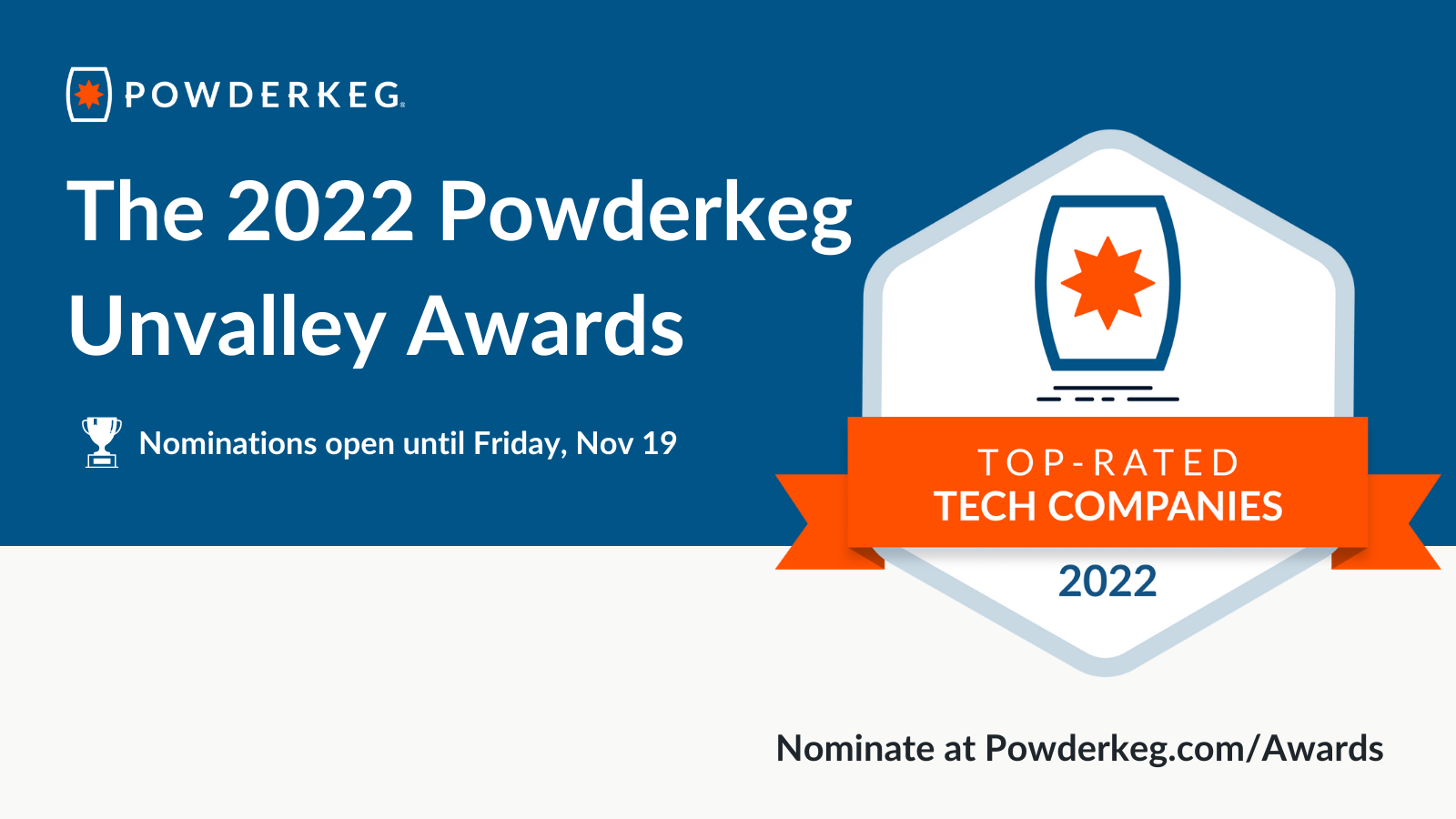 Share what makes your tech company culture unique, earn national recognition, and attract top talent by entering your company to get recognized in the 2022 Powderkeg Unvalley Awards. 
We can't wait to feature companies from 2022's top industries.
Nominations close November 19! Nominate now to get in on the action.