How much more impactful could your company's marketing strategy be if you could understand exactly what content to create and the best places to publish it in order to keep up with the present trends?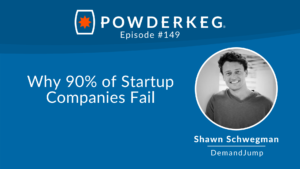 Well in today's episode, you'll hear from Shawn Schwegman, Co-founder and CSO of Demandjump. DemandJump focuses on taking the uncertainty out of digital marketing by allowing you to see what your customers and competitors are doing, and what you should be doing next to get out ahead.
Shawn had only 5 minutes on the Powderkeg stage to pitch his company DemandJump to a live panel of investors and industry experts from our Marketing Tech in the Roaring 20's pitch night we hosted this past February before the pandemic featuring some of the most innovative companies scaling in Middle America. The four experts you'll hear from in this episode include:
Syam Nair | Executive Vice President, Technology, Salesforce Marketing Cloud
Miloni Madan | Private Equity Technology Investor at Warburg Pincus LLC
Aaron Gillum | Senior Vice President at 50 South Capital
Lindsey Groepper | President at BLASTMedia
Today's Presenter, Shawn Schwegman, is a professional Entrepreneur, who has been heavily involved with more than a dozen startup companies over the last two decades, both advising and working in pivotal roles running sales, marketing, technology, strategy and operations for companies in early and high growth stages. Tune in to hear more from Shawn!
Figuring out your next career move doesn't have to be so stressful. So why not try Powderkeg Matches?
By joining Matches, you're joining a community of thousands of top professionals in the Powderkeg community to get connected with outstanding people at the hottest tech companies between the coasts. Get matched with great employers, land your next major opportunity, and get started today!
Please enjoy this conversation with Shawn Schwegman!


If you like this episode, please subscribe and leave us a review on iTunes. You can also follow us on Soundcloud or Stitcher. We have an incredible lineup of interviews we'll be releasing every Tuesday here on the Powderkeg Podcast.
Links and resources mentioned in this episode:
Companies and organizations:
Events:
 People:
Enjoy this conversation? Thank Shawn Schwegman on Twitter!
If you enjoyed this session and have 3 seconds to spare, let Shawn know via Twitter by clicking on the link below:
Click here to say hi and thank Shawn on Twitter!
WANT MORE?
To subscribe to the Powderkeg podcast, please use the links below:
Click Here to Subscribe via iTunes
Click Here to Subscribe via RSS (non-iTunes feed)
If you have a chance, please leave an honest rating and review on iTunes by clicking here. It will help the show and its ranking on iTunes incredibly! Thank you so much!