Indianapolis Tech is growing at full throttle, but there is still so much untapped potential.
From startups to tech giants, high-growth companies have found Indianapolis (Indy) to be an ideal home. The city is outpacing the competition by providing experienced talent, lower cost of living, and a productive environment of innovative founders, investors, and leaders. That's why Powderkeg teamed up with several Indiana organizations to gain insight into growth and innovation happening in the unique tech community in Indianapolis, IN. 
Our research results were compiled in the first-ever Indianapolis Tech Census Report and released to the public back in February of 2018. With responses from over 359 tech professionals, entrepreneurs, and investors representing and 138 companies in the Indianapolis area, the census used a combination of hard data and interviews with industry insiders to help paint an accurate picture of the Indy tech ecosystem as it stands today and what it can become.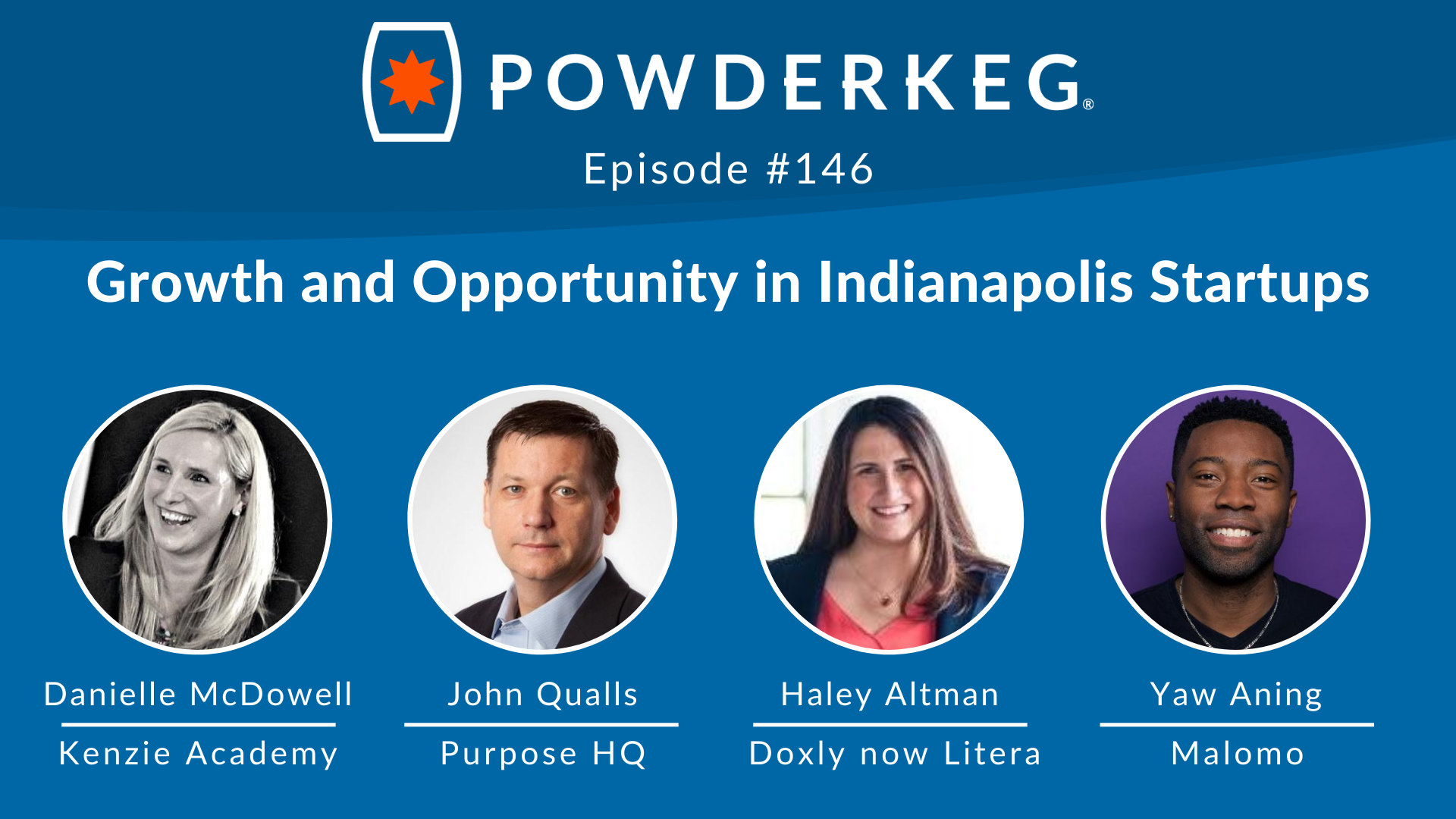 In this episode of Powderkeg Podcast, we feature a few of Indy's most innovative tech entrepreneurs and leaders that helped break down the report and get at the root of what's right and what's not so good about the state of Indianapolis tech. In this discussion, we share behind the scenes secrets behind Indy's rapid tech growth, explore possibilities for bringing more investment capital into the city, and share the best strategies for building more diverse and inclusive teams—in Indianapolis or any tech community across the country. Tune in for more!
In this episode with four visionary Indianapolis tech leaders, you'll learn: 
Figuring out your next career move doesn't have to be so stressful. So why not try Powderkeg Matches?
By joining Matches, you're joining a community of thousands of top professionals in the Powderkeg community to get connected with outstanding people at the hottest tech companies between the coasts. Get matched with great employers, land your next major opportunity, and get started today!
Please enjoy this conversation about the 2018 Indy Tech Census Report with Danielle McDowell, John Qualls, Haley Altman, and Yaw Aning!


If you like this episode, please subscribe and leave us a review on iTunes. You can also follow us on Soundcloud or Stitcher. We have an incredible lineup of interviews we'll be releasing every Tuesday here on the Powderkeg Podcast.
Links and resources mentioned in this episode:
Companies:
Organizations:
Venture Capital Firms and Venture Studios:
Coworking Spaces:
Fellowship Programs:
Universities:
Conferences:
Law Firms:
Books:
 People:
Enjoy this conversation? Thank Danielle, John, Haley & Yaw on Twitter!
If you enjoyed this session and have 3 seconds to spare, let them know via Twitter by clicking on the link below:
Click here to say hi and thank Danielle on Twitter!
Click here to say hi and thank John on Twitter!
Click here to say hi and thank Haley on Twitter!
Click here to say hi and thank Yaw on Twitter!
WANT MORE?
To subscribe to the Powderkeg podcast, please use the links below:
Click Here to Subscribe via iTunes
Click Here to Subscribe via RSS (non-iTunes feed)
To download the PDF file for the full transcript of this podcast, please use the link below:
Click Here to Download PDF file
If you have a chance, please leave an honest rating and review on iTunes by clicking here. It will help the show and its ranking on iTunes incredibly! Thank you so much!