There is not a successful company in the world that hasn't faced its share of hard times. Whether it be a mass withdrawal of leadership, a shift in the company's goals and objectives, or even a lack of resources and funding, there will be times when employees will find themselves extremely overwhelmed, confused, and on edge, especially right now. 
According to a recent study completed by Gallup, most disengaged employees can cost companies up to astonishing $550 billion a year in loss of productivity, not to mention the hiring and onboarding costs to replace them. This can be troublesome for some companies, especially those who might possibly be facing the repercussions of a possible economic recession looming just around the corner.
For those reasons, our guests on today's episode of the Powderkeg Podcast believes that there is no higher calling than instilling value and supporting talent in times of difficulty. Our first guest is Dave Hickman, Managing Principal of Professional Search for CliftonLarsonAllen (CLA). After 20 years as an entrepreneur with fast growth domestic and international companies, Dave joined CLA. He believes that a "we before me" mindset is foundational for teams to best serve clients, solve their problems, and improve outcomes that help them achieve their dreams.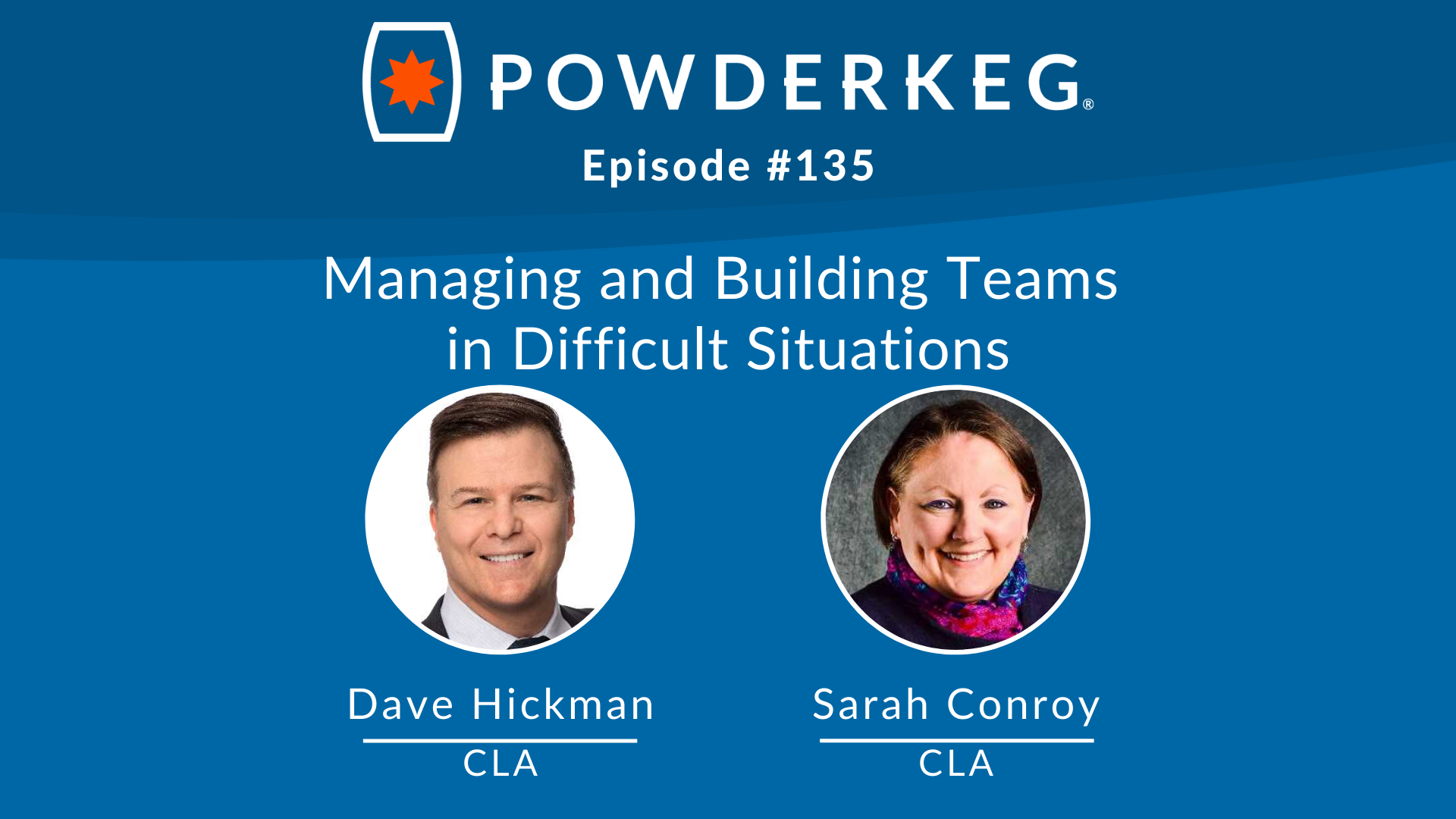 Joining Dave is Sarah Conroy, HRCO Consultant CLA Washington, DC (Greenbelt). Sarah has more than 30 years of HR experience in human resources, both directly and consulting companies across the country. She's got a ton of experience working with tech companies and scaled the team at a geospatial tech company in Maine. She's in the trenches right now with HR leaders across the country, doing the work as well as consulting.
In this episode, Dave and Sarah will share strategies on being transparent with your team, advice on instilling value in talent and to continue building engagement and confidence. Along with the best ways to build a pipeline of talent, rethink and prepare retention strategies during an economic downturn. Tune in for more! 
In this episode with Dave Hickman and Sarah Conroy, you'll learn:
The best ways companies can think about building a pipeline of talent

How to rethink and prepare retention strategies during an economic downturn

Trends that companies can capitalize on during isolation and remote work

Ways the current environment can be advantageous for business

Thoughts on a future surge of job seekers looking for remote work 
Figuring out your next career move doesn't have to be so stressful. So why not try Powderkeg Matches?
By joining Matches, you're joining a community of thousands of top professionals in the Powderkeg community to get connected with outstanding people at the hottest tech companies between the coasts. Get matched with great employers, land your next major opportunity, and get started today!
Please enjoy this conversation with Dave Hickman and Sarah Conroy!


If you like this episode, please subscribe and leave us a review on iTunes. You can also follow us on Soundcloud or Stitcher. We have an incredible lineup of interviews we'll be releasing every Tuesday here on the Powderkeg Podcast.
Dave Hickman and Sarah Conroy quotes from this episode of Igniting Startups:
Links and resources mentioned in this episode:
Companies and organizations:
 People:
Enjoy this conversation? Thank Dave & Sarah on Twitter!
If you enjoyed this session and have 3 seconds to spare, let Dave Hickman and Sarah Conroy know via Twitter by clicking on the link below:
Click here to say hi and thank Dave & Sarah on Twitter!
WANT MORE?
To subscribe to the Powderkeg podcast, please use the links below:
Click Here to Subscribe via iTunes
Click Here to Subscribe via RSS (non-iTunes feed)
To download the PDF file for the full transcript of this podcast, please use the link below:
Click Here to Download PDF file
If you have a chance, please leave an honest rating and review on iTunes by clicking here. It will help the show and its ranking on iTunes incredibly! Thank you so much!