Sunny Tampa Bay was in the spotlight last week, as founders of 80 startup companies from 19 states and Puerto Rico converged for the Annual Startup of the Year Summit. 
Innovative leaders got the chance to hobnob with investors, mentors, and colleagues – and also competed for $50,000 in investment dollars and other prizes.
The event was co-hosted by Established, a consultancy focused on helping organizations with their innovation, startup, and communication strategies, and Embarc Collective, a startup hub that includes over 100 early-stage startups at its downtown Tampa facility.
"Tampa in general has been on the rise. They have been written up in a number of publications for being one of the hottest cities. Zillow named them one of the hottest Real Estate markets."
-Frank Gruber Co-Founder and Co-CEO of Established
"While I don't know the impact the summit will have on our company, I can say that it gave me a lot of life as a founder to connect with all these other founders that are experiencing similar hurdles."
-Johnny Crowder Founder & CEO of Cope Notes
Here are some of the awesome companies that represented areas beyond Silicon Valley at the Startup of the Year Summit (you can Follow any of them on Powderkeg):
Interview IA

(Denver, CO), a platform to empower Hiring Managers to use software and analytics to create better hiring processes. 




getWise

(Framingham, MA), connects you on-demand with top consultants, mentors, coaches and executives to learn from.



Cope Notes

(Tampa, FL) – Peoples Choice Award, a daily SMS mental health journal.
Neural Lab, INC.

(El Dorado Hills, CA), a company using A.r Touch to add a touchless alternative to any touchscreen.



Target Arm

(Ridgefield, CT) – Finalist, a hardware device that enables launch and recovery of rotary and fixed wing drones from any moving vehicle




Heroshe

(Houston, TX), is an online solution to global e-commerce, helping open U.S. e-commerce markets to the world. 



Home Lending Pal

(Orlando, FL), a personal AI-Powered home mortgage advisor.

KarbonPay (Dallas, TX), a cloud-based SaaS tool helping companies automate gross-to-net payroll calculations across multiple countries.
But hosting the Startup of the Year Summit is just the tip of the iceberg of Tampa Bay's rise to prominence as a top tech hub.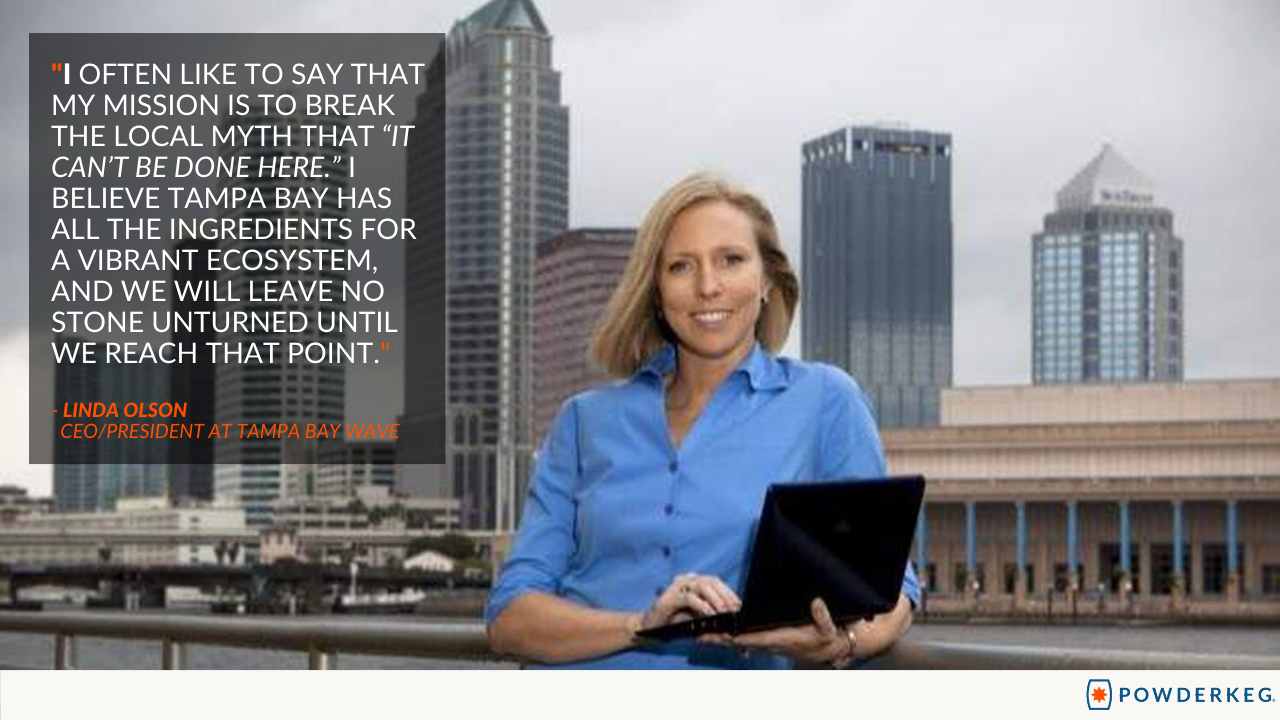 Just 15 years after entrepreneur Linda Olson kicked off her efforts to start building a tech community in Tampa Bay by founding the innovation community Tampa Bay Wave, startups in the region are now attracting hundreds of millions of VC dollars.
Tampa Bay Wave members have raised approximately $500 million in investments, and at least three Tampa Bay area tech companies have hit $1 billion unicorn valuations since 2019:
Security awareness training firm

KnowBe4

went public last year, raising $175 million in its IPO.

SaaS security platform

ReliaQuest

hit a $1 billion valuation in 2021.

Tampa blockchain company

Pocket Network

crossed the $1 billion valuation mark just after the start of the new year.
Companies like Rapid7 and OPSWAT are also moving their headquarters to Tampa Bay. 
Many security companies like these are being lured in part by the incredible talent coming from the University of South Florida's cybersecurity program.
Here are a few of the incredible community organizations supporting startups and driving innovation in Tampa:
Embarc Collective

Synapse

Ballast Point Ventures

Florida Funders

University of South Florida

Make it Tampa Bay

TiE Tampa Bay

Topmark Partners
You can learn more by checking out our curated collection of Top Tampa Tech Companies, or following these exciting startups: