With women at the helm, companies fare better. 
According to research from Boston Consulting Group (BCG), companies where 30% of the leadership team is female have 15% higher profitability than similar organizations with no female leaders.
Despite this evidence, women hold less than 28% of leadership positions at companies. In fact, a Qualtrics study showed that during the pandemic, men have been promoted three times more than women. 
While women are earning more STEM degrees than ever before, the percentage of women employed at the five tech giants (Amazon, Meta, Apple, Google, and Microsoft) is only 34.4%.
So what can we do to elevate more women to success in tech?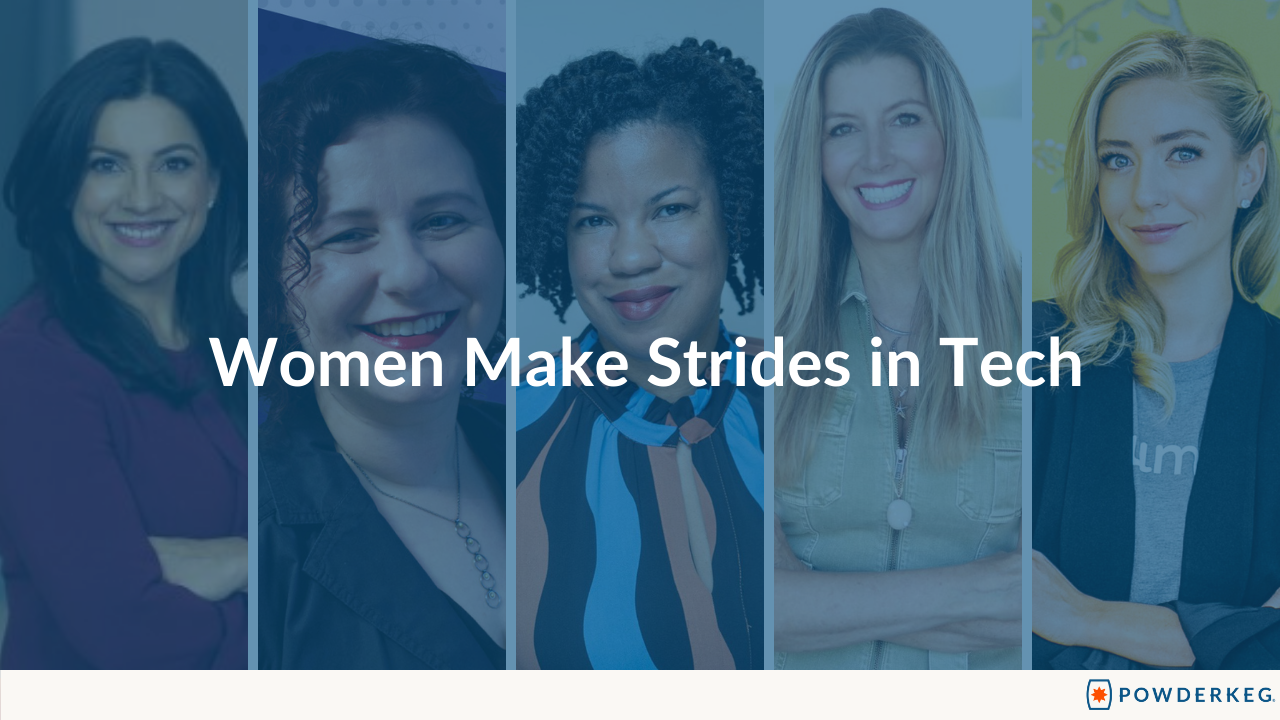 Here are four headlines that give us some direction for 2022:
More Than a "Skills Gap" 
Reshma Saujani, the founder of Girls Who Code, a nonprofit dedicated to equipping young women with computing skills, has radically changed her stance: She says the answer to inequity in tech is systemic change, not just more coding skills.
Her new book, Pay Up: The Future of Women and Work (and Why It's Different Than You Think) says a perceived skills gap isn't the main problem for women in tech. 
Saujani is now working on practical ways to break down barriers. In 2021, Saujani started advocating for a Marshall Plan for Moms that would combat the burnout and systemic inequalities that hold women back in the workplace. 
Care coverage is the make-or-break factor. Paid family leave and subsidized child care are at the top of Saujani's priority list – particularly because the pandemic has forced women to bear the brunt of childcare and distance learning demands caused by school shutdowns. A Morning Consult survey of 468 working mothers showed that 33% of women worked fewer hours during the pandemic due to child care issues, and another 20% of respondents moved to part time.
Read Saujani's book to learn more about her plan for transforming the future of work.
Increasing Access to Venture Capital
When she launched the nonprofit organization Women Who Tech in 2008, Allyson Kapin's goal was to increase female representation in the technology industry. Now the organization is one of the largest networks of women-led companies.
Women aren't getting VCs dollars. In 2021, only 2% of venture capital in the U.S. went to women-led startups, but Women Who Tech is working hard to change that stat.
To date, the program's cohorts have raised over $200 million, and the organization recently announced the finalists of their inaugural FemTech and HealthTech Challenge. The challenge awarded grants to two startups that are harnessing AI to make big advances in healthcare.
Reboot Representation
The tech coalition Reboot Representation, led by CEO Dwana Franklin-Davis, is working to double the number of Latina, Black, and Native American women who receive computing degrees by 2025. 
The Reboot Representation Tech Coalition is made up of 19 supporting companies, including Amazon, Walmart, Verizon, Best Buy, Adobe, and Salesforce. 
In an interview with Forbes, Franklin-Davis says:
"When my daughter decides to go into corporate America, I want her to be able to look to her left and to her right and see other Black and Brown faces that look like hers. I also want that for all of the girls who want to be innovators and technologists as well as CEOs…The time is now to make movement."
This groundbreaking tech coalition is also partnering with local organizations, including Chicago Public Schools, to increase access to computer science and coding for Black, Latina, and Native American girls.
Learn more by watching Dwana's panel at last year's Powderkeg Unvalley virtual conference, How to Build High-Performance Teams in Today's World. 
Growing the Billionaire Women's Club
We're delighted that more female tech founders are joining the billionaire club.
The Spanx founder has become a billionaire. In November 2021, Spanx founder Sara Blakely sold a majority share in her company to global investment bank Blackstone. This sale brought the value of Spanx up to $1.2 billion.
She's not the only woman in this exclusive group. 
Bumble CEO Whitney Wolfe Herd took her company public in a $2.2 billion IPO in February 2021, and 23andMe co-founder and CEO Anne Wojcicki is now at the helm of a $3.5 billion company after a 2021 SPAC deal with Richard Branson.
This month (and every month!), we invite you to check out these women-founded and women-led tech companies beyond Silicon Valley:
Looking for more companies that prioritize diversity, equity, and inclusion in their culture? Check out our list of best companies for DEI.