Here are two of the top trends we're watching in the tech industry beyond Silicon Valley. 
1) Unvalley VC Growth
More venture capital dollars are going to tech companies beyond Silicon Valley.
A report from LinkedIn's Economic Graph team shows strong economic recovery in the Unvalley. 
LinkedIn listed tech's most resilient hubs between December 2019 and May 2021 and the top five were Madison, WI; Colorado Springs, CO; Raleigh-Durham-Chapel Hill, NC; Pittsburgh, PA; and Huntsville-Decatur-Albertville, AL.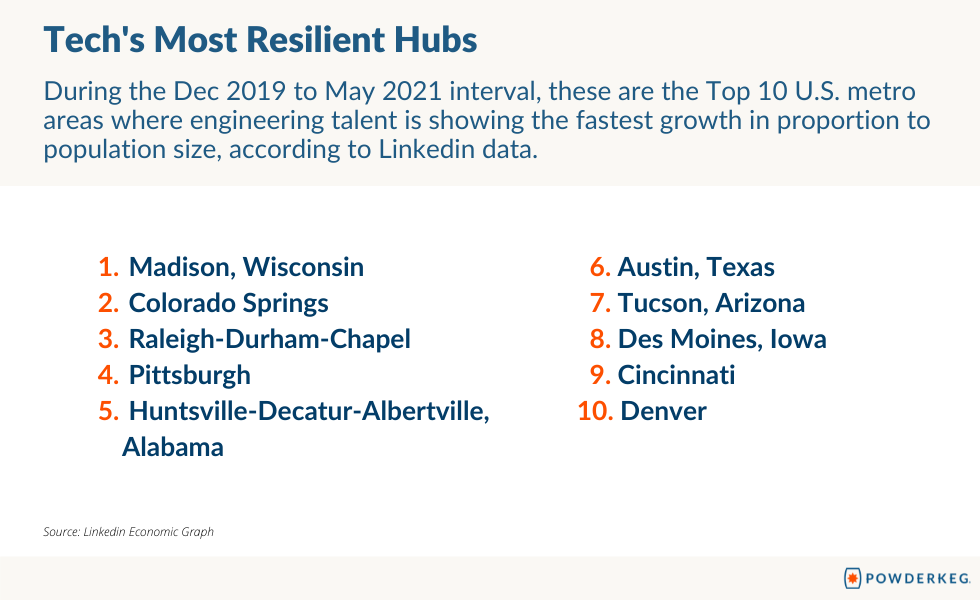 We're also watching the trend that capital investment in the Midwest has doubled from approximately $10 billion to $20 billion since 2019, according to Midwest Cities Rankings.
Want to know what industries and venture capital firms you should be tracking during the holiday season and beyond? Check out Powderkeg's roundup of top industries between the coasts, and explore the most active VCs outside Silicon Valley. 
Here are more actions you can take to follow the Unvalley growth trends:  
Explore companies hiring in the Powderkeg community:

Build your dream list by following companies in the Powderkeg directory. Follow companies >>

Strengthen your employer brand:

Attract the best talent by building your company profile on Powderkeg. Claim your company profile on Powderkeg >>

Learn from Unvalley experts:

You can watch 50+ video interviews with Unvalley experts on the Powderkeg video library. Check out these video collections for more Unvalley growth trends:

Build Diverse Teams

,

Founders and Funders

,

Industry Trends
2) Unvalley Job Trends
It's a job-seekers market.
There are huge opportunities for tech workers in today's job market. Information technology employers listed 360,065 tech job openings in October – an increase of almost 76,000 from the previous month – and the unemployment rate in the tech sector is just 2.1%.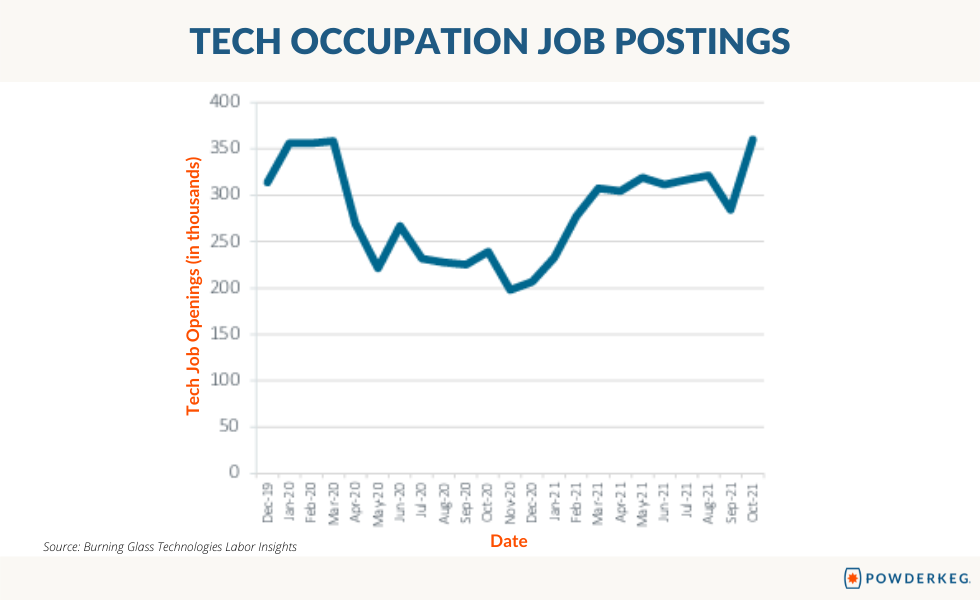 Top companies are bending over backwards to recruit the best possible talent. More employers are open to remote working arrangements than ever before, and companies are shining a spotlight on their culture and publicizing the things that make their company great to work for.
Companies are also relying on employee referrals to help them hire the teams they need to keep growing. Referring candidates to your company yields big dividends for you, too – so read our list of valuable do's and don'ts for making great employee referrals.
Here are a couple more steps you can take to further your professional career this weekend:
And, be sure to RSVP for the 2022 Powderkeg Unvalley Awards on December 9th at 5:30 PM ET. This 1-hour virtual event will feature the fastest-growing industries and the best tech companies to work for. RSVP today >>