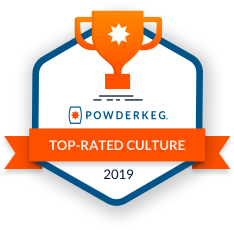 Meet the Winners at the 2019 indiana Breakout tech cultures awards
Introducing the Indiana Breakout Tech Cultures Awards
What is the number one reason why people join a tech company? (Hint: It's also the exact same reason why people leave a tech company.). Yep, you guessed it. Company culture. This was the biggest datapoint we saw from our 2018 Tech Census study in communities across the heartland. And it's what inspired our team at Powderkeg to start asking this question: Why shouldn't talented employees be able to pursue a fulfilling career in tech, connect with their calling and reach their full potential — no matter where they live? So this spring, we set out to learn as much as we could about company culture in our home state of Indiana and launched the 2019 Tech Census: Cultures Edition. We asked over 1,200 tech professionals exactly why they work and live in Indiana, and what makes the tech community unique and special. The data-first, decentralized approach of the Tech Census has been the largest community study on tech company culture in Indiana.
There were more than 267 tech companies nominated, and over 1,200 individual responses to this census. The survey asked employees at tech companies across the state about culture within their workplace. A wide variety of Indiana companies were eligible to participate, including tech software, tech hardware, tech powered and tech services firms. This was a really big undertaking and we couldn't do it alone. So to conduct the survey, we partnered with the Rise of the Rest Seed Fund and organizations across the state of Indiana including the Indianapolis Airport Authority, Indiana Economic Development Corporation, Indiana University's Kelley School of Business, Elevate Ventures, Vemity, Inside INdiana Business, and regional organizations such as the Indy Chamber, Greater Lafayette Commerce, and Elevate Southwest Indiana.
Members of the Powderkeg talent network get first access to connect with winning companies at the awards reception.
The Breakout Tech Culture Award Categories
Over 1,200 tech professionals rated their companies and employers on several topics that contribute to company culture, including leadership, management, workplace, compensation, benefits, community involvement, social responsibility, diversity and inclusion, career path, and company mission. Based on the employee responses, a handful of companies started rising to the top in several categories that impact a company's culture:
Announcing the Winners for the 2019 Indiana Breakout Tech Cultures Awards
The award-winners were selected after their participation in the 2019 Tech Census: Tech Cultures Edition, a survey that gathered information from technology-powered software, hardware, and services companies across the state about the culture within their workplace. Winners will be announced on September 18 at INDUSTRY in downtown Indianapolis. These are some of the most exciting companies in the state of Indiana, and winning a Breakout Tech Cultures Award connects them with Powderkeg's network of tech professionals in the heartland and beyond.
Members of the Powderkeg talent network get first access to connect with winning companies at the awards reception.